Kenny Washington
by
Owen from Los Angeles
My hero is Kenny Washington. He was a black athlete who broke the color barrier in 1946, one year before his teammate Jackie Robinson broke it in the MLB. He played alongside Jackie only in football. He was the first African American, American football player to sign a contract with an NFL team, the Los Angeles Rams for three years. His career is truly astonishing.
He played collegiate football at UCLA. He played alongside Jackie Robinson and Woody Strode, two of the most iconic African American football figures in football history. His career at UCLA lasted four years.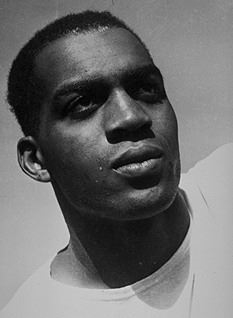 Kenneth Washington[Fair Use] via Wikimedia CommonsAfter he left UCLA he was looking for a football job as a free agent. He reported to the Los Angeles Rams facilities and they offered him a contract. Since he was very good at UCLA, he decided to go pro, but no team drafted him, so he played in a smaller pacific league. He got a note to report to the Rams facilities. They offered him a contract. Not once did they get to the playoffs, but went 7-9 which is ok. Kenny went through a lot, including five knee surgeries.
Kenny Washington was a four-year all pro running back for the NFL. Through his astonishing career he did not win a Super Bowl and was not inducted into the hall of fame. He was the Jackie Robinson of football. He held three rushing titles. He did all of the dirty work to get African Americans into the NFL. He should not be forgotten in NFL history. He is an iconic figure for African Americans.
Kenny Washington is a true iconic figure for blacks. I look up to him because he gives me strength when I am down because he went through so much more than I do. He should not be forgotten because he paved the way for African Americans in the sport of football.
Page created on 2/24/2015 12:00:00 AM
Last edited 1/9/2017 4:18:39 PM
The beliefs, viewpoints and opinions expressed in this hero submission on the website are those of the author and do not necessarily reflect the beliefs, viewpoints and opinions of The MY HERO Project and its staff.

Related Links
Kenny Washington
- NFL Forgotten hero: Washington broke NFL's color barrier in 1946