Figure skating was first founded by an American ballet dancer and ice skater named Jackson Haines. When figure skating was first shown to the world, it was not very popular among the spectators since they did not understand its concept. It wasn't until the mid 1930's that its popularity started to increase. Figure skating first spread out in the west and it was soon in the spotlight of the public. However, in Asia it still remained in the shadows.
Gradually, Asian figure skaters started to take part in the games, though there weren't very many Olympic medalists. Then Kim Yuna, the queen of figure skating came out, changing the history of figure skating.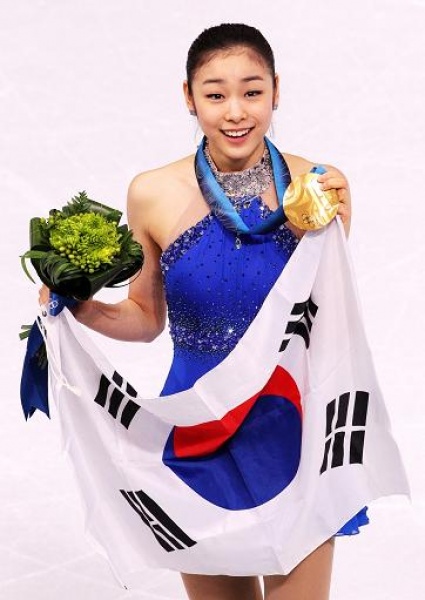 Kim Yuna, the very first South Korean female figure skater to win a medal in the Olympic games, is the 2010 Winter Olympic champion. She broke the world record and is also the very first female figure skater to surpass the 200-point mark. Kim is the pride and joy of Asia , especially in her home country, South Korea. South Koreans call her "Queen Yuna" because she has brought great honor to the country. Thanks to her, South Korea became well-known among the world and the reputation of the country has became very positive. Korea is, for the first time, hosting the Winter Olympic games in 2018, and many believe that Kim's influence was the strongest for this to happen. Kim herself says that people had been working extremely hard on it and that she had only joined the campaign in the last minute.
Some people are envious of Kim because she became very rich and famous at a young age. They think she was lucky that she did not have to go through a hard time to achieve her goal. However, this is not true, in fact Kim had gone through a very tough childhood before becoming the shining star.
Kim Yuna was born on September 5,1990 in South Korea. Her marvelous talent in figure skating had already been showing when she was a little girl. When she started figure skating at the age of 7, her coach told her that she had the perfect body and conditions for a figure skater. Ever since then, she trained very hard. Kim would go to the skating rink every day. Even after she came back from training, she did ground exercises for hours. All of Kim's former trainers said, in unison, that Kim was very determined and passionate with what she was doing. She would learn a new technique in a week when it took others years to get it. Of course, she had the talent which helped, but her endless effort and perseverance were the main reasons for her success.
Kim's family was not wealthy, in fact , they were poor. Kim had to wear worn skates that were too small on her. She even had to wrap the skates with duct tape because they were very old. Not only that, Korea's skating rink systems were not very good for athletes like Kim. There were only a few skating rinks and even fewer for them to practise. In spite of the poverty and poor environment though, Kim was able to stand up and endure the hard times because she had strong tenacity and burning passion which made her success possible. Kim Yuna's debut was held in the 2003 South Korean National Championships where she won the first place. Eventually, she entered the World Championships where she won several gold and silver medals. However, there was a huge obstacle in her way which was her biggest rival, Mao Asada, the Japanese silver medalist in the 2010 Winter Olympics. They had been fighting for championships ever since they were little. When Kim showed artistic performances, Mao showed technical shows. Because Mao's techniques were better than Kim's at that time, Mao was known as the better figure skater. However, that did not last very long. Kim, who realized the reality, practised so hard that she even got serious injuries at places such as hip joints, knees and back. Regardless of injuries, Kim kept going for her dream. Finally, she proved to the world that she was a better skater than Mao at the 2010 winter Olympics where she proudly won the gold medal. Not only is Kim more skillful in figure skating than Mao now, but she also has a stronger mind. Even when Mao had better techniques, Kim often took the first place from Mao because of her tough spirit. At the Winter Olympic Short Program, Mao went right before Kim and completed a fantastic performance. Normally, when people see their rivals doing well, it intimidates them. However, that was not the case for Kim. After seeing her rival's fabulous performance, she went out on the rink and completed a performance where she received the season's best score, which was also the new world record. Even the commentators praised Kim's performance and said "To be able to perform like that after knowing how her main competitor performed is just amazing. What a woman." This phrase tells how strong and bold Kim is. After Kim became famous and earned a lot of money, she donated about $2 million dollars towards many charities. Ever since 2007, she has been donating $12,000 to six young skaters annually. Also, she has donated $200,000 in the form of school uniforms to low income family youths, all the money she has raised through her performances at charity ice shows for children with rare diseases and juvenile cancer patients and much more. Some people might think that it is a simple thing to donate money when you have a lot of it. However, in reality, it is actually harder for those with a lot of money to donate than those who do not. This is because humans' desire is endless and uncontrollable. By that, we can see that Kim is very generous and humble. Numerous people are wanting to become like Kim Yuna. There has been a sudden increase in the number of kids who have started to learn figure skating, because of Kim. She is a great role model and a fabulous hero to us. She proved that hard work and indomitable perseverance is the only way to become successful. Also, she has told us that strong passion and fierce determination are helpful when reaching for a dream. In addition, she displayed how boldness and a strong mind can beat everything. Lastly, Kim has shown us, the world, that everything is possible when you believe in yourself.
Page created on 10/24/2011 12:00:00 AM
Last edited 10/24/2011 12:00:00 AM