"...to create a world where science and technology are celebrated...where young people dream of becoming science and technology heroes."
Dean Kamen wants to change the face of science and technology. Or at least the attitude surrounding it.
As far as Kamen is concerned, scientists and inventors--those using their talents to make a difference in the world--are the ones who should be considered the real celebrities of the 21st century. Coined the "Pied Piper of Technology," Kamen has been working tirelessly for decades to achieve this status for the field he is so passionate about--both by inventing some of the most innovative, exciting, and important products on the market today--and by ensuring that the next generation becomes equally excited about science.
Feeling that technology should be practical and helpful, Kamen feels that our excessive consumerism has instead made so much of it frivolous and unsubstantial. In a poignant interview with Make Magazine, Kamen discussed his disappointment with what he feels is a culture of excess, of frivolity, and of the endless acquisition of "stuff" over things of true worth, or what he calls "things that matter," such as curing diseases, making water drinkable, and curbing pollution, etc.
Kamen feels that time and again many highly-intelligent and capable scientists and inventors have been forced into the vicious cycle of creating meaningless "stuff" over that of worth, as a response to our culture's materialistic desires and expectations for technology. He hopes that the next generation of scientists will be excited and passionate enough about science, technology, and invention--coupled with a sense of responsibility to the planet--to shift the trend away from mega-marketed, mass-distributed "stuff" and to delve back into the deeper business and passion of science.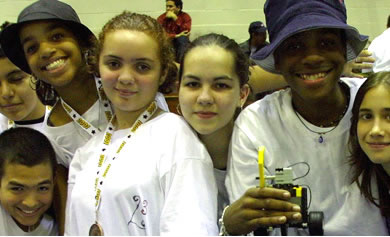 To ensure that a future generation of scientists puts their talents to work on global issues and not solely consumerism, Kamen founded FIRST (For Inspiration and Recognition of Science and Technology) in 1989, an organization dedicated to motivating future scientists "to create a world where science and technology are celebrated...where young people dream of becoming science and technology heroes." FIRST creates innovative programs that build interest in the field, and in the process builds leadership and life skills, and self-confidence.
FIRST is perhaps best known for its Robotics Competition, which FIRST calls a "varsity sport of the mind." This event makes engineering and technology fun for high schoolers by challenging teams to build a robot and enter their robot into several competitions designed by Kamen and his team. For an added element of excitement and fun, each year the challenges, games, and rules change.
Students are able to work one on one with professionals, to gain real-world professional experience, and best of all--to become excited about science and technology!
But the fun doesn't just stop at high schoolers. FIRST Lego League is an international robotics program for children ages 9-14 (16 outside of the U.S. and Canada). Through a fun, hands-on learning experience, kids are able to think like scientists and engineers, and to envision their life as a future scientist. Junior FIRST Lego league is for the youngest of budding scientists and strives for the same goals as the other FIRST programs.
In addition to his roles as entrepreneur and science advocate, Kamen is known primarily as an inventor, holding more than 440 U.S. and foreign patents! His inventions have focused on meeting the needs of humanity and have primarily helped advance medical care worldwide.
Born April 5, 1951 in New York, it all started some 20 years later when he was an undergraduate in college and invented the first wearable infusion pump, which greatly helped a variety of medical conditions. Soon after he founded his first medical device company, eventually inventing the first insulin pump for diabetics. His ideas have continued to blossom ever since. His creations and patents include everything from his famous Segway electric scooter, and an iBOT robochair that climbs stairs, to disease-fighting medical devices and even helicopter designs!
Kamen's talents have been recognized both by the individuals that benefit from his inventions, and by international dignitaries. Amongst other honors, in 2000, Kamen recieved the National Medal of Technology, awarded by President Clinton for his inventions that have advanced medical care worldwide, and for his "innovative and imaginative leadership in awakening America to the excitement of science and technology." He recieved the 2002 Lemelson-MIT Prize, and was inducted into the National Inventors Hall of Fame in May 2005.
And yet knowing that the future of science and technology lies in the eager, open hands of budding scientists, Kamen still considers FIRST the apple of his eye and his proudest accomplishment. It could be said that Kamen's greatest innovation yet has been his uncanny ability to make science imaginative and fun for all ages.
Page created on 3/29/2015 2:32:38 PM
Last edited 2/25/2019 6:24:23 PM
Related Links
WIRED: Breakout Artist -
-
"Dean Kamen, multimillionaire inventrepreneur, is going global with a robochair that climbs stairs, a miracle motor that fights disease, and his wildest notion of all - that scientists will be the 21st century's superstars. "
SlingShot
- SlingShot is the film story of Kamen, his water purification technology, and his innovative approach to the safe water crisis.
DEKA Research & Development Corporation
- is focused on the development of radical new technologies that span a diverse set of applications.DEKA's technologies, and the products which incorporate these technologies, are improving lives around the world.
Inventor Dean Kamen -
- Fascinating facts about Dean Kamen inventor of the Segway Transporation System in 2001.