In my eyes, a hero should be someone who always puts others first and always thinks of others' best interests before his own. Someone who goes above and beyond what is required of him to do. A person who rises above expectation to help someone else. This is why my uncle, Robert E. Kimura, M.D., is my hero.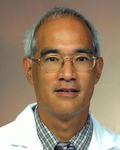 Growing up in Boston, Dr. Kimura was greatly influenced by his parents to always reach for the stars. He knew that if he set his mind to it, he could achieve it. Dr. Kimura finished his internship at Yale University, in New Haven, Connecticut, and soon found a good opportunity in Utah at the Utah State Medical Center. There they had begun to research and create the artificial heart. After several years there, Dr. Kimura found his research skills were in high demand. After many offers, he settled on Rush Medical Center in Chicago, Illinois. There he could create his own research team to continue research on airway disorders, prematurity, congenital heart disease, criticizing enterocolitis (severe injury to the digestive system of the premature infant), and intraventricular hemorrhage and other neurological disorders with the help of a fleet of passionate doctors. Together they were an unstoppable team, creating solutions for problems they felt were necessary to solve.
Robert Kimura practices what he preaches. I mean this because Dr. Kimura believes in medicine and that it can truly change a person's life. Dr. Kimura is willing to spend countless hours researching something and will often work late into the night just to finish. He researches in the field of neonatology, or the branch of pediatrics that deals with the diseases and care of newborn infants. He strives to find what causes newborn infants to have low birth weights and also how to get these infants on a steady diet so they can lead strong, healthy lives. He also researches multi-organ dysfunction syndrome which deals with why infants have heart, lung or other organ failures when they are born. "Grieving starts the minute expectant parents learn their baby is facing a medical issue," says Dr. Robert Kimura. "By providing a team of specialists to answer questions right away, we are reducing the stress, confusion and anxiety these families would encounter if they had to set up numerous appointments over weeks to meet with all the specialists individually. We empower the parents to get through this tragedy."
Medicine is one of the fields in which many people are heroes. But out of the labs and operating rooms, I would still consider my Uncle Robert Kimura a hero. He is a man who always finds time for the smaller things in life, such as spending time with his children and wife, and enjoying weekends golfing. He actively donates to charities which help causes like infant heart disease, one of the main fields he researches, and many others. I think my uncle has always felt that if he has enough money to support his family, he could spare some to help out his favorite causes. He truly is a hero, in and out of the operating room.
In reading about my hero, Doctor Robert E. Kimura, I hope you felt the passion that my uncle shows for his work. He is a true example that if you work hard, you can achieve not only your dreams, but in the process, fulfill others along the way.
I would greatly appreciate it if you, whoever is reading this, could take the time to view these sites and and consider these more than worthy causes:
March of Dimes (to support the research and study of premature infants)
Little Hearts (to support infants born with congenital heart disease)
Rush University Medical Center (to fund my uncle's and other researchers' projects which strive for the good of all people alike)
Thank You!
Page created on 2/15/2007 12:00:00 AM
Last edited 1/6/2017 4:57:21 PM