Contact: Jeanne Meyers FOR IMMEDIATE RELEASE
[email protected]
949.376.5964

OLIVER STONE, TOM CRUISE, DANIEL ELLSBERG HONOR PEACE ACTIVIST RON KOVIC
9/24/2013 - Santa Monica, CA – Advocates, activists and luminaries of all sorts took part in an International Day of Peace Celebration on September 21 to honor veteran and peacemaker Ron Kovic. Kovic is a former U.S. Marine sergeant who was paralyzed from the chest down during his second tour of Vietnam. His bestselling autobiography, Born On the Fourth of July, was turned into a hit movie starring Tom Cruise and directed by Oliver Stone. For the past 40 years, Kovic has been a campaigner for peace.

Stone and Cruise offered video tributes applauding Kovic for his bravery and perseverance. Another video greeting came from former military analyst Daniel Ellsberg, famous for leaking the notorious Pentagon Papers to the press and sparking the 1972 Watergate scandal.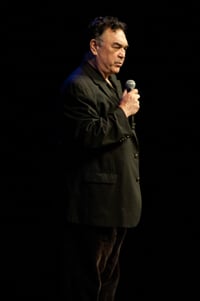 Director Frank Cavestani took the stage, showing excerpts from his film, Operation Last Patrol (1972), which documents Kovic's historic cross-country trip, from Los Angeles to Florida, to protest the Vietnam War at the 1972 Republican National Convention. Frank called his friend, Ron Kovic, "one of the greatest orators of our time."
The celebration took place at the Capshaw-Spielberg Center for Educational Justice in Santa Monica. The evening's festivities included live music by New Roads Community Jazz Band and Stuart Pearlman, Prominent speakers including filmmaker Skip Blumberg, documentarian Loretta Smith and Joyce Sharman, wife of former Laker coach Bill Sharman. Sharman spoke of her late brother, who was killed in Vietnam, and of her close friendship with Kovic. She shared images of Kovic's art from her personal collection and talked about the annual Ron Kovic Peace Prize, awarded by Kovic each year at the MY HERO International Film Festival.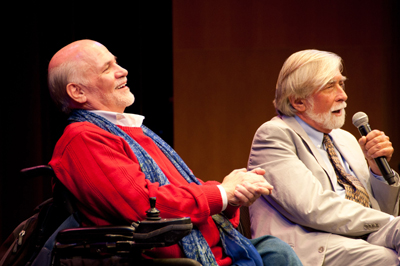 Robert Scheer, legendary journalist and editor-in-chief of Truthdig.com, concluded the evening by presenting Kovic with the first MY HERO Messenger for Peace Award. Scheer called Kovic "a great American hero." When accepting the award, Kovic thanked the audience, and The MY HERO Project, and urged the crowd never to give up. He explained how grateful he was to be in this world after he was critically wounded in the war. In his wildest dream he never would have believed that he would have the courage or strength to speak out against the war, to transform from a warrior to a peacemaker.

"My life his been a blessing in disguise, I refuse to see it any other way, I am a fortunate man, even though I have had to deal with a lot of hurt, I have been given so many gifts. Each and every one of you is what keeps me going, your love, your caring, I was a bit anxious this week, I didn't know quite what to expect, but I am so happy to be with all of you tonight. I love all of you. I want to leave you with one thing and that is please never, never give up, no matter how difficult it gets, don't ever give up because this world is worth it. This life is worth it. And no matter what obstacles we have before us, no matter how frustrating it may seem, no matter how many wars they may threaten to begin in this world, there are more peacemakers in this world then there are war makers. There are more opportunities for a more beautiful world right now....We are going to move forward and make this country and world a much better place. Thank you very much. "
The MY HERO Project is a not-for-profit organization founded in 1995 by Jeanne Meyers, Rita Milch, and Karen Pritzker, to combat the violence and negative role models so prevalent in mainstream media. The MY HERO Project uses media and technology to celebrate the best of humanity and empower people of all ages and all backgrounds to realize their own potential to effect positive change in the world.
Page created on 9/27/2013 1:23:00 PM
Last edited 7/10/2017 4:58:11 PM