What is a hero? A dictionary definition says "A person noted for feats of courage or nobility of purpose, especially one who has risked or sacrificed his or her life." This is what I think of my heroes Chris and Martin Kratt. Who are they you might say? Well they have had three TV shows. The first was Kratt's Creatures, the second was Zaboomafoo and the third is a new show called Be The Creature. Do you remember them now? I want to share with you why Chris and Martin Kratt are my heroes.
When I was little I always watched Kratts Creatures, this was before I was in school. When I was four I decided that I wanted to be a zoologist. Why would I want a job like that? I wanted and still want to do what the Kratt brothers are doing. Showing animals to the world in a way that kids would be inspired to do something about the animals in the planet we call home (who knows maybe even on the other planets).

That's enough about me, now let's talk about Chris and Martin growing up in Warren, NEW JERSEY. The Kratts grew up with their mother, father, twin sisters, and their dog, Heidi - hiking and exploring the world of nature. Sometimes that meant going to their back yard. On family vacations the family went to Vermont every summer to go camping and follow their Saint Bernard, Heidi, around the woods. Chris and Martin loved Vermont so much that they located their Kratt Brothers Company headquarters there. In their shows they use harmonicas. Is it really them playing? Well the answer is yes. Their Grandpa Kratt started a harmonica manufacturing company called the Wm. Kratt Co. After that Mr. Kratt ran the family business up until he retired a few years ago.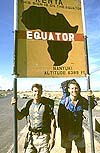 So now you know a bit more about the Kratt Brother's backgrounds. I will tell you why they're my Heroes. When I look back to my childhood I can always remember the Kratt brothers. They always influenced me in a positive way, they always encourage people to do the right thing and not to go out and do the bad things in the way that some people are saying and influencing the world. The Kratt brothers have been protecting, saving and showing animals for years. They are the kind of people that should be remembered in years and years to come. There the kind of people the young, middle-aged, and old should look to for inspiration and enlightenment. I believe that all people should be following their footsteps and trying to be like them. If people were more like the Kratt brothers the world would be a much better place. This is why the Kratts, Chris and Martin, are my Heroes.
That is a bit of their family's past but what about the brothers themselves?
Well first I will talk about Martin, the eldest brother.
Birthday: December 23, 1965
Degree: BS in Zoology, 1989; Duke University
Hair Color: Brown
Eye Color: Blue
Height: 5'11"
Favorite Food: Spaghetti
Creature Adventuring Boots: Size 10
Favorite Outdoor Sport: Scuba Diving
Married and has three kids
But what did Martin have to do with the show? Well he was alongside Chris, the creator/executive producer/star of the shows. He was also an innovative wildlife film maker, zoologist,and real-life "creature adventurer." He wanted to teach people about wild animals, working to preserver endangered species.
Also in 1990, Martin and Chris founded the Earth Creature Company. Their purpose is wildlife entertainment. Also being the co-creating and co-hosting member of Zoboomafoo and Kratts Creatures,
the critically acclaimed children's wildlife series that began airing on PBS in 1996. Martin and his brother had written, produced, filmed, hosted and distributed seven award winning nature series documentaries and 12 earth creatures reports for TBS'S real news for kids. Not only have they made shows but they have made 8 books for kids. They have also have been awarded by the U.S. Secretary of the Interior Bruce Babbitt for the appreciation for their ongoing commitment and public service on behalf of conversation and environmental education. A graduate of Duke University, where he received a B.S. in zoology, Martin was awarded the Richard H. Jenerette Fellowship to the University of North Carolina MBA program. He has been involved in several field projects relating to wildlife and completed a training program in breeding endangered species in captivity at the Jersey Wildlife Preservation Trust in England.
That is Martin Kratt's biography.
Next we have Chris Kratt:
Birthday: June 19, 1969
Degree: BA Biology, Carleton College 1992
Hair Color: Brown
Eye Color: Brown
Height: 5'8"
Favorite Food: Pizza
Creature Adventuring Boots: Size 8.5
Favorite Outdoor Sports: Canoeing and Kayaking
Relationship: married with one child
Kids: Only one so far! Tania and Chris have a son.
Family Pet: A stray dog that Wyatt found out in the snow. Chris named her Kali.
Extinct Animal Chris wishes he could see: The Giant Ground Sloth
We know that he was also part of the show so, what did Chris do?
Well we know that Chris was also the Creator, Executive, Producer and Star of his television shows. He also is a life-long "creature adventurer." Chris has been involved with animals all his life. Chris is also the co-founder of the Earth Creatures Company with his brother, Martin.
They also founded the Kratt Brother's Creature Heroes, it is a nonprofit society dedicated to empowering children to help the wild animals they love. In 1990 he worked as an intern at the Conservation International in Washington, D.C., and a year later founded the Carleton Organization for Biodiversity, a group dedicated to increasing public awareness of conservation issues and celebrating the creature world. Chris received a B.S. in biology from Carleton College and is a Richter fellow. Chris has conducted several field studies in ecology and ecological evolution funded by grants from the Explorers Club and the National Science Foundation. He also received a Thomas J. Watson Fellowship, which he has used to develop wildlife documentaries for children.
That was a Biography on Chris.
Page created on 1/10/2008 12:00:00 AM
Last edited 1/10/2008 12:00:00 AM