The MY HERO Project Launches A Media Arts Mentorship Program With Support From The Laguna Beach Community Foundation
Contact: Rose Kleinow FOR IMMEDIATE RELEASE
[email protected]
949.376.5964

THE MY HERO PROJECT LAUNCHES A MEDIA ARTS MENTORSHIP PROGRAM WITH SUPPORT FROM THE LAGUNA BEACH COMMUNITY FOUNDATION

3/28/2013

Fernando Alonso is a fifth grade student from the Laguna Beach Boys and Girls Club. Fernando, among other eager students, is taking part in the MY HERO mentoring program learning how to use video cameras, conduct interviews and make photo montages as part of a Hero movie about the Laguna Beach Boys and Girls Club as part of this grant. Together with a group of young filmmakers Fernando is working with Wendy Milette, Director of MY HERO's Media Arts Education Program. Wendy is a graduate from USC Film School and director of this program.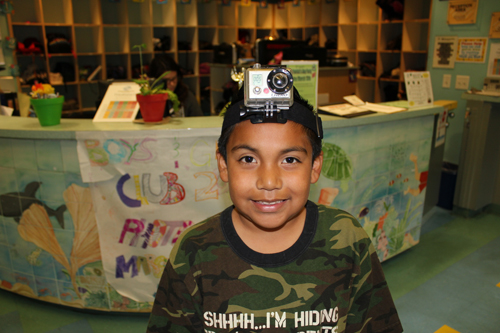 The Laguna Beach Community Foundation in partnership with the Massen Greene Foundation has awarded The MY HERO Project a $10,000 grant for a media arts mentoring program. Funds from the grant are being used to mentor and provide training and access to video recording equipment and computer editing tools to those interested in creating media celebrating local heroes. Those interested in taking part in this ongoing program should contact Wendy Milette via email. [email protected]
Another Laguna local receiving mentoring in this program is Andy Alison who has decided to learn new skills in filmmaking after years of working in real estate. Andy is passionate about producing media to celebrate local heroes of Laguna Beach. Working with the MY HERO team Andy is learning new skills to realize his first project about the Laguna Beach Lifeguards.
Support from this grant is also helping James Pribram, the ECO Warrior, raise awareness about environmental preservation with a short film that will showcase his work with local children on beach clean ups and ocean ecology.

All of the completed works will be available for viewing at www.myhero.com/laguna and showcased at the 6th Annual Laguna Hero Fest, May 23, 2013 at [seven-degrees].
The MY HERO Project uses media and technology to celebrate the best of humanity and empower people of all ages to realize their own potential to effect positive change in the world.

Visit the web site http://myhero.com
Page created on 3/28/2013 12:00:00 AM
Last edited 7/10/2017 5:07:46 PM
Related Links