The MY HERO PROJECT launches a MEDIA ARTS MENTORSHIP PROGRAM with support from Laguna Beach Community Foundation
Contact: Wendy Milette                                                                                                                    FOR IMMEDIATE RELEASE [email protected]
1278 Glenneyre, #286
Laguna Beach, CA 92651

The MY HERO PROJECT launches a MEDIA ARTS MENTORSHIP PROGRAM with support from Laguna Beach Community Foundation.

Laguna Beach, CA – 1/17/13 The Laguna Beach Community Foundation in partnership with the Massen Greene Foundation has awarded The MY HERO Project a $10,000 grant for media arts education. The MY HERO Project, a local Laguna Beach non-profit dedicated to promoting the best of humanity through media arts has been spreading positive messages and role models for the past 17 years. It is now an ever-growing online platform for sharing hero-themed essays, images, audio and films.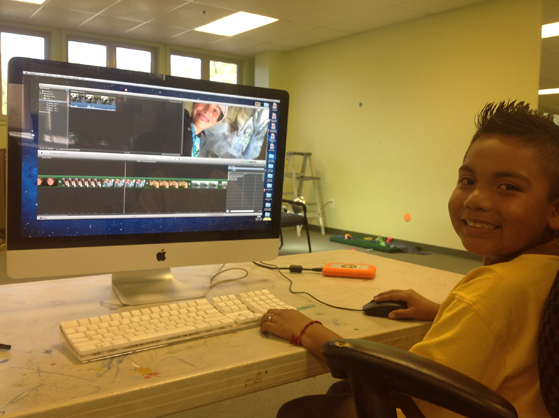 MY HERO's team of Media Arts Educators help to facilitate communications and collaborations that bridge political, religious and cultural barriers to form a global community, working toward a more peaceful world.

MY HERO will be using funds from the grant to mentor local not-for-profit groups and individuals interested in celebrating eco-heroism and emergency preparedness in Laguna Beach. MY HERO will provide training and access to video recording equipment and computer editing tools to those interested in creating media celebrating local Environmental Activists and works focusing on disaster preparedness.

MY HERO will be screening selected short films created as part of this program in the Laguna Hero Festival held annually at [seven-degrees] with support from The City of Laguna Beach.

MY HERO will also have screenings of winning films at the Susi Q on:

Thursday, February 28 from 2 pm – 4 pm
Monday, April 1st from 12:30pm – 2:30pm
MY HERO's Media Arts Director Wendy Milette, has a masters degree in Production from The University of Southern California School of Cinematic Arts. Formerly a Laguna Beach school district teacher, Wendy has helped several local students and community members produce films. Wendy and other Media Arts Mentors will be available for mentoring by appointment in Laguna Beach on Thursday afternoons from 12:00 pm – 5:00 pm at the MY HERO office. For those interested in using MY HERO's online tools, our staff member Daniel Chavez will also be available on Wednesday and Thursday mornings from 8 am – 12:00 pm at the MY HERO office as well.
Please visit the MY HERO Project website for educational resources and an online archive of creative works that address the topic of heroism. http://myhero.com

Please go online to request training and support from MY HERO Mentors http://myhero.com/MentorForm
Page created on 1/31/2013 12:00:00 AM
Last edited 1/31/2013 12:00:00 AM