Louis (Satchmo) Armstrong
by
Yusuke from San Diego
"We all do 'do, re, mi,' but you have got to find the other notes yourself."
"The Big Easy", known as New Orleans, is the birthplace of Dixieland jazz. A city filled with rich colors and lights, music drifts out from every corner. Though Louis Armstrong came from this ragtime city, his single mother raised him in the outskirts of New Orleans. There, he would listen to jazz floating through the streets, not knowing that he would one day become one of the most influential and successful jazz musicians in history. From 1919 to 1971, Louis Armstrong worked nonstop to produce "great music" that everyone around the world could enjoy, with a style which led to the transformation of the way jazz is played. However, Armstrong's talent and creativity did not make him a hero; his attitude about life, his humbleness, and his true love for music made him inspirational. He never wanted fame; he was "just glad to play" (Louis Armstrong).
Louis Armstrong's style of playing, an approach never before seen by other jazz artists, made him famous. Modern day trumpeters like Miles Davis and Wynton Marsalis say, "You can't play a note on the horn that Louis hasn't already played…" (DISCovering Multicultural America). As the entertainer who revolutionized jazz, he invented a technique called scat singing. Scat singing requires the singer to improvise a melody using syllables and rhythms. It was said that Louis created scat singing when he "dropped his sheet music during a recording session and had to substitute vocal improvisations until someone picked up the sheets for him" (DIScovering Biography). His originality and astonishing improvisational skills changed the style of jazz. Because Louis's remarkable improvisational dexterity allowed him to play zealously, "he added feeling and nuances to his playing that made him so appealing to his audiences everywhere" (Bruccoli, Matthew J, and Arlyn Bruccoli). Many jazz performers followed the sheet music placed before them, but Louis experimented with his music. He added more resonant emotion and rich, colored tone into the songs he performed along with his own personal style. His first successful song, a remake of the song "Ain't Misbehavin'" by pianist "Fats" Waller, demonstrated Louis's talent and his career skyrocketed. His recording marked the turning point of the revolutionary change from Dixieland swing to modern jazz.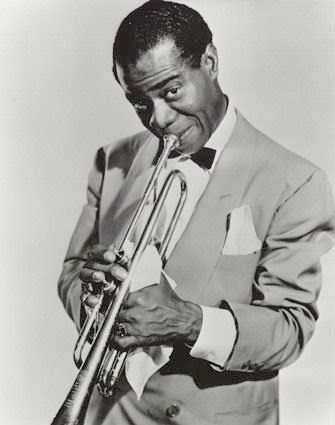 Although he was a distinguished jazz artist, he remained a modest man who gave away as much as he earned. Matthew J. Bruccoli describes Louis as… "a humble man who preferred to help people inconspicuously." Louis supported Martin Luther King, Jr. and the fight against segregation. However, he did not want politics to interfere with his job and music, so he worked behind the scenes by supporting Martin Luther King's cause. Louis also donated generous amounts of money to the Waif's Home, the place where his musical career began. Along with the Waif's Home, Louis bestowed his money on a variety of other charities as well.
Even though Louis was talented, he never enjoyed the hard life of a performer. "He accepted fame as it came to him, but maintained that his main goal was not to be famous but simply to play music. Fame and fortune did not seem to make him very comfortable. Ebony magazine even referred to him as a 'reluctant millionaire.' He valued health and happiness over material well-being. While he enjoyed his fans and their appreciation of his music, the 'glamorous life' of touring and recording was hard work for Armstrong…" (Bruccoli, Matthew J, and Arlyn Bruccoli).
All Louis ever wanted to do was to enjoy music and appreciate life. His vision of music fueled the transformation of jazz and how it was played. He cherished every beauty he encountered and revealed the splendor of the world through inspiring lyrics and music.
I see trees of green, red roses too.
I see them bloom for me and you...
Yes I think to myself, what a wonderful world…
(Louis Armstrong from "What a Wonderful World")
Page created on 8/28/2011 12:00:00 AM
Last edited 1/6/2017 7:17:20 PM
The beliefs, viewpoints and opinions expressed in this hero submission on the website are those of the author and do not necessarily reflect the beliefs, viewpoints and opinions of The MY HERO Project and its staff.
Bibliography
N/A, N/A. "Armstrong, Louis (1900-1971)." DISCovering Biograph.
N/A, N/A. "Armstrong, Louis (1901-1971).." DISCovering America.
N/A, N/A. "Armstrong, Louis (1900-1971)." UXL Biographies.
Bruccoli, Matthew J.. "Armstrong, Louis Daniel (1900-1971)." American Decades.
McCarthy, Albert. Armstrong, Louis Daniel (1900-1971).