Laverne Cox
by
Michelle from San Diego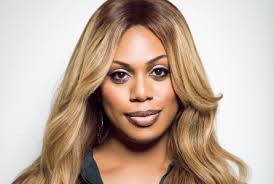 When asked, many people have different opinions on what makes a hero their hero. But a lot of people say it's because their hero is famous or cool, not many people think about what they've done. Laverne Cox is more than just a famous icon on tv. Cox was born on May 29, 1984 in Mobile, Alabama. She was assigned male at birth by Gloria Cox and later on had a sex change. She's a 31 year old actress and icon for the LGBT community. Cox plays a major role on the show "Orange Is the New Black" as a woman who ended up in jail due to her stealing credit cards to fund her sex change. In her early life Cox was bullied by other kids for the way she acted because it wasn't considered normal. The bullying got so out of hand she tried to commit suicide but obviously failed. Till now, Cox still has haters but she's not alone, she has many supporters to back her up. A real hero is someone who will selflessly take action for others. A hero will constantly help others daily without wanting anything else in return. Laverne Cox is a major hero in LGBT history not only because she's transgender but also because she is humble about her fame, she's dedicated to helping others, and she self-sacrificed her reputation for the LGBT community.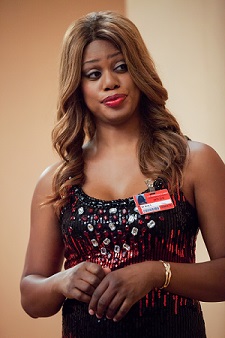 Cox doesn't like to brag about her fame and she doesn't want fame for herself but to change the lives of others. Cox doesn't speak out for the sake of her fame and reputation but to let her voice be heard to others. Cox "[...][is] too young to be an icon" and she also exclaimed, "It's not about me. That's the only way I can wrap my head around it. It's about God's will for me. It's about me trying to let God speak through me and through the work I do and lifting up the voices of other trans folks," (New York Posts) This proves how Cox doesn't want to be seen as an icon or a hero, she just wants to prove that everyone is human even if they may be different that just makes them special. Cox is trying to prove the bullies that nothing can bring her down from standing up for what she believes in and she's built an army of supporters along the way. She was also acknowledged globally for her contribution to society:"I am so deeply honored to have been asked to be part of the Madame Tussauds legacy," the star said in a statement. "I hope that this will be a source of inspiration for everyone who encounters it to believe that their dreams matter and are possible" (UPI Newstrack). Originally when Cox began starring on TV she didn't expect much more than to be known for speaking out towards to LGBT community and for the people who were bullied for who they are. Receiving this statue was touching to her but she still didn't brag, Cox wanted this to inspire others to keep going and know that in the end if they fail or succeed they can at least know they tried their best and that makes them her inspiration. People who go in and call themselves a hero aren't, people who do it out of genuine care and dedication while staying humble are true heroes.
Cox is also very dedicated to what she does for her supporters and others too and her dedication lead her to being a huge icon. Being tired has never caused true heroes to give up on what they love to do. "Orange Is the New Black" star. "I'm just tired. I'm beyond surreal right now. I'm just like exhausted and I need a lot of energy for tonight's event," the transgender star told Page Six at the Season 3 premiere of her Netflix series (New york Posts). Cox's dedication to the show proves how she doesn't give up on the LGBT community. Many people give up on the things that they love because of being tired or lazy. Considering she didn't give up shows that it means alot to her. Cox constantly thinks about her supporters and other ways she can help people who need the support back proving her love and dedication to society. Cox's motivation to continue is from haters who try to bring her down but only make her stronger. "People are obsessed (with the show). Would you ever have thought a show about a women's prison would have this moment? It's unbelievable" (World Entertainment News). Cox is very touched by the amount of people who support and watch her in shows. She never thought she can go from a kid being bullied to a big entertainer and speaker for the people. She only continues to give the people what they want and ask for nothing in return. She has a drive to prove all the non supporters that she won't give up because of the words that are said about her. If Cox gave up on her supporters due to hate she would've never came this far and because she did proves her dedication.
Cox sacrificed her fame and reputation to spread the word about LGBT. Many people care a lot about themselves and what others think but not Cox: "Laverne Cox, a transgender advocate and award-winning actress from the Netflix original series "Orange is the New Black," will open the University at Buffalo's 2015-16 Distinguished Speakers Series with a talk at 8 p.m. on Wednesday, Sept. 16, in Alumni Arena on the UB North Campus"(States News Service). Cox offers to speak out for all LGBT people as she sacrificed herself being judged or even hated. People have different viewpoints on the topic and the fact she speaks out for a lot and not letting hate get in the way shows a lot of self-sacrifice. Considering she was bullied for the way she acted when she was younger it proves a lot about her character because she didn't back down and she offered herself up to help others. Cox also sacrificed all she had to become who she is today. "I stand before you this evening as a proud African American transgender woman from a working-class background, raised by a single mother," Cox said. "I stand before you as an artist, an actress, a sister and a daughter. I believe it's important to name the various intersecting components of my multiple identities because I am not just one thing and neither are you" (Aronson). As she said in her speech that she had a single mother and still she managed to go towards her dream and she went from a nobody to somebody while sacrificing a lot. In the beginning Cox didn't have many supporters but she did everything she could to end up in this position as an advocate in the LGBT community. Without sacrificing herself and everyone's opinions about her she probably wouldn't be on tv or in auditoriums giving speeches about equality.
Cox is an inspiration to me because she taught me to love myself and shut out all the hate. That no matter what I still have the same rights as every other human being. She strives to help others and doesn't expect anything in return. She's won many awards for her contribution to the society and many people see her as a role model. LGBT has always been a debatable topic and a lot of bystanders didn't do anything until she and a few others spoke up. Cox is the main reason in which more people are coming out to the public without the fear of being a lonely outcast because she was humble, dedicated, and self sacrificing.
Works Cited
"Laverne Cox makes Emmys history as first nominated transgender star." World Entertainment News Network 10 July 2014. Biography in Context. Web. 29 Jan. 2016.
"Laverne Cox to receive Madame Tussauds wax statue." UPI NewsTrack 9 June 2015. Student Resources in Context. Web. 4 Feb. 2016.
"Media advisory: Transgender advocate Laverne Cox to speak at UB on Sept. 16."States News Service 16 Sept. 2015. Biography in Context. Web. 3 Feb. 2016.
"'Orange' exhausts Laverne."
New York Post
[New York, NY] 13 June 2015: 012.
Biography in Context
. Web. 29 Jan. 2016.
Page created on 2/14/2016 12:00:00 AM
Last edited 10/8/2018 8:53:07 PM
The beliefs, viewpoints and opinions expressed in this hero submission on the website are those of the author and do not necessarily reflect the beliefs, viewpoints and opinions of The MY HERO Project and its staff.