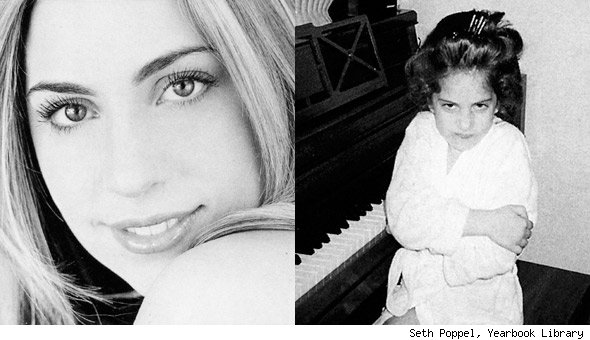 Who is Lady Gaga? A singer/songwriter/musician, she is a dancer, performer, and an attention getter when it comes to her crazy appearance. But who is she on the inside? Stefani Joanne Angelina Germanotta (aka Lady Gaga) is not only an amazing performer but she stands up for what she believes in and tries to make change to things that have not yet been made right. Stefani was born on March 28, 1986. She is the daughter of Joe and Cynthia Germanotta and is a sister to Natali Germanotta. Stef was born and raised in New York City, and fell in love with performing on stage using her voice and her Yamaha keyboard. When she was 16 her mom started taking her to NYC nightclubs so she could sing and dance on stage while the audience soaked up her enthusiasm. After going to a performing arts school for a year, she decided to drop out and pursue her dreams of being a singer. She joined a group called the SGBand who was popular for the night scene. One night while performing, a woman named Wendy Starland heard her sing and called her manager Fusari to tell him she found "the one." After they met, she sang for him and they slowly turned her into a star. About a year later she was signed with a record deal and in 2008 released her first single, "Poker Face". She now has three albums out that all include singles which have topped the charts including her most inspiring song; "Born This Way." A hero is somebody who improves themselves. Most people who are thought of as heroes don't go about looking to be one, they just posses certain characteristics that make them stand out more than the rest. A hero can be some of many things, but I think the most influential heroes are noticed by being supportive, trying to make change, or having positive attitudes towards everything. Lady Gaga is not only an amazing performer but she stands up for what she believes in and tries to make change to things that have not yet been made right. This woman takes pride in being a gay rights activist, a strong supporter and founder in an anti-bullying campaign, and she encourages and supports individuality.
Lady Gaga is a hero because she's a big supporter of anti-bullying and does everything she can to stop it. While at a press conference talking about the subject of anti-bullying, "Lady Gaga launched her anti-bullying foundation Born This Way at Harvard last week, urging the audience to "challenge meanness." 'There is no law to make people be kind,' she said, providing a takeaway visual: 'I wish there was because, you know, I'd be chained naked to a fence somewhere trying to pass it.'"(Maclean) She is so devoted to the topic that she created an anti-bullying foundation. Her attitude towards bullying shows how much she despises it and hearing of it hurts her heart. People do not realize how serious the situation is and she is one of the few celebrities who is actually using their power to do something meaningful to the rest of the world. While she tries to help people battle against bullies, also "Lady Gaga wants Barack Obama to take a harder line on bullying after 14-year-old Jamey Rodemeyer killed himself after being bullied over his sexuality. One of Rodemeyer's last messages before his death was a tribute to Gaga. Creating a #MakeALawForJamey hashtag on Twitter, the singer and activist said that she will meet with the U.S. President and ask him to push federal anti-bullying legislation in the U.S. 'Bullying must become illegal-it is a hate crime' the pop star wrote. 'This must end,' she ended. 'Our generation has the power to stop it.'"(Maclean) She tweeted in honor of a bully-related suicide. Gaga even contacted the president in efforts to make change towards a problem that, until now, has been breezed over. She believes this is a new innovative generation; we have the voices that can change the world and put a stop to bullying. The only thing needed is a leader and she is willing to be that. "I'm doing everything that I can, working with experts, really studying the statistics to figure out a way we can make it cool or normal to be kind and loving," says the singer, who says she was bullied as a kid."(Morgan) She is researching and getting into legitimate politics to try and create an anti-bullying law. She is the only real famous person who uses her power to make a change and she is doing absolutely everything she can. All in all, it is shown how much Lady Gaga cares about those who suffer daily from being bullied. As she takes a powerful stance against it, she is doing everything she can to stop it entirely and should be admired for trying to make change that could save thousands of lives.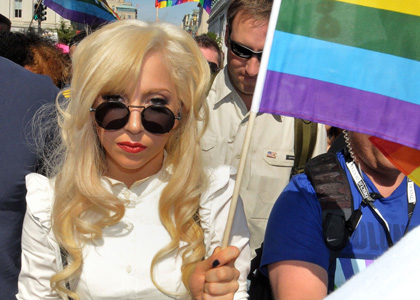 Lady Gaga is a strong gay rights activist and supports them by trying to pass gay marriage laws and hold private concerts just for the gay community. Gaga is questioned about her view and thoughts about how the gay society should be treated, "In an interview about the matter Gaga was typically contentious, stating, 'The real motivation is to turn the world gay.'"(Morgan) The world does not actually have to be gay, everyone should just be okay with everyone and whether it means changing sexual orientation or not, we all should accept everyone. All of the discrimination needs to stop because it is slowly either tearing everyone apart or bringing everyone together. At a large public press conference, Lady Gaga states how we should all be treated equally; "'We're all from the same DNA. We were just born this way.'.'I stand here as a woman of the world and I ask governments, with you, worldwide to facilitate our dream of equality,' said the singer."(Morgan) What really sets us apart from each other? Our looks? Honestly if everyone was compared by looks, we wouldn't be able to say which person is gay and which person is not. Everybody deserves equal rights. It is exactly the same as how Americans were racist towards Africans and Chinese and now racism is looked down upon. Sexism should be just as wrong if not worse. One day this will be looked down upon completely too. While angered about recent gay-hate suicide, "The musical superstar tweeted the fans Thursday, urging them to call state senators to demand they act on the gay marriage bill currently before the Senate."(New York Daily) She is using all of her power to try to get a gay marriage legal in all states but specifically New York. People say express themselves but it is not possible if there is fear present about being judged. Lady Gaga feels so strongly about equality and feels that it is ridiculous that sexism is even apparent. She is perplexed by how people can be treated so differently while we all look so much the same.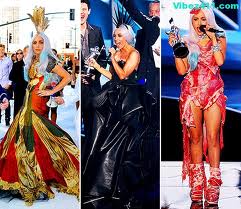 ; Lady Gaga dresses and blends different music styles together to create something great. Almost everything she does has never been done before and she supports the fact that everybody should be themselves and be original. During a private interview, a discussion about a headline in US Weekly magazine came up to topic and she stated; "US Weekly putting me on a worst dressed list? I couldn't care less. If Karl Lagerfeld called me an ugly hag, then I'd be upset"(Morgan). She does not care about what people who are insignificant in her life think about her. Self expression is key, and if everybody is happy with themselves then that is good enough and they either need to be supported or left alone. Lady Gaga spills out her feelings about how she perceives herself and confidently says "When I say to you, there is nobody like me, and there never was, that is a statement I want every woman to feel and make themselves. I don't make it as a defense"(Morgan). She is confident in herself and doesn't make up excuses as to why she acts or dresses the way she does. Who wants to be like everyone else? That is boring! Being individual keeps the world alive and fun. No one wants to be friends with themselves, and if they do they would not have any friends. It is that simple. Gaga talks about her personal definition of fame and how she started out as just acting famous to be famous. "'You really don't need to be a celebrity or have paparazzi following you around to be famous. Me and my friends just simply declared fame on our own, and we made art, and we said, 'This is the future' and we dressed in a way that said, 'This is fashion'"(Morgan). If one believes they are something, and they act that way, then that person can sure as hell be it. The only thing stopping someone from being themselves is themselves. But in the process of self expression, fear is not accepted, it is denied. Lady Gaga despises people who copy others and just tries to influence everybody to express themselves in a way that everybody else does not. "I want to be original more than anything. I don't really want to be like anyone. I want to be myself"(Morgan). If a goal is to not be like anybody else, then everything should be done to achieve that goal and do the best to stay out of the norm. "Cus you were born this way baby." Gaga proves how much she dislikes 'copy cats' and wishes everyone has a voice and is not afraid to do, say, or be what they want to be.
Gaga's ability to speak her mind by supporting gay rights, founding an anti-bullying campaign and encouraging individuality helps people unite and try to make change for the better. The Born This way anti-bullying campaign is starting to fully develop and take action. Also, Gaga is devoted to make gay marriage legal and was present for the conference where Obama claims he supports gay marriage. This generation has the power to change the world and Lady Gaga is leading us in the path to do so. If her wishes could be put into one phrase I would say this would be it; If everybody accepts each other for themselves and their differences, then we would be a powerful, happy force that could change the world. Lady Gaga is an inspiration mostly to me because of her support towards individuality. I am not somebody who is a follower so it is important to me to have someone who seeks the differences in people as a good thing. Sometimes people are afraid of someone or something that is out of the norm, so they run and turn against it. It makes you want to succumb and be like all the rest. Personally, the presence of Gaga's support makes it possible for people like me to enjoy being different. Also I am blown away by how much she commits to the things she is passionate about, I agree everyone should be equal and gay marriage should be legal. I also agree on the terms that bullying is wrong and as much as I would like to change the matter, it is a large and close to impossible task to overcome. The world needs more people like Lady Gaga because she is driven to make change for the better. She cares about the people and her fans and wants everyone to live an enjoyable life. If we all could accept each other and treat each other equally than hate would not be present, and a world without hate is a world of peace. And aren't we all striving to be at peace with something, if not everything?
Works Cited
"Gaga's bully pulpit." Maclean's 19 Mar. 2012: 11. Gale Biography In Context. Web. 9 May 2012.
"Lady Gaga." Newsflash Biographies (2009): 1. Biography Reference Center. Web. 9 May 2012.
"Lady Gaga Breaks Record in 3 Crazy Outfits." Vibez411. Web. 17 May 2012. .
"Lady Gaga Gets Political For Gay Marriage, Leopard-Print Lingere · NYU Local." NYU Local. Web. 17 May 2012. .
"Lady Gaga in High School Lady Gaga Yearbook Picture." Lady Gaga in High School BOB Lady Gaga Yearbook Picture. Web. 17 May 2012. .
"Lady Gaga Pushes for Gay Marriage in New York, Asks 'little Monsters' to Contact Undecided Senators." New York Daily News. Web. 09 May 2012. .
"Make it better: make bullying criminal?" Maclean's 10 Oct. 2011: 12. Gale Biography In Context. Web. 9 May 2012.
Michael, Levy. "Lady Gaga." Britannica Biographies (2011): 1. Biography Reference Center. Web. 9 May 2012.
Morgan, Johnny. Gaga. New York: Sterling, 2010. Print.
Page created on 6/18/2012 12:13:29 PM
Last edited 9/21/2018 2:51:31 PM