by
Brandon from Fredericksburg
My hero is LeBron James. LeBron James is my hero because of his philanthropic work, character traits such as unselfishness, and he inspires people to do what they like and to be themselves.
He was born in Akron, Ohio on December 30, 1984. Akron is a city of struggle and hardship; it also maintains a high crime rate. So, because of the high homicide, drug, and theft rate, not many people make it out of Akron with a very bright future. It was even tougher for LeBron because his father was nonexistent in his life. His mother, Gloria James, had affairs with multiple men before James' birth and all of them would not claim the child. LeBron spoke on this topic by inspiring kids that they can still be great with only one parent and that they should continue pushing through your trials and never give up. Only if those men had known what James was going to become they would have provided care for him and his mother.
From a young age, LeBron worked exceptionally hard. He saw the struggle his mother was going through and that almost every other month they had to move apartments. For his own benefit, his mother sent him to live with his basketball and football coach who introduced him how to play these sports well.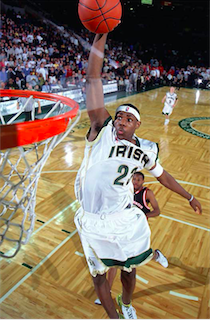 From the tender age of 15, LeBron had the spotlight on him. As a freshman starter, he led his high school varsity basketball team, St. Vincent-St. Mary, to a state championship. He led the team in scoring with 21 points. That's absolutely amazing to lead your team to a state championship as a freshman. After that, the college recruitment rained heavily on him, his games began to be televised nationally and all sorts of NBA stars, such as Shaquille O'Neal and Allen Iverson, came to watch him play. Big television networks began to interview James and he continued to keep his composure and show his great humility. Girls all over the country were throwing themselves at him, great amounts of money was offered to him, and he didn't fold under the pressure.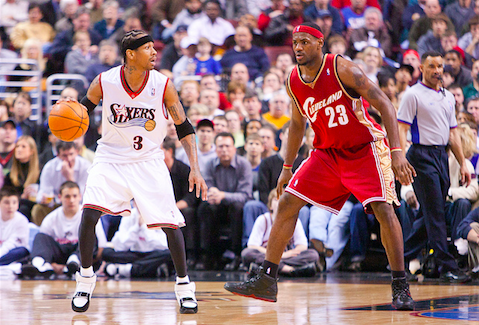 As I stated before, James grew up without a father and watched his mother struggle immensely. James took that upon himself to have a positive fatherly impact on his children's life. No matter his "schedule," he always finds a way to spend time with his three children. That's pretty incredible for someone with a grueling schedule such as his. Kids that look up to him will see how he treats his wife and kids and they will want to do the same thing. James' impact is worldwide; he is a household name, and millions upon millions of people watch his every move. The great manner in which he carries himself, is not what you would expect from someone with great wealth, went to the NBA from high school, and his high status in society. His humility is one of my favorite traits about him. He has that champion mentality on and off the court.
LeBron also inspires me on the court. He is one of the best players ever in the history of basketball. He is a threat to score from anywhere on the court, he can defend every position, and he rebounds as if he was 7'2". For some reason, he always thinks of his teammates. This is very rare occurrence for someone with his scoring ability. Usually, we see players being able to do one thing well, such as scoring or assisting. LeBron has been consistently in the top 5 in both categories throughout his career; he takes pride in setting his teammates up. Unselfishness is a trait that I believe a hero should have. For LeBron, this runs strongly through him.
The only thing I believe that people can have against him is his decision to leave the Cleveland Cavaliers and join the Miami Heat. I honestly had no problem with it. LeBron is a grown man and should be able to make decisions that best benefits himself and his family. The general public criticized him greatly for this decision. He left his hometown to go pursue championships to solidify his legacy, which he ultimately did. Although the city of Cleveland took a hit, both financially and on the court, I don't knock LeBron for his decision. I believe he didn't fully understand the magnitude of leaving Cleveland. I actually think what LeBron did was courageous. James spent his entire life in the Cleveland-Akron area. This is where all his close friends and family members were. James stepped out of his "comfort zone," and moved 1200 miles away from an area and people he is completely familiar with, to a completely different place and people. He even improved tremendously as a basketball player, posting career high statistics and also became a better person, leader, and advocate for the game of basketball. So, his decision better him as a person and he showed a great deal of courageousness to step out of his comfort zone.
After four years with the Miami Heat, James decided to come back to Cleveland. He matured exceedingly. No longer was he the kid from Akron that played and joked around. He came back to the city and created more opportunities for the people of Ohio. The money they lost when LeBron left, now came back doubled. Jobs were created all due to him being back home. He learned from his mistakes. James said, "Miami, for me, has been almost like college for other kids. These past four years helped raise me into who I am. I became a better player and a better man." Maturity is another trait you don't see from a young person making millions, but he found it in himself, which I really love about LeBron.
LeBron has always been a charitable person. Over his career, he has donated millions to his multiple foundations, such as the LeBron James Family Foundation and the I PROMISE Program. He's also donated to other causes such as cancer, people with mental and physical disabilities, education, and many other causes. LeBron is always doing community work and continues to donate to local Boys and Girls clubs. Just this past summer, LeBron promised all of the kids in his "I PROMISE Program," that if they meet the requirements they will attend college for free at the University of Akron. The requirement is pretty simple: graduate high school. That's absolutely incredible, considering there are as many as 2,300 children that could potentially benefit from these scholarships. This is just a wonderful deed done by LeBron. The lasting effect of his unselfishness could be a huge difference in our country. If the majority for these kids go to college, think of the jobs that creates and how it improves our society. James emits nothing but positivity and greatness.
I've looked up to LeBron for so long, and I will continue to do so. Not only is he a great basketball player, he is truly a magnificent person. No one taught him these things, which amazes me the person he became. He inspires many across the world, including me, to think about others and to not be afraid to be yourself. His traits of inspiration, humility, unselfishness, courageous, understanding, hardworking, and leadership show his genuine heart. This is why LeBron James is my hero and role model.
Page created on 1/10/2016 12:00:00 AM
Last edited 12/21/2017 10:51:26 PM
Bibliography
Taddeo, Lisa. "Inside the LeBron James Brand." [Online] Available http://www.esquire.com/news-politics/a4962/lebron-james-1008/.
Net Arch Bold. "LeBron James dunking in a high school basketball game." [Online] Available http://net.archbold.k12.oh.us/ahs/web_class/Spring_10/lebronjames_stevens/highschool.html.
ESPN News sources. "LeBron James, Akron to Fund 4-year Scholarships for I Promise Students.." [Online] Available http://espn.go.com/nba/story/_/id/13437404/lebron-james-university-akron-fund-4-year-scholarships-pr.
FSN Ohio. "16 Years Old LeBron." [Online] Available https://www.youtube.com/watch?v=29SDllawaw8.
Family Foundation, The LeBron James. "LeBron James Family Foundation. ." [Online] Available http://www.lebronjames.com/.