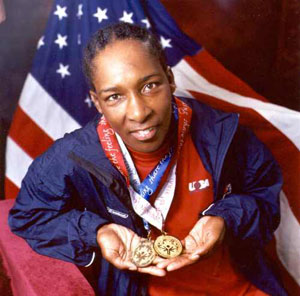 Over the eleven years I have worked on the MY HERO Project, one of the things I have learned about those who are celebrated as heroes is that they are remarkably free and fearless, while many of their counterparts are bound up by negative emotions from past and present - emotions like anger, resentment, bitterness, insecurity, guilt. They're held prisoner by their fears: of what others may think of them, of making mistakes, of death or a disabling illness, or of failure. As a result, they hide inside themselves, never allowing themselves the blessing of being a part of a community. And denying the community the blessing of their presence, their gifts and talents.

There's nothing more tragic than a human being trapped inside of him or her self, and there is nothing more beautiful and more wonderful than a human being fully alive. The journey of Loretta Claiborne is a story of a woman who had every reason to be held captive by her fears. She could have used her disability, her gender, her race, and the abuse she suffered at the hands of others as an excuse to hide her gifts under "the bushel."

But she refused, with the help of her own heroes. And because she did refuse, she has gifted us with a life story that is a living testimony to the tremendous possibilities of the human spirit. No matter where we come from, no matter how we may have suffered, no matter how many strikes we may have against us because of nature or nurture or both, there is always a possibility for the transformation, regeneration, education, and even the resurrection of the human spirit.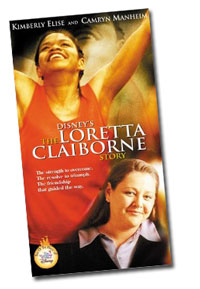 Loretta and I had just sat down for an interview when she broke out into a song celebrating the arrival of the Special Olympics Torch. Just out the window we could see a crowd of people following the torch through a classic Connecticut downpour. Her vocal salute to the torch finished with a shy laugh and I saw her back straighten and I half expected her to stand and salute. There was a longing in her eye. She wanted to be there - she wanted to be out in that nor'easter with her fellow athletes celebrating what for her would be close to 40 years of inspiration, transformation, and lots of perspiration.

But Loretta had a day of appearances to make in California the next day. One more calling to share her extraordinary journey of faith, hope and joy. One more opportunity to give back to that from which she had received so much. One more opportunity to inspire the young and old to enrich themselves and their community with the best of their humanity. So she couldn't risk getting the flu. She simply had too much to do.

I was a little surprised to feel her desire to be out in the pouring rain. After all this is a woman who has run in over 25 marathons, twice placing among the top 100 women in the Boston Marathon. She is an African American woman who has carried the torch in the International Special Olympics and has won dozens of medals in dozens of events. She holds a Special Olympic record in the 5000 meter event and has been honored with ESPN's ESPY Arthur Ashe Award for Courage. There's even a movie about her life called The Loretta Claiborne Story and a biography about her entitled In Her Stride. And all of these accomplishments are between frequent appearances on the Oprah Winfrey Show, honorary degrees and earning a black belt. So it's not like she needs a jog in the rain to bolster her resume.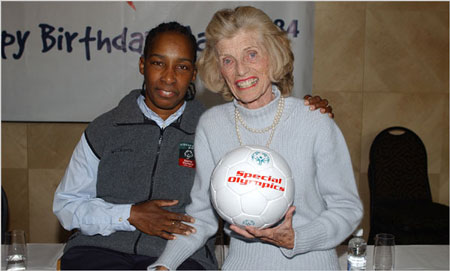 Loretta's dedication to her mission stretches far beyond any finishing line - or for that matter any list of honors or celebrity appearances. Besides, even if she had the inclination to rest on her laurels, her mother, Eunice Kennedy Shriver, and God wouldn't stand for it. She would hear them say, "You are far more then your awards, medals, accolades, and guest appearances. You are a child of God. That is, among other things, you are the face of joy, hope, courage, and kindness. You are somebody. Now get busy."

Loretta's journey began 56 years ago in York, Pennsylvania. Her Mom was single. Loretta was the middle child in a family of seven, and when she came into this world she was partially blind, mildly intellectually disabled, female and African-American. She was born into a culture where people were and still are to a large degree defined and judged by the color of their skin, gender, intellectual aptitude, and the economic and social circumstances of their families. The Civil Rights movement was nascent. Women were expected to stay at home. And the intellectually disabled were carted off to institutions where they would be out of sight and out of mind.

From the classroom to the playground, Loretta was the target of slurs and bullying by her peers and the brunt of low expectations by her teachers. She was marginalized. The prejudice she encountered and the abuse she endured created within Loretta an inner rage, an anger that would at times explode. She could and would use her fists to fight and occasionally her legs to run from the trouble that seemed to follow her. Once, while walking home from school, she was harassed by a carload of boys. With menacing intentions they got out of the car to assault her, but Loretta ran from them. They chased her, but they could not catch her. She realized then that her legs were as useful, if not more so, than her fists.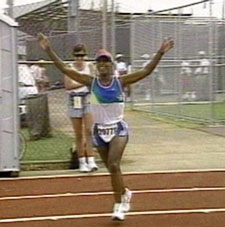 Her anger led her down some dark paths including getting expelled from school and fired from a job. In fact, so great was her anger and resentment Loretta believes that if it weren't for the Special Olympics and its impact on her life she would have wound up in jail. Fortunately for Loretta, her mother would not accept the status quo treatment of the intellectually disabled. Nor would she allow Loretta or any of her children to define themselves by the circumstances of their lives. She believed that her children, like all children, were children of God, and therefore capable of realizing the impossible possibilities of their dreams. They were not nobodies, indeed, they each were and are "somebody special."

So when the state came around to insist that Loretta be placed in a special "school" away from home and away from the traditional classroom, her mother said, "Not my child." Although Loretta's Mom thought Loretta was somebody special, she was not given special privileges. She was not exempt from the chores and responsibilities around the house. What was expected of her siblings was expected of her. Her disability was never an acceptable excuse.

While her first run was a run from trouble, one of Loretta's brothers introduced her to the more therapeutic effects of running. Running was his routine. He invited Loretta to run with him. Loretta enjoyed the attention of her brother and the long jogs through the city streets. She discovered that it helped to release her anger and put her in a place of relative serenity. So when a social worker, Janet McFarland, suggested that Loretta join the Special Olympics, Loretta joined, but she did so with more fear and trepidation than self-confidence. She feared her peers and coaches might greet her in the same way she had been greeted and treated at school. Her fears quickly went away. And it wasn't long before Loretta was competing in and winning in Special Olympic events.

Ten years after her first Special Olympics event, a stranger with an even stranger accent came up to Loretta and they began to talk. At first it was about Loretta's running, and then the conversation turned toward more intimate topics like family, faith, personal dreams and so on. When it came time to go their separate ways the stranger dug in her handbag unearthing a card, which she handed to Loretta with the invitation to "Please write."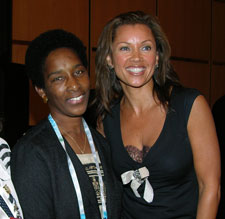 Later when Loretta looked at the card she discovered that she had been speaking to Special Olympics founder Eunice Kennedy Shriver. Their correspondence took off immediately with a letter to Loretta from Eunice. And so began a friendship and mentorship based on a mutual respect that spanned several decades until Eunice's death in 2009. Eunice believed that someone with intellectual or physical disabilities was not only able to compete on the playing field, but they could also contribute their gifts off the field. It wasn't long before Eunice enlisted the eager young Loretta to assist in one of her son's political campaigns. Indeed their friendship went beyond the Special Olympics to politics, family gatherings, and a shared dream to see those with physical and intellectual disabilities treated equally with those who have none.

Today, Loretta is perhaps the most celebrated and recognized athlete of the Special Olympics. Of course, Loretta takes little credit for achievements. As she puts it, "God is my strength." Nevertheless, not only is Loretta one of the millions who have benefited from Eunice Kennedy Shriver's vision, but she is also someone who has served as an ambassador for Special Olympics all over the world, inspiring people from all walks of life to become all they are called to be. Exhorting them to never ever let the circumstances of one's life define who and what they do - or what they will become.

But you know and I know that there is no shortage of motivational speakers, many of whom also have remarkable stories to tell. But Loretta is unique. If the medium is the message, then Loretta is the incarnation of Eunice Kennedy Shriver's vision, indeed her life has been, and continues to be, a demonstration of physical fitness, courage, joyful participation, and the sharing of her gifts with others in this global community of ours. As she says, "God is my strength and Special Olympics is my joy."
Page created on 8/20/2010 12:00:00 AM
Last edited 8/20/2010 12:00:00 AM
Related Links
Loretta Claiborne's Website
- About the Special Olympics Athlete and motivational speaker
Special Olympics
- Since 1968, Special Olympics has been bringing one message to the world: people with intellectual disabilities can and will succeed if given the opportunity.