Lane Frost
by
Tyler from Shippensburg
If you look up the word "hero" in the dictionary, Lane Frost's name should be listed beside it. Lane Frost may be a name that is not mentioned because he is a bull rider, and not everybody pays attention to bull riding. He is a man who was killed while doing a sport he had always done since the age of ten. Lane Frost is a man of his word, and he is my hero because he was committed, confident, and brave in everything he did.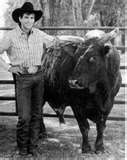 Lane Frost was a man who was committed to everything he had ever done. He was dedicated to helping children learn to ride bulls; he tried his best to hold his wife, Kelly, and himself together through rough times. Lane also was committed to helping at his father's ranch and he put his hands into the life of being a bull rider and being committed to showing up at every Professional Rodeo Cowboy Association (PRCA) sanctioned event. Frost was a guy who would put everything down for just a rodeo and to be known as the bull rider who gave everything at every rodeo. Lane had dedicated himself to Christ only a few days before he was killed at Cheyenne Frontier Days in Wyoming.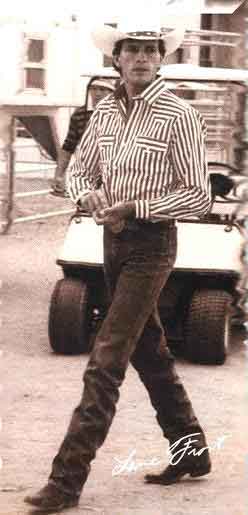 This man was confident in everything he had done, from bull riding, to cleaning the house. Lane was a man who would take confidence in all of his work and play. He was a constant church member to the First Baptist Church in Atoka, Oklahoma. He had started raising confidence in himself when he started riding bulls at ten years old. In 1978, at fifteen years old, he won the title, "Bull Riding Champion" of the Small Fry Rodeo Association. His father would always tell him how proud he was of his accomplishments so it would raise Lane's confidence.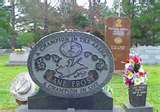 He was a man of bravery and courage, even through all of his wrecks and good times. This man was brave for strapping himself on a fierce animal that weighs 2,000 pounds and bucks with all its strength to get that cowboy off his back. Lane had gotten a broken collar bone, broken ribs, and broken arms, but no later than 4 wks after the accident, he was back on, but in pain. He was a man who had guts of steel and did not fear anything except failure. Lane had so much bravery that even after being told he could die from riding a bull, he still did it. It all ended on July 30, 1989, in chute number seven. He was on a bull, "Takin' Care of Business," that had no reputation of going after the riders once they got off. The chute opened and after eight seconds, the bell rang; it was a perfect ride, but when he dismounted into the muddy arena, he slipped several times and the bull came after him and gave him a blow in the ribs, and caused broken ribs, and a punctured lung. The blows were too much to overcome for Lane. Before he had gotten into the ambulance, they had said that he was dead but paramedics did not want to admit it until the doctors pronounced it. Lane had a friend by the name of Tuff Hedeman that went to the National Finals Rodeo and rode a bull for himself for eight seconds, but he kept riding for another eight seconds for his best friend Lane. "After Tuff got off the bull that was the first and only time we had ever seen him cry," said by Kellie Frost.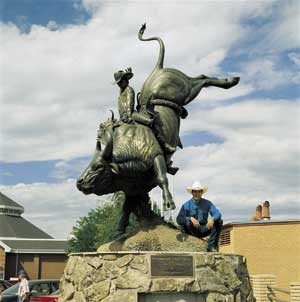 Lane Frost was a man who was committed, confident, and brave in everything he did. He was a man that was so committed to his favorite sport and to making his father happy that he had committed his life, on July 30, 1989. This man had done everything he could do to make his friends and family happy. Lane was buried beside his great friend and mentor Freckles Brown, and they both are resting in peace, but their reputations will go on for generations to come.
Page created on 9/5/2009 12:00:00 AM
Last edited 9/5/2009 12:00:00 AM
The beliefs, viewpoints and opinions expressed in this hero submission on the website are those of the author and do not necessarily reflect the beliefs, viewpoints and opinions of The MY HERO Project and its staff.