Len Stanmore mixes adventure with helping others
by Gregory M. Lamb
Staff Writer for The Christian Science Monitor

He's about to set a world record by climbing the highest peaks on seven continents and crossing the four most inhospitable deserts. But when he added a charitable aspect to his quest he made it even more meaningful.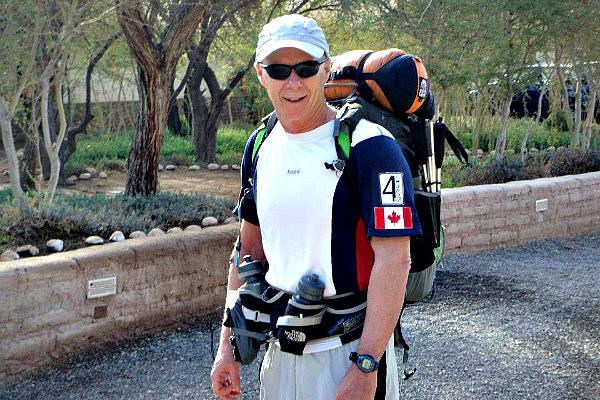 Courtesy of Len Stanmore
A comfortable early retirement left Len Stanmore wondering what comes next. He climbed to a new level of satisfaction when he began to conquer a series of athletic tests around the world, putting him on the verge of setting a world record.

But he didn't really reach the summit of feeling good about himself until he connected those achievements with helping others.

The story starts when Mr. Stanmore sold his successful telecommunications business in 1998 and retired at the age of 49.

"The first year was pretty good: I played golf, I fixed everything around the house, I went on vacation.

"But then, after about a year or so, I really started feeling depressed. I didn't have any challenge in my life; there was no purpose to it."

After having lunch with a business associate who had been mountain climbing, Stanmore decided to try to climb Mt. Kilimanjaro in Tanzania. It was the only mountain he'd ever heard of other than Mt. Everest, the highest mountain in the world, "and I knew that wasn't going to happen."

He was 50 pounds overweight, smoked cigars, seldom exercised, and didn't consider himself to be athletic. "I was not outdoorsy at all. All my friends thought I was crazy," he says. But he went in 2001 "and that was the start of my adventures."

Next week Stanmore heads to Antarctica to complete an unprecedented series of expeditions to some of the world's most remote locations. He will participate in "The Last Desert" race, a 250 kilometer (155 mile) footrace in Antarctica. When he finishes the race, which is expected to take seven days, he will become the first person in history to run across the world's four major deserts (Gobi in Asia, Sahara in Africa, Atacama in Chile, and The Last Desert in Antarctica), ski to both the North and South poles, and climb the highest peaks on each of the seven continents.

His run in Antarctica, with expected temperatures between minus 5 and minus 20 degrees F., will also raise $100,000 for the charity Trekking for Kids, which helps people combine their love of adventure and the outdoors with their desire to help those in need. TFK assists orphaned and at-risk children who live near some of the world's most coveted adventure destinations.

Money collected from his "The Last Desert" run will be used to support charitable projects in Moshi, Tanzania; Cuzco, Peru; and Kathmandu, Nepal.

Stanmore was mountain climbing in Ecuador in 2009 when his guide had him stop at an orphanage supported by TFK in Quito, Ecuador.

"I'm always skeptical of charities," he says. "You never know where your money is going. But I was really impressed with this organization, the dedication of the volunteers. I could actually see where my donation went. It really touched me."

At first Stanmore, who lives in Toronto, continued to make personal donations to TFK. But after a while he began asking friends and family to donate too, tied to him completing new challenges.

Though his "seven summits and four deserts" challenge will be completed shortly, Stanmore has some new goals in mind. He leaves in February to reclimb Kilimanjaro, this time accompanied by his wife. And in April he will run in the Boston Marathon for the first time.

His advice to others thinking about setting a big life goal? "Just get out there and try it," he says. "I think the worst feeling would be to have a goal or a dream and you never attempt it. Even if you attempt it and you fail, you have to try, right? The feeling you get after accomplishing a goal is going to last you for a lifetime."

The lessons he's learned aren't all about personal accomplishment. They're about the importance of helping others, too. When he was racing in the Gobi Desert, he was passed by a young woman runner from Japan.

"When she was running by me she pulled out a water bottle and just squirted me in the face with it, and laughed and went on," he recalls. "It was such a small thing. But I was just at the point of quitting and I thought, 'what a nice thing for someone to do.' And I kept running."
Page created on 11/26/2012 12:00:00 AM
Last edited 1/5/2017 5:11:18 PM
The beliefs, viewpoints and opinions expressed in this hero submission on the website are those of the author and do not necessarily reflect the beliefs, viewpoints and opinions of The MY HERO Project and its staff.
Extra Info
• Donations in honor of Stanmore's incredible feats of mountain climbing, desert foot-racing, and skiing the poles can be made by going to www.trekkingforkids.org.