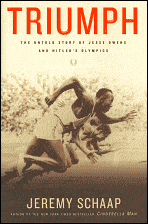 Triumph: The Untold Story of Jesse Owens and Hitler''s Olympics
by Jeremy Schaap

Publisher: Houghton Mifflin Company, February 2007
ISBN: 0618688226

MY HERO recommends this book to adult readers.

Annotation
In 1936, against a backdrop of swastikas flying and storm troopers looming, an African-American son of sharecroppers set three world records and won an unprecedented four gold medals, single-handedly crushing Hitler's myth of Aryan supremacy. The story of Jesse Owens at the 1936 Olympics Games is that of a high-profile athlete giving a performance that transcends sports. But it is also the intimate and complex tale of the courage of one remarkable man.