Liliuokalani
by
Brittney from San Diego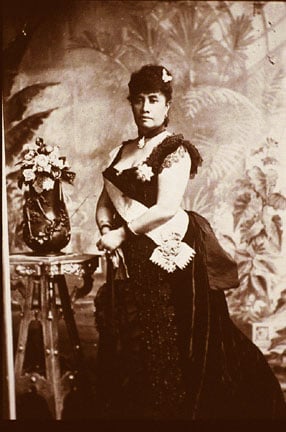 Lili'uokalani at Queen Victoria's Golden Jubiliee
(Stanislaw Ostrorog (1830-90) Public Domain
You may have heard of the Queen of England and the King of Nazareth but not many people hear about the Queen of Hawaii. Her name is Liliuokalani and she was the last Queen of Hawaii who witnessed the end of the kingdom of Hawaii when the United States took over.
Liliuokalani was born on September 2nd, 1838. When she was born she was immediately adopted by a woman named Konia who became her foster mother and her chief named Paki who became her foster father. When she became older, she went to a Royal School, a boarding school run by missionaries. (DNHS Library 2). To Liliuokalani, learning was very important. When her school closed in 1848, she attended a day school also run by the American military. When she was a little girl she learned English and went to church every Sunday. She had ten brothers and sisters who were all from different families. But with so much to do and so many family members, she said that she never got enough to eat (DNHS Library 2). When she was a young adult, her parents wanted her to marry Lunalilo also known as Prince William. She was supposed to marry her fiance Lunalilo, but her heart belonged to the son of an Italian sea captain, named John O. Dominis. John and Liliuokalani married. They began their married life at Washington place, the estate built by the groom's father for his family. Before Liliuokalani was proclaimed Queen, she wrote many books and catholic songs including "Aloha Oe." Throughout her life, she never settled down to have kids. Later on, her former fiance, Lunalilo passed away not leaving a heir to take the throne. Liliuokalani's brother was next to become king. Only a year after he was pronounced king, he passed away from a terrible illness. Liliuokalani was the next to the throne. Liliuokalani was then crowned Queen on January 29th, 1981 at the age of fifty-two. When she became Queen, she became known as a hero.
Liliuokalani is known as a hero because she always put her kingdom before herself. When her kingdom was being taken over by the American military, she did her best to gain more power to the monarchy. Liliuokalani protested to both the United States and Great Britain, but to no avail. An attempt to restore the monarchy was quickly squelched, leading to Liliuokalani's arrest and conviction on charges of treason (DNHS Library 13). When she was in prison, she was basically stripped of her powers as a Queen. Liliuokalani is also known as a Queen because she did a lot of community service when she was a Queen. She loved to help her kingdom out when they were in desperate need of her. She is a very strong hero also because she didn't become depressed when many close people to her passed away. Paki died in 1885, King Kamehameha died a year after Liliuokalani's marriage, her former fiance Lunalilo, and her brother died in 1891. Even though she only lasted as Queen for only a year, she was still an inspiration to many people both in Hawaii and out.
Liliuokalani is an inspiration to many people because she wouldn't allow people to tell her what to do. When her parents wanted her to marry Lunalilo, she told them no and married her true love, John O. Dominis. She didn't want to marry someone who she wasn't in love with. She stands up for what she believes in no matter how bad the consequence is. She was imprisoned in the Lolani Palace and forced to sign abdication papers because she protested against both the United States and Great Britain. Hawaii was officially annexed to the United States on August 12, 1898, but the Republic continued to govern the islands under the authority of the President of the United States (DNHS Library 5, 6). She never let people tell her what to do especially when it came to her kingdom. She loved Hawaii and she did whatever she could to keep it under her authority even if it meant having to go to prison.
Liliuokalani inspires many people. She is known as my hero because she never let people tell her what to do and she always put her kingdom before herself. It shows that she really cared for her kingdom and that she was willing to do anything to make it right. Liliuokalani is my hero.
Page created on 12/31/2011 4:40:30 PM
Last edited 1/28/2019 9:41:09 PM
The beliefs, viewpoints and opinions expressed in this hero submission on the website are those of the author and do not necessarily reflect the beliefs, viewpoints and opinions of The MY HERO Project and its staff.