She's chief executive of Endeavor Global, a nonprofit group that gives a leg up to budding entrepreneurs.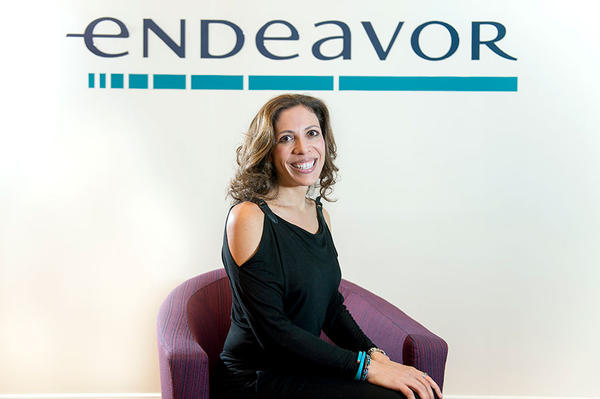 Ann Hermes/Staff
NEW YORK

Linda Rottenberg is not one to avoid risk.
"I believe that stability is the friend of the status quo, and chaos is the friend of the entrepreneur," she says. "So I get nervous when things are too stable."

Not only has she taken her share of risks throughout her career, she has made a point of encouraging others to do the same.

Ms. Rottenberg is the cofounder and chief executive of Endeavor Global, a nonprofit organization that helps budding entrepreneurs achieve their full potential through a mentor network and other kinds of support.

Since its founding in 1997, Endeavor has helped entrepreneurs in developing countries who have, in turn, created thousands of jobs – and in many cases have built the foundation for a new attitude toward entrepreneurship in their homelands.

Endeavor is aimed more at growing existing businesses rather than starting new ones. After being unanimously selected by a panel of business leaders, promising entrepreneurs participate in the Endeavor program for at least six months.

Seventeen years after its founding, the nonprofit now operates in 45 cities and 20 countries.

"We have screened 38,000 founders and selected just under 900 at this point, from 600 companies, to join Endeavor," Rottenberg says.

Endeavor's work comes out of Rottenberg's own life story. She was in the midst of studies at Yale Law School when she realized that she was not interested in practicing law. Instead, something else fired her imagination: people who were starting companies and becoming celebrities.

"This was the age of Netscape and Yahoo," she says. "This idea of being a little daring, of taking chances, was really attractive to me."

During a trip to Buenos Aires, Rottenberg struck up a conversation with her taxi driver. She found out that he had a degree in engineering and was surprised to learn that his skills, while marketable, were simply not in demand there.

Further conversation revealed that there was not much entrepreneurship going on in Buenos Aires – in fact, there was no "popular word used to describe this activity," she says. "No one thought there even were entrepreneurs in emerging markets."

While there were people with a spirit of entrepreneurship, they lacked a support system to help them turn their ideas into realities. Inspired, Rottenberg partnered with Peter Kellner, her Endeavor cofounder, to launch a nonprofit organization that would try to do just that.

The move was daring, and the idea unconventional – one that makes Rottenberg herself an entrepreneur, much like those with whom Endeavor now works.

"I felt alone. I felt scared. I was taking a risk, not following the traditional path," she says, reflecting on her early experiences during an interview in her apartment in New York's Brooklyn Heights neighborhood. "In a way, my whole career has been built around ... not only encouraging people to take a risk, but at the same time finding a way to 'de-risk' that risk."

Endeavor began, she says, as an effort to bridge the gap between people with talent and ideas, who needed backing, and the marketplace. "You could get a $50 loan or you could get a $50 million investment, but you could get nothing in between," she says.

In some countries, it is not seen as acceptable to fail, something entrepreneurs know is part of their learning curve. For those not born into wealth, she says, the chances of starting a business that would succeed were slim.

"We tapped into this desire to make something bigger with their lives," she says of the entrepreneurs with whom Endeavor has worked, "into that sort of universal instinct."

Endeavor works to help entrepreneurs take sensible chances.

"I believe the biggest barriers to entrepreneurship are not financial, they are not cultural. They are emotional and psychological," she says. Through providing entrepreneurs with mentors and support throughout their scale-ups, Endeavor helps them to overcome these barriers.

Endeavor also works to involve the top business leaders in the area in providing support to Endeavor clients. This approach not only provides entrepreneurs with mentors, but also taps into the desire of the business leaders to give back to their communities.

"The spirit is really trying to help these people achieve their dreams," Rottenberg says. Even people who don't get selected for help from Endeavor "come back and tell us that this was the best advice they ever got," she says.

Some of those people come back and try again – about 20 percent of Endeavor's portfolio of clients consists of entrepreneurs who didn't make the cut the first time around.

Ramzi Halaby, cofounder of The Online Project – a social media agency in Jordan – wasn't accepted as an Endeavor entrepreneur when he first applied in 2008.

"Our first attempt did not take us beyond the local selection panel," he says. But that letdown was actually a valuable experience.

"Just by getting Endeavor's feedback on our business plan, and by being challenged by different mentors and board members, our whole mind-set shifted," he says.

In 2010, Mr. Halaby reapplied, and The Online Project – now boasting a client list that includes corporate giants such as Nestlé, Daimler AG, IKEA, Zain Corp., QTel, and HSBC – was selected to become part of Endeavor.

"Endeavor is a big success story and is adding amazing value to many economies," Halaby says. "I can tell the difference between how Jordan was before Endeavor and after. It has played a major role in building the ecosystem for entrepreneurs [here] and has made it easier for people like us to succeed."

Wences Casares became one of the first Endeavor entrepreneurs. The son of a sheep rancher, he borrowed money from a friend in 1996 at the age of 23 and launched Argentina's first Internet service provider.

As his success has grown, he has stayed involved with Endeavor by mentoring and supporting fellow entrepreneurs.

"I was very lucky to be selected," he says, adding that his business never would have grown so large if not for Endeavor's advice, support, and encouragement.

Looking forward, Rottenberg envisions Endeavor continuing to expand – and not just in emerging markets.

"When an economy is [headed] down, entrepreneurs look up," she says, adding that entrepreneurship can play a strong role in helping a country rebound. "I believe it is what changes economies. I believe it is what drives people."

Matt Bannick, managing partner of Omidyar Network – the largest donor to Endeavor – has experienced Rottenberg's passion for her work. "Through her formidable will and infectious enthusiasm, she has grown Endeavor from an innovative idea into a global force for change," he said in a recent interview. "The entrepreneurs that Endeavor has nurtured have had a meaningful impact on job growth, providing employment opportunities for hundreds of thousands of people.

"Linda has emerged as a true visionary, helping to transform the social and economic landscape of emerging markets through the power of entrepreneurship," he concludes.

Five years after her cab ride in Buenos Aires, Rottenberg received a call from a Brazilian-Portuguese dictionary publisher. A word for entrepreneurship – with a focus on ambition and innovation – is now in its dictionary.

While many entrepreneurs have been called "crazy" for taking the business risks that they do, the term should really be seen as a compliment, Rottenberg says.

"You are called crazy so many times, you might as well own it," she says.

- To learn more, visit www.endeavor.org.
Page created on 4/14/2014 8:50:28 PM
Last edited 1/5/2017 6:18:27 PM
Extra Info
How to take action
UniversalGiving helps people give to and volunteer for top-performing charitable organizations around the world. Projects are vetted by Universal Giving; 100 percent of each donation goes directly to the listed cause.
Below are groups selected by UniversalGiving that help those in need:
•The GVN Foundation supports the charitable and educational work of local groups through financial and material donations. Take action: Volunteer with the Ghana Farming Project.
•Global Volunteers advances peace, racial reconciliation, and mutual understanding between peoples of diverse cultures through long-term community development. Take action: Teach, paint, and build capacity in Tanzania.
•Develop Africa facilitates and establishes meaningful, sustainable development in Africa through capacity building and transformational education. Take action: Provide a microfinance loan and business training.