Franz Liszt
by
Daniel from Ventura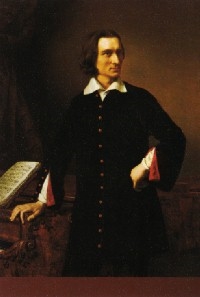 Franz LisztMiklós Barabás [Public domain]Franz Liszt was a composer of the classical/romantic era, in addition to being a musical prodigy. He composed over 400 pieces such as the infamous Hungarian Rhapsody #2, the transcendental etudes, and was considered the best pianist in the world at the time. Liszt was also a conductor for 12 years, and a performing pianist all of his life. He was a close colleague and friend to world-famous composers, Chopin and Berlioz.
The time in history influences the general conception of a hero because of the culture during the particular time. Classical and other kinds of piano music were some of the primary forms of entertainment during the time of Liszt. The popularity of Franz Liszt could be culturally comparable to a very famous movie star now. He was regarded as a celebrity at that time.
Liszt contributed to society with the hundreds of influential musical pieces he wrote. Still today, composers use his unique chord progressions, or just compose music in his style. His innovative and ingenious styles of musical composition were unheard of at that time, and heavily influenced the changing musical world.
When Liszt was young, he was classified as a musical prodigy on the piano. In his early twenties, he began to practice about 6-7 hours every day. After years of hard work, he became the world's most famous pianist. I think that he represents such values as tenacity, and he clearly shows that hard work pays off.
I was most impressed with Liszt when I found out that he could play any one of his compositions in any key on the piano. This is an unfathomably difficult thing to do, given the complex intricacy of each song, the speed, and semi-dissonant chord progressions. For all these reasons and more, Franz Liszt is a hero to both musicians and to lovers of beautiful music.
Page created on 6/28/2004 12:43:12 AM
Last edited 10/22/2019 2:19:41 AM
The beliefs, viewpoints and opinions expressed in this hero submission on the website are those of the author and do not necessarily reflect the beliefs, viewpoints and opinions of The MY HERO Project and its staff.

Related Links
NPR
- How Franz Liszt Became The World's First Rock Star