by
Hunter from Fredericksburg
A hero is a person who doesn't give up, no matter what it takes to achieve his goals. A hero is defined as someone who has faith in himself and goes beyond what others expect of him. Well, that hero is Lou Ferrigno. Lou had an amazing and unique life. Lou had a disability in life, but that did not keep him from achieving greatness.
Lou was born on November 9, 1951, in Brooklyn, New York. Lou suffered an ear infection, which was not treated well. He lost 85% of his hearing ability, which caused him to become deaf. At school or other places he was called "dumb Louie" as a kid. During his childhood many people would pick on Lou, and he went through merciless taunts and beatings. Lou was upset because he knew that he was mostly deaf, but this did not lead him to live a disadvantaged life. Lou admired comic books as a child. He believed that super-heroes defined what power and strength meant to him. Comics were a way he got inspiration to become a somebody.
During his teenage years, Lou realized that he wanted to become a somebody. He realized he was a big guy, so he used that to his advantage. Lou threw himself into athletics. He played professional football, in the Canadian Football League, by joining the Toronto Argonauts. Lou then became intrigued with bodybuilding. At age 21 Lou won his first Mr. Universe title. Then the next year, Lou won Mr. Universe again. He became the first man to win the competition two years in a row. Lou also did documentaries on the sport of bodybuilding. He elevated the sport of bodybuilding. Lou's ultimate success was in competing in the Mr. Universe contest at age 40.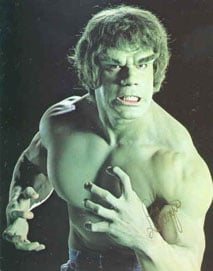 Lou also starred in a television series called the "Incredible Hulk." Lou played the role as the Hulk. "All I wanted to be is the Hulk," said Lou Ferrigno. In the late 70s Lou starred in the "Incredible Hulk" series, which lasted until 1981. The Hulk character became a role model for everybody. During the taping of this series, the TV industry abused Lou and took advantage of his handicap and inexperience. They grossly underpaid him, and mistreated him on the set of the "Hulk." It was Bill Bixby (co-star) who gave Lou confidence and came to his aid.
Only a hero with strength and inner endurance could endure the pain and struggle to succeed in show business. A true hero doesn't quit in the face of adversity. I believe the Hulk proved that Lou was a somebody. When people watched the television series of the Hulk, they idolized him and knew that Lou brought depth to the character of the Hulk. Lou worked extremely hard to overcome his handicap to make himself as great as the Hulk. The Hulk was something more than a cartoon character, according to Lou.
"The reason the Hulk was so beloved is because Lou was so beloved," remarked co-star and mentor Bill Bixby. "While Lou didn't possess any great acting ability in the beginning he didn't need to because Lou's decency as a human being leapt at you from off the screen and what you saw is what you got."
"The one thing I have learned throughout my life is that no matter what situation you are faced with you can basically do anything you want," Lou asserted. This quote states that it is not a matter of the disability you have, but the truth is to have faith in yourself. "Everything I ever wanted to achieve came true from the very first moment they put me in my green body make-up," Lou stated.
Another trait a hero has is to always challenge himself to go beyond his limitations. Lou is always willing to challenge himself, whether to become Mr. Universe all over again or to help people make their lives more efficient through personal training. Lou trains 5 to 6 days a week and he does not anticipate slowing down. He is a wealthy, courteous, respectful, and diligent man.
In life, very few people get to meet their hero. I was able to meet this man, Lou Ferrigno. The moment I saw him and shook hands with him, he was just how I imagined he would look. This mountain of a man was 6'5" tall, and wearing a gentle grin. I got the opportunity to train with him for a weight lifting session at his home. It was a dream come true. It is hard to believe what this man went through, considering he is a kind man. This is a man who went through a rough childhood, and had a hearing disability in life. This is a man who wanted to achieve something, and he became Mr. Universe twice, played professional football, and played the comic-book character of his dreams, "The Incredible Hulk." For all he has accomplished, he is humble. He enjoys making documentaries about bodybuilding. Through his life's work and struggle, Lou has proven that heroic traits are built from the inside out early in life and can't be shaken by any handicap.
Page created on 3/11/2013 8:13:55 PM
Last edited 1/4/2017 9:50:06 PM