by
Deconinck from Lyon, France
I would like to talk about a musician's life, the life of the famous jazzman Louis Daniel Armstrong.
Early in his life, he was an example of tenacity; life was difficult for him because he grew up in a very poor family in New Orleans, and his father abandoned the family. His mother left him too. His second problem was a lack of money. He played the cornet in the band of the New Orleans Home for Coloured Waifs, where he had been sent several times for delinquency. He was gifted, and learned a lot by listening to older musicians, such as Joe King Oliver, who acted as a mentor and a father to him.
In 1918, he married a prostitute, and adopted a boy. In 1922, he went to Chicago, where he joined the Creole Jazz Band. He made his first recordings. His second wife was a pianist. He came back to Chicago in 1925, and started recording under his own name as the band 'The Hot Five.'
At this time, he played more than three hundred concerts a year! Unfortunately, he had financial difficulties, and dissolved his big band, and established a group called the 'All Stars.' He was talented, and in 1964, he recorded "Hello Dolly" at the age of 63. He toured Africa, Europe, and Asia with success, and despite some health problems, he decided to play until the day he died.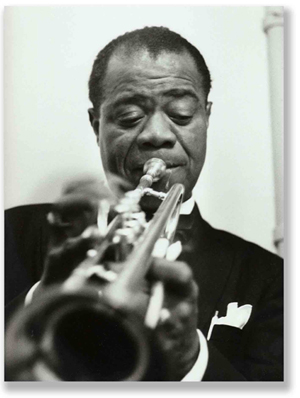 Armstrong had a strong personality. The nickname of 'Satchmo' or 'Satch' is short for Satchelmouth. This nickname was given to him based on his embouchure, or the way the lips and mouth form around the mouthpiece of a brass instrument. The damage to his embouchure from his high pressure is visible in many pictures. He had a singing career, because at certain periods, he was unable to play. He had a warm Southern personality, combined with the ability to evoke a response from the audience. He was a major financial supporter of Dr. Martin Luther King. He was an extremely generous man. Surprisingly, he controlled his weight, and wrote a book about it. He loved good food, and signed himself as "Red Beans and Ricely Yours"! He had a great sense of humour as well.
Armstrong was known for his virtuosity with the cornet and trumpet, as heard with his bands The Hot Five, and The Hot Seven. He could make brilliant improvisations. His improvisations were sophisticated, subtle and melodic. His playing technique was improved by constant practice. In the 1920's, he played at the limits of his abilities. He often sang nonsense syllables and he played around with his vocals, short and long phrases, using his voice as creatively as his trumpet.
During his long career, he played and sang with the most important instrumentalists and vocalists, such as Bing Crosby, and Duke Ellington. Armstrong died of a heart attack in 1971, at the age of 69, the night after a famous show. He was residing in New York, and was interred in NY City Cemetery. Because he was an exceptional and gifted musician, his influence on the development of jazz is immeasurable.
I admire Armstrong because he was a virtuoso player with a unique tone and extraordinary talent for melodic improvisations. According to me, he was unique. I consider him as exceptional because he invented jazz singing with virtuosity, thanks to his extremely distinctive gravely voice, which he developed with great dexterity as an improviser for individual impression. He was skilled at scat singing or wordless vocalizing, and he was a good actor too. Armstrong established a foundation for educating disadvantaged children in music, and gave his house and all his archives to the University of New York.
Because he was great, authorities gave his name to different places : the main airport in New Orleans, the U.S. Open Tennis tournament's stadium. Finally, he was posthumously awarded the Grammy Lifetime Achievement Award in 1972. As a modest saxophone player, I admire Armstrong, and advise people to take time to listen to him.
Page created on 8/28/2009 12:35:41 PM
Last edited 8/28/2009 12:35:41 PM