"Give a woman a fish and she will eat for a day. Teach a woman to fish and she will eat for the rest of her life."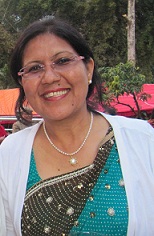 Lucky Chhetri: trailblazer, trekker, women's rights advocate, Ashoka Fellow, organic gardener, sister, daughter, friend. Lucky Chhetri, along with her two sisters, Dicky and Nicky, runs the 3 Sisters Adventure Trekking company, as well as the social organization, Empowering Women of Nepal, EWN. Having spent most of her childhood in bed, she was brought up to think she was frail and weak, so when an opportunity came in 1990 to join the Basic Women Mountaineering Training at the Himalayan Mountain Institute in Darjeeling, she jumped at the chance. Lucky told me, "The training was physically very challenging for me. Having no sports background, this was one of the hardest challenges I did in my life. However, little did I realize that this was one of the greatest accomplishments of my life. Until this, I had always underestimated my strengths and capabilities because I never had the opportunity or support to do such a thing before. After my mountaineering training I was transformed and I was busy sharing my experiences with my family and friends."
Lucky then began empowering the women of Nepal almost 20 years ago when she realized there was a great need for women trekking guides. Raised in India by Nepalese parents, Lucky and her sisters moved to Nepal after completing their educations. She told me, "We all were employed in different organizations but by the early 1990's, we decided to run a guest house in Pokhara, Nepal. While operating the guest house we met many western women who were traveling and trekking in the Himalayas by themselves and/or with male staff. Some of the female clients expressed that they had had bad experiences with their male guides. Hearing their stories, we felt very strongly about stopping such incidents. Thus, we decided to explore opportunities and to see for ourselves if this occupation was fit for Nepalese women.
Lucky went on, "Secondly, during an early visit to western Nepal, I had seen many women weeping in the airport, having to leave their families for employment in India. I also noticed that rural women's lives were tough, miserable and destitute. I was astonished to see so many women living this kind of life and that visit stayed in my mind and I wished to help them someday."
You have met many inspiring people over your very interesting life time. Who is your hero?
"My father is my hero because he gave his full support, be it for education or anything in life. He never differentiated between a girl and a boy and gave us equal opportunities compared to our brothers to advance in life. We grew up poor, but he never made us feel that we were a burden to him. He listened to us and trusted us completely. He always encouraged us to pursue higher education and fulfill our dreams. He was always there for me and my family in difficult times. Although illiterate, he was very wise, genuine, active and positive about life. Whatever I am is because of his greatness and his blessings.
"He was very intelligent and a smart business man. He came up with fair and good business practises and taught us the value of personal relationships with clients. Now that I look back, I learned to be a social entrepreneur from our father. He was a hero not only for our family but for the entire community. He was well respected and admired by everyone in our village."
You are the hero of one of the new team members of The My Hero Project, Wendy Gorton. How do you know Wendy and how has she empowered you and your organization?
"We know Wendy Gorton through Cindy Coltman of Women Win. She contacted us expressing her interest in helping us fundraise among other things. Last year EWN organized "Nepalese Women Annapurna Expedition" and Wendy helped us get a grant. She has been supporting EWN from a distance by spreading the word of our work and connecting us to people like My Hero. We have been communicating with her regarding our curriculum and website development and Wendy has expressed an interest to come and teach English during our female trekking guide training program."
If you had the attention of the world for 5 minutes what would you do or say?
"I encourage all individuals to maintain self-discipline, respecting others right to maintain global peace and harmony. There is so much violence in the name of religion everywhere in the world and I request to world leaders, religious leaders, and all citizens to take appropriate action to stop such incidents. Lastly, I would like to request that the youth of the world, actively engage in their studies and community service to bring positive change to their own lives as well as others."
Thank you Lucky for being who you are and for the change you are making in the world.
Lucky was inspired to fill the void of women trekking guides with a new program that not only trained young local women to become guides but helped them to step beyond the patriarchal system of Nepalese society, to empower them.
Lucky told me, "After establishing 3 Sisters, we realized that in order to provide professional female trekking guides, we would need to have a safe space for our female trainees and offer specialized training. So in 1999 we created Empowering Women of Nepal, EWN, to empower and improve the lives of disadvantaged Nepali women through adventure tourism. EWN provides practical vocational training courses (all free of cost) designed to extend educational, employment and entrepreneurial opportunities to marginalized women, as well as six months of food and accommodation." Lucky is proud of the fact that to date, their trainees have all come through word of mouth from friends and family. They are required to be over 17 years of age and physically fit, with preference given to girls/women from western Nepal.
When Lucky told me what the training consists of, it made me wish I could take it as well: "Trainees are taught conversational English, tourism, trekking, role and responsibilities of being a trekking guide, basic environmental awareness classes, conservation, culture, religion, history, geography, human rights, women's rights, first-aid, AMA, emergency, STD-HIV-AIDS, women's health, leadership, positive thinking, effective communication and team building."
In a country where the literacy rate for women is barely 37%, education is a critical issue. Lucky told me that her father used to say, "Education is very important to everyone. It is our third eye, the eye of wisdom that will take one very far in life. Personally, quality education is important to girls and women in Nepal, because only with quality education will they understand their roles, rights, and responsibilities as good citizens, daughters and wives. Without it, they will not be able to advance in life and will forever live in poverty and be at the mercy of their male family members, be it their father, brothers or husband."
What is your dream for EWN?
"Our organization is focusing on trekking, rock and ice climbing training and the jobs which are very good and also leading our girls to mountaineering careers. We want to continue this program and encourage our young women in the sports area because women never get a chance to discover their strength, interests and capacity with physical exercise. If they work hard and their bodies are strong and flexible enough to play sports then they can choose their own futures."
Are the Himalayas being affected by climate change? If yes, what can we all do to help slow it down?
"Definitely, climate change is affecting the Himalayas. Many organizations and climate scientists have stressed their concern regarding the glacier meltdown in the high mountains. We can also notice this in our weather patterns for the last years. Monsoon used to start from June and it would end by late August and early September. These days, we have rain until October. As a result of this weather change, there has been a shift in agricultural practices.
"Unfortunately, there is not much initiative from the government side to take care of the environment, to do something to mitigate the negative impact of climate change. Awareness is very minimal. I would say the best thing an average Nepalese can do is to teach their children about conservation, waste management and the impacts of climate change so they are informed and responsible towards protecting the environment they will inherit."