No hay mucha gente que se preocupa sobre los derechos civiles o legales de México-americanos o Latinos en general, esa es la razón por la cual hay tantas injusticias que ocurren en nuestra sociedad hoy en día. La verdad es que nuestro país está hecho de inmigrantes es por eso que no es justo decir que solo los mexicanos son ilegales. Siendo de una familia inmigrante, yo simpatizo con las situaciones que muchos México-americanos sufren cada día y estoy agradecido al ver que hay gente que quiere ayudar a su propia raza. Es gracias a organizaciones como el "Mexican American Legal Defense and Education Fund" (MALDEF) que Latinos pueden sobresalir y vivir a gusto en este hermoso país que muchos consideramos nuestra casa.
A menudo descrito como la "firma de abogados de la comunidad Latina", MALDEF fue fundada en 1968. En los Estados Unidos, es la principal organización hispana de los derechos civiles de Latinos. Promueve cambio social a través de apoyo, comunicaciones, educación comunitaria, y acciones legales en áreas como la educación, el empleo, derechos de inmigrantes, y acceso político. Uno de los objetivos principales de MALDEF es de poner en operación programas que permitan que Latinos se agreguen a lo convencional de la vida política y socio-económica americana. Ellos buscan ofrecerles a los Latinos una mejor oportunidad con respecto a la educación y para alentar la participación en todos los aspectos de la sociedad, y así brindar un perspectiva exitosa hacia el futuro.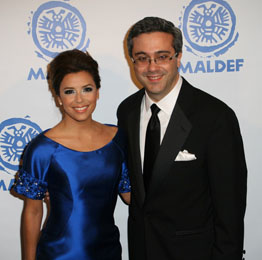 MALDEF es liderado por el presidente y consejero general Thomas Saenz quien es apoyado por una junta directiva nacional de treinta miembros, los cuales gobiernan la organización. Tiene cinco oficinas regionales en Los Ángeles, San Antonio, Atlanta, Chicago, and Washington D.C., con su oficina central localizada en Los Ángeles. Bajo MALDEF, esta la Corporación de propiedad de gestión de MALDEF Property Management Corporation (MPMC), la cual es una organización sin fines de lucro que maneja el edificio. Este edificio sirve como las oficinas centrales nacionales y oficinas regionales de Los Ángeles de MALDEF. El MPMC también sirve como un ambiente único y profesional para otras organizaciones no lucrativas que ofrecen apoyo a minorías y otras comunidades marginadas.
Como organización nacional, MALDEF anfitriona la mesa redonda Latina de pólizas de la Unión estatal y cinco Galas de Premios regionales al año. Estas Galas de Premios ofrecen una manera en que MALDEF puede reconocer individuos, corporaciones, y firmas de abogados que han sido parte clave en el progreso de la justicia para Latinos y para destacar la dedicación de la misma organización hacia la comunidad Latina. Su enfoque en la educación es otra de las razones porque MALDEF es una gran organización. Como dice en su sitio Web "Una educación de calidad es la portal del éxito profesional, integración a la sociedad, y logros personales de un niño, " (MALDEF). Desde que fue fundada, MALDEF ha mantenido esta creencia y seguirá apoyándola para asegurar que todos los estudiantes, sin importar los ingresos económicos, nacionalidad, o habilidades del lenguaje, tengan la misma oportunidad a las numerosas formas de educación que ofrece este país.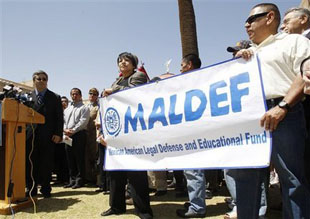 MALDEF es una organización fantástica que ya ha hecho mucho por la comunidad Latina. Hay muchas maneras en que uno puede contribuir, y así ayudar a nuestros Latinos en necesidad. Con una donación monetaria, podemos ayudar a crear una sociedad más abierta y a desarrollar los lideres del mañana. Ya que los esfuerzos de MALDEF se extienden hasta las comunidades más pequeñas y marginalizadas del país, cualquier contribución, por más pequeña que sea, sería un beneficio enorme para la organización y la gente. Cualquier donación sin restricciones dada a la fundación anual de MALDEF irá hacia los esfuerzos de litigación, extensiones de la comunidad, programas educacionales, y trabajo de póliza pública. Son organizaciones como MALDEF que hacen nuestro mundo un lugar mejor. Toda la gente que trabaja ahí, hace una diferencia día tras día, lo cual demuestra que cualquier persona puede ser héroe. Solo tienes que salir y trabajar hacia una buena causa, ayudar a los más necesitados, y saber que has puesto todo de tu parte cada día. Un millón de gracias a MALDEF por sus maravillosos esfuerzos y la mejor de la suerte en lo que está por venir.
Page created on 8/3/2014 11:34:13 AM
Last edited 8/3/2014 11:34:13 AM