The Médecins Sans Frontières or MSF Foundation, also popularly known as Doctors Without Borders, is a non-governmental organization that is dedicated to providing medical care in underprivileged and war-torn countries. It was founded in 1971 by a small group of French doctors in response to the Nigerian Civil War. Doctors Without Borders or MSF annually recruits over 3,000 doctors, nurses, midwives, and logisticians worldwide, but only 1,000 members of the organization are permanent employees. The organization's yearly budget is over 400 million dollars, 80% of which is provided by private donors; the rest is funded by corporate donations. MSF currently provides medical care and training in over 70 countries, and strongly pushes for governmental responsibility. The group came to be when Groupe d'Intervention Médicale et Chirurgicale en Urgence, and Secours Médical Français merged together creating Médecins Sans Frontières.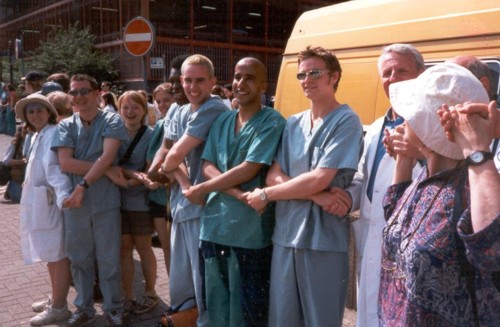 The field mission teams are comprised of three main roles, Head of Mission, medical volunteers, and logisticians. The Head of Mission is in charge of dealing with media, governments, and other organizations during the mission. The medical volunteers are in charge of giving medical care to patients while in the field, or they sometimes provide medical training to the local staff while they are in the area. The logisticians are arguably the most important members of the team, but get the smallest amount of media coverage. They provide just about anything that the medical staff needs while on deployment from security to mechanics. Aside from providing medical care within developing and destroyed countries, another important thing that the team does is to provide vaccinations to as much of the populace in a contained area as it can, such as refugee camps. The team also helps to set up temporary hospitals and provide education about HIV/AIDS.
The longest ongoing mission the organization has taken on is Africa, where the volunteers need to provide clean water, food, medical treatment, and medical education for civilians and local staff in many countries in South Africa. Each of these initiatives involves many extra steps than originally associated with the job; for example, providing the immediate populace with clean drinking water involves not just revamping old wells, but digging entirely new ones, or even building entire water treatment facilities along with proper waste disposal. Although it may sound simple, providing medical treatment as they are required to do is far more complicated when you take into account that before they can start assisting the sick they must first build lodging for themselves, and sometimes they even need to build places to work. Hospitals in major cities are not always safe to work in, and to add to the pressure, these workers must also manage their supplies and organize their medical tools and drugs. Taking all of this into account, it is clear that the job of these volunteers is beyond the call of duty.
One of the most surprising things to me that I found while researching MSF was the readiness of its volunteers to immediately put their lives on the line. These people are usually the quickest response team to some of the world's most dangerous places. They have become well known for their commitment to their jobs, as they continue working on patients even while under enemy fire. For people so selfless, they have some of the most tragic things happen to them in the field. Because they take care of people on both sides of a military conflict, members often die in the line of duty. Sometimes they fall prey to stray bullets, epidemic diseases, or even land mines, and they have recently been targeted by attacks and kidnappings for political reasons. In "The War Against Terrorism," Doctors Without Borders have been reduced to defending their medical camps because of attacks from the Taliban; on July 28th 2004, 5 volunteers (Afghans Fasil Ahmad and Besmillah, Belgian Hélène de Beir, Norwegian Egil Tynæs, and Dutchman Willem Kwint) were killed for no reason in an ambush, and Arjan Erkel was abducted for over 2 years. The identity of his kidnappers is still unknown.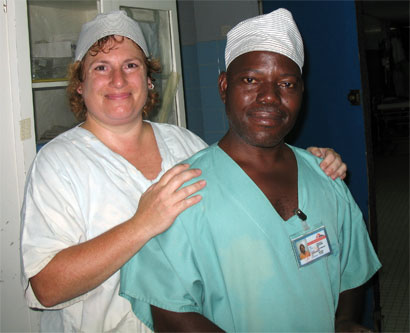 I chose MSF as my hero because I've always been interested in helping other people, and I've always wanted to be a doctor. To me, MSF is a combination of the two. The organization does so many great things around the world, anywhere from surgery under fire to teaching local medical staff. The most important thing they do, in my opinion, is provide care for underprivileged children who have had so much happen to and around them. Many of these children have watched as their parents were killed, many suffer from serious malnutrition, and some have to run from rebels every day of their lives. The story I heard about the group that got me interested in learning about them was the story of the Lebanon Civil War when MSF established its first long-term relief effort in a war zone. MSF worked with both the Muslim and Christian soldiers, according to whichever required the most medical attention. Over the course of nine years, they became well known for their skill and willingness to continue their important medical work while under hostile fire.
Page created on 5/25/2015 12:00:00 AM
Last edited 1/6/2017 4:55:49 PM