by
Emily an elementary student from Bradford, Canada
Mohamed Sidibay was born on December thirteenth 1992 in the Eastern part of Sierra Leone, Africa. Sidibay lived with his father Mr. Murray, his mother Mamie Kane, his brother Alihaji and his sister Bintu, but when he was three and a half something terrible happened and he lost his whole family. Sidibay loves to play football (soccer) because it makes him feel happy. He also loves to write peace poems. Sididbay attended Hanzaru Primary School when he was young and now he goes to Pedmal Academy International Secondary School. Sidibay wrote a poem to us and it said "I want to be a lawyer, not a child soldier."

When Sidibay was three and a half he lost his whole family and got captured by the rebels. This happened just because there was a war in Sierra Leone. He never wanted the war to be over because he wanted to avenge his family being killed. He thought that he had no hope left. He was trained by the rebels how to use a gun. He thought that he would have all the respect he needed with a gun in his hand. He had to overcome the fear of war, violence, and brutality. He is scared that war will happen again. He thinks about the violence in war and the ways people were harmed during the war. His heroes are Andrew Benson Green, Mrs. Townsand and Mali Bickley because they make it possible that people in the world are aware about what is happening in Sierra Leone. Andrew helps him by telling him that all is not over and he helps Sidibay with every day life.
The war in Sierra Leone started in 1991, and in 1995 Sidibay was captured by the Rebels. He was in the war until he was nine. Sidibay was forced to do things he never wanted to do for the Rebels. If Sidibay didn't do what the Rebels told him to do, he would either get a limb chopped off or he would be killed. Sidibay wants to be an international lawyer, that is why he is in the best school in Sierra Leone. He wants to be a lawyer so that what happened to him will never happen to anyone else.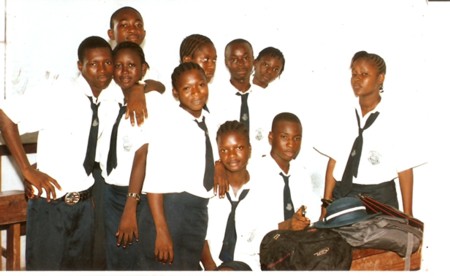 Sidbay was a child soldier, but now he goes to a very good private school. Nobody else in his school was ever captured by the Rebels or has even been a child soldier. It makes him very different. He lives with friends and has no family to support him. Some kids even make fun of him because of that. He has made friends at school and he has made friends with us. Jeffery Houghton, Jennifer Lloyd and a few teachers made a movie about what happened in Sierra Leone to raise awareness. It was shown before the premiere of the movie "Blood Diamond" in Toronto.
In 2002 the war was over in Sierra Leone. Sidibay had no family and no home. He went to live with a priest. Sidibay was trying to get into a good school after that. We finally raised enough money and he got into the best school in Sierra Leone so he could become a lawyer. He met Andrew Greene at the iEARN Centre and he met Mrs. Townsend when she went to Africa. It takes about 2 hours to get a ride to school.
Sidibay never really told us what he had to do in the war. I think he was really scared. I was so inspired by Sidibay that I did a speech on what happened in Sierra Leone, and how we are helping the young people there. My teacher liked it so much that I got to go on and say it to the whole school. Now our whole school is aware of what happened in Sierra Leone. These are some poems that he wrote to us:
Peace Poem
Peace is what every child desires,
Peace has been hidden by corruption, violence and war,
Peace is hidden right in the bosom of war, corruption, and violence.
What can we do to bring peace,
Oh God help us, we are dying
Of hunger, poverty, starvation and illness.
Peace! Peace! Peace!
Come back, people are yearning for you.
Want to be a Friend of Peace not War
I want to be a friend of peace, not war, corruption and violence
I want to live happily with my family once again
I want to go to school
I want to be a lawyer
And not a child soldier
I do not want to point a gun at others
I do not want to take lives of innocent people
I want to help fight bring peace back
I want to live in a peaceful environment!!
By Mohamed Sidibay, Student of Pedmal International Academy Freetown , Sierra Leone
Page created on 5/30/2007 11:42:07 AM
Last edited 8/22/2020 5:36:31 PM