'I have learned in Haiti that someone always wants the empty box./It makes a hard bed
more comfortable for a sick patient. The floor more comfortable for the family member
taking care of patient./It organizes all the possessions of someone who has no family who
wakes up from being sick on the streets in the TB ward./So little is wasted.' (Kakutani) Everything's troublesome when injured, poor people become alone and have less support. But that changes when Dr. Megan Coffee shines a light by treating the injured. "She is a clinical doctor as well, working with patients with infectious diseases, primarily HIV and TB" ("Megan Coffee, MD."). She was a foreign, clinical doctor, who became interested in treating patients from infectious diseases. "Haiti, a Caribbean country that shares the island of Hispaniola with the Dominican Republic to its east, was hit by ruinous earthquake in 2010" (Munmi). From researching over 15 years, Haiti was struck by an earthquake. Although many heroes know how to fight through, they must also include confidence and hard work. Dr. Megan Coffee is more than just a doctor in Haiti; she works as hard as she can, builds up confidence to create a benefit in other medical fields, and is an inspiration because of her ability to save people's lives.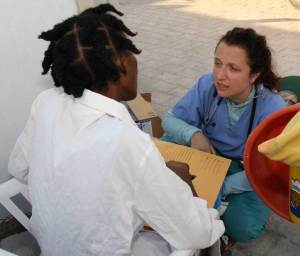 Coffee's a hard working doctor, where she does situations on her own, but was also able to combine all the studying she has done, putting them to use. In Braun B.'s article, "Braun: Modest Doctor Makes Major Difference in Haiti," she writes, "Unlike most of the hundreds of doctors who came from throughout the world to treat earthquake victims, Coffee stayed, and is there still. And still, while raising money for foundations to help Haitians, she avoids personal attention" (Braun). Although she works hard, she never got paid in her job. She chooses to go along with her plans without force. In an unknown author's website, "Megan Coffee, MD," they project that, "She has worked in infectious disease research and care in multiple places around the globe from San Francisco to Haiti to Zimbabwe. She's particularly interested in making sure patients have the information they need to be as healthy as they can be" ("Megan Coffee, MD."). Coffee took all her time into studying, researching, and treating infectious diseases, such as HIV and decides to take her studying to a higher level. She takes the chance to travel to different places, such as San Francisco, Haiti, and Zimbabwe, and etc. Based on the Biography in Context database, Ms. Wilentz tells her observations on how Coffee works on treatments:
She figures out how to pay for what the hospital won't pay for, runs out to grocery stores
to buy peanut butter for her patients, and gives them spaghetti with Russian dressing in
the morning.'Because she offers targeted help on an individual basis with no cash or
material exchange,' Ms. Wilentz goes on.... (qtd in Kakutani)
While these patients stay poor, Coffee's able to figure out her plans. Therefore, she can earn the money for her patients herself. She uses plenty of brilliant ideas, and finds a possible way to buy all the kinds of food and supplies to care for every patient. As Dr. Coffee gets busy, she's able to put all her tough work and effort into her current job.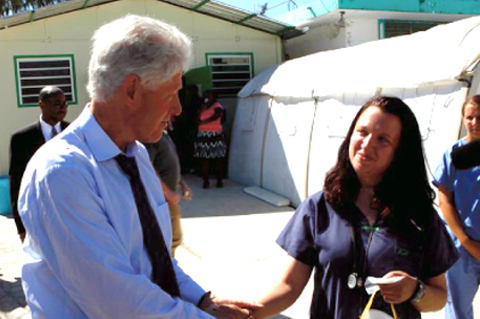 Coffee's personality includes a lot of confidence, in which she increases the use of many doctors within every medical service. Within the article, "Braun: Modest Doctor Makes Major Difference in Haiti", Braun B. interviews Dr. Megan based on how much time she takes into her project: "'I am not planning on leaving this project. I just want it to be more sustainable. No one person could do all that we've been doing for this TB program. It needs to have a lot of people and systems in place to make it continue working, no matter what'" (Braun). As she exits Haiti, she doesn't let anything get in her way, while she encourages more doctors and other medical services to help continue her work. In Bora Munmi's website about Dr. Megan Coffee, she announces that, "She gave up a research position at Berkeley and works there in Haiti without any pay" (Munmi). Since she's been working frequently on studying, she then gives up her dream of keeping her "position in Berkley". Therefore, she gains the courage in sacrificing all her difficult work, and reuses them to save other lives. In an unknown author's website, they explain that "She was the doctor responsible for a hospital ward providing critical care services for TB patients in Port-Au-Prince for 4 years following the earthquake" ("Megan Coffee, MD."). After hearing about the earthquake in Haiti, Coffee volunteers herself to fly over and set up "critical care services" as soon as she arrives. She also took this responsibility by taking care of all sorts of patients and gives up on all her studying positions. Instead, she combines them into her medical job in Haiti.
Along with her own strengths and weaknesses, Dr. Megan Coffee's hard work and confidence differentiates from other doctors around the world. Moving through her works, Coffee inspires lots of doctors, because she wants people to know that the population needs help. An unknown author once stated, "As Infectious Disease Physicians, our work is to put ourselves out of work, to stop the spread of infectious disease" ("Megan Coffee, MD."). Coffee presents her inspiration through hard work, but she tries to stop the spread of infectious diseases. Not only her work, but her confidence also brings out inspiration. In the opinions of others, Coffee is a reason why there's many doctors around the world today. Within the parts of Haiti, everyone has the desire for getting help in their health. Everything becomes a difficulty when they're alone and have no one else to be supportive. After observing all the injured people in Haiti, Dr. Megan Coffee will fly over to assist and reinforce each and every poor person there.
Works Cited
Bora Munmi. "Dr. Megan Coffee, a shining star in the healthcare world." Web, AchhiKhabre,
November 19, 2015, achhikhabre.com.
Braun, B. "Braun: Modest Doctor Makes Major Difference in Haiti." Article, January 13, 2013,
NJ.com.
Kakutani, Michiko. "The Wounds Of a Nation Still Bleed." New York Times, 8 Jan. 2013, p.
C1(L). Biography in Context, link.galegroup.com/apps/doc/A314177025/BIC1?u=powa9245&xid=61f6946b. Accessed 2 May 2017.
"Megan Coffee, MD.", verywell, 2017, www.verywell.com.
Page created on 5/20/2017 12:00:00 AM
Last edited 5/20/2017 12:00:00 AM