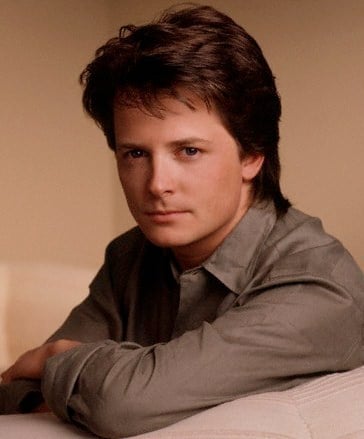 "Everybody in the world knew who I was before I knew who I was". ("Michael J. Fox Quotes - BrainyQuote.") It is clear to everybody that Michael J Fox has always been a very successful and talented man. But people always say the same thing about Michael J Fox, and it's always related to his acting career instead of his personal life. But what people don't truly know is who he is inside, because to most everybody, he is just that actor in some successful movie. They don't know the true story about Michael J Fox. Michael Andrew Fox was born in Edmonton, Alberta, Canada on June 9th 1961. He is the second son of William and Phyllis Fox and fourth child out of the five children they had. Fox has two older sisters Jackie and Karen Fox, an older brother, Steven Fox and a younger sister, Kelli Fox. His father worked as a decoding specialist and encryption in the Royal Canadian Army Signal Corps, which meant as a young boy, Michael J Fox often moved around in Canada before settling in Vancouver, British Columbia. As a young man at the age of twenty one, Michael J Fox found two acting roles which would forever change his life. The first was the role of Alex P Keaton from the famous American sitcom, Family Ties. The second was Marty McFly from his best grossing movie, Back to the Future. These roles caused people to notice Michael J Fox and immediately fall in love with his acting style. Because of his fans, Michael J Fox was living the life he had always dreamed of. He was the adult he wanted to become; someone famous, loved, and a respected icon. Michael J Fox happily lived in Los Angeles with his wife, Tracy Pollan and his son Samuel Michael Fox. For Michael J Fox, life couldn't get any better for him, until that distressing day when he could no longer keep still. On the morning of November 13th 1990, Michael J Fox awoke in a motel in Gainesville, Florida to find a message in his left hand. His littlest finger could not stop moving. He grew worried because he could not control the movement or make it stop, but he ignored these warning signs. Eventually, appointments were made for further tests with a neurologist and in August 1991 the doctors told Fox he had Parkinson's disease. All at once the world Michael J Fox once knew, the life of a Hollywood star, was slipping right through his trembling fingers. However, at the moment of his deepest despair Michael J Fox shows the world his true colours. He has proven to the world even with his Parkinson's disease, he is still just as talented as he was as a young man. Over the past eleven years, through his talented acting performances, Michael J Fox has shown he doesn't give up on himself, he is very optimistic, and is always looking at the brighter side of his disease. Therefore, Michael J Fox is considered a hero, because he has talent, he doesn't give up despite challenging circumstances, and always has a positive outlook.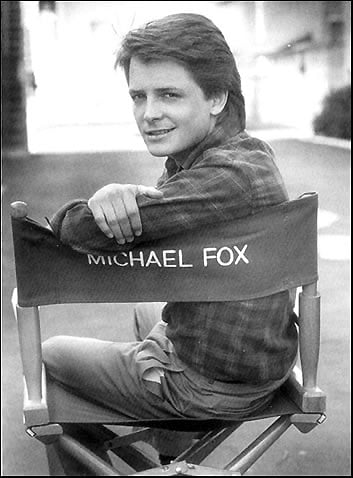 Most of Michael J Fox's heroism comes from his talented acting career, which made him popular and well-known in America. Since his early teenage years, Michael J Fox showed a love for the creative side of life by drawing pictures, writing stories, playing the guitar and performing in drama and theater arts. For Michael J Fox, he saw acting as a freedom to his stressful teenage life: "I was increasingly finding myself at odds with various codes of conduct -school, family, social cliques- but acting provided me with the freedom, in fact the imperative, that I follow my impulse, behave in any manner I saw fit, just so long as it served the role. Excellent!" (Fox, Michael J. Lucky Man: a Memoir). Thus, acting became a very important role in Fox's life. At age sixteen alone he was making $600 a week by acting the role of Jamie in a Canadian sitcom called Leo & Me. Through these different roles, he found escape and discovered his talent. In his early twenties, when he moved from Vancouver, British Columbia, Canada to Los Angeles, California, Michael J Fox was poor and had no money to pay his rented home and buy food to eat; he shows a small taste of his heroism because most of his family and friends wanted him to return to Canada and get another job but he refused to leave the states, because he knew he could be the successful actor he was hoping to be. It soon paid off in 1982 when he got one of his most famous roles, Alex P Keaton, and he started to become a well-known actor in America. Fox continues to show his heroic acts when in 1985 Steven Spielberg offered Fox another famous role of Marty McFly in Back to the Future which, once again, would change his life for the better. His popularity in both Family Ties and Back to the Future came to his advantage in fifteen years later, when Michael J Fox discovered his Young Onset Parkinson's. Because of his talents, it allowed him to get people's attention and fund for embryonic stem cell research; He simply states he has a "rare and useful currency - celebrity - and has discovered a wonderful way to spend it." (Fox, Michael J. Lucky Man: a Memoir) This makes Michael J Fox a hero because he is giving up everything he has done as an actor in order to save himself and other people from various diseases that can't be cured.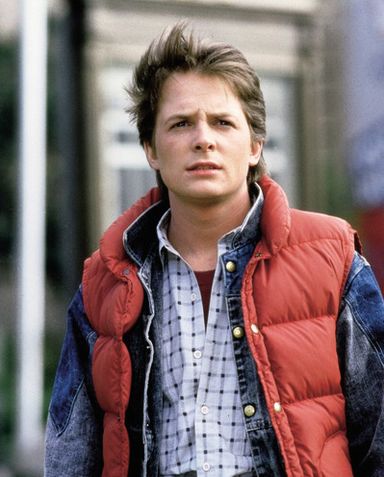 "It does not matter how slowly you go so long as you do not stop." ("Great Inspirational Not Giving Up Quotes and Giving Up Quotations - from InspirationalSpark.com.") Another important trait which rightfully gives Michael J Fox the title of a hero is the power of not giving up. In one event in the winter of 1985, Michael J Fox constantly had to go from his already exhausting nine hour schedule with Family Ties to meet Steven Spielberg to perform in Back to the Future in the middle of the night. Tying this with his talents, his popularity assisted him when he created The Michael J Fox Foundation for Parkinson's Disease Research, and because his "name attracts attention and provides access" (Fox, Michael J. Lucky Man: a Memoir) he used everything he had worked for in the first thirty years of his acting career to provide all the necessary elements to find an antidote for his disease. Had he given up at that situation, Michael J Fox wouldn't have been the same hero he was today. When he was in the first few months of his diagnose, Fox didn't surrender to his uncontrollable body rather, he found lots of decisions to help him get through his Parkinson's. As shown when he performed ABC's Spin City he fought against his Parkinson's in order to save his acting career from dying, by acting as character that did not have any kind of illness. Aside from acting, Michael J Fox also show's his heroism by not giving up when he spoke to the senate on September 28th, 1999 saying: "'The war against Parkinson's is a winnable war, and I have resolved to play a role in that victory.'" (Payment, Simone. Michael J. Fox: Parkinson's Disease Research Advocate). Even when President George W Bush didn't agree with Michael J Fox and the Stem Cell Research Enhancement Act (H.R.810 act; which he was protesting about), Fox wasn't going to let a vetoed bill stop him from achieving his goal towards healing himself and others and because of that he wasn't prepared to give up on himself and the other people he waited patiently for his next opportunity to once again speak to the senate in court about the H.R.810 act so others could be healed and his own shaking body would cease to be. Another one of Fox's goals was to find a solution for Parkinson's at the end of 2010; even though 2010 has passed he is still looking for a cure and not giving up on himself and others as he continues to say: '"If we haven't cured it by 2010, we'll be on the way. And if it takes us fifteen years, are we going to consider ourselves failures? No. We're going to feel pretty good."' (Payment, Simone. Michael J. Fox: Parkinson's Disease Research Advocate). Because Michael J Fox isn't giving up on anyone, he has become someone who is cherished and valued by everyone because of his heroic acts to save Parkinson patients and leave no one behind.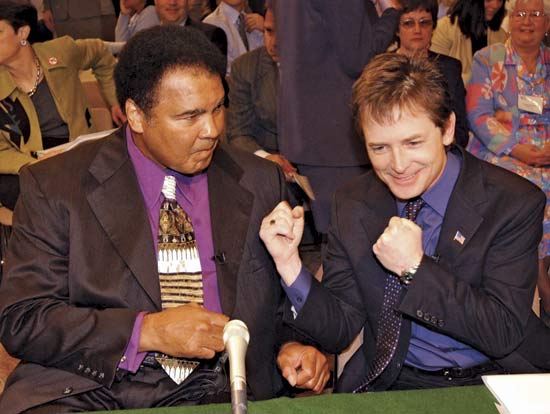 "Turning fully toward the glass, I consider what I see. This reflected version of myself, wet, shaking, rumpled, pinched, and slightly stoop, would be alarming were it not for the self-satisfied expression pasted across my face. I would ask the obvious question, 'what are you smiling about?' But I already know the answer: 'It just gets better from here.'" (Fox, Michael J. Always Looking Up: the Adventures of an Incurable Optimist) The last and final trait which gives Michael J Fox the title of a hero is his strength of being optimistic. Not many people, including heroes, have this trait and Fox certainly now knows how to use his optimistic personality to help find a cure for Parkinson's; however the true irony is he didn't realize, at first, it would be his optimistic personality that would help him on his way to a cure. Because when he was first diagnosed with his disease, Fox was very unhappy and he didn't know how to handle a heavy weighted situation for a thirty year old man. He had to face many tough obstacles which he had to endure including hiding his Parkinson's from the public until 1998 (seven years), overcoming his alcoholism, and dealing with his denial of Parkinson's. However inside his dark and mucky tunnel of grief he saw a bright light of hope at its end. From there, instead of feeling sorry for himself, Michael J Fox decided to move forward with his life by being upbeat and happy about his disease because he knows there will be a day when the cure for Parkinson's will arrive. Connecting this with not giving up on himself, Michael J Fox could be disheartened and yet he isn't because he isn't prepared to give up on himself and for the other people who need his help. He is happily enjoying his life by taking his time with finding a cure and by being this patient he shows how confident he is with finding a cure for his dreadful disease. Despite all the odds which have happened in his life, because Michael J Fox is optimistic as he continues to find joy and quality. He refuses to use Parkinson's Disease as an excuse, therefore he is a great husband to Tracy Pollan, a wonderful father to Samuel, Aquinnah, Schuyler, and Esme Fox and a man who automatically attracts people to him because of his positive attitude therefore he has the ability to inspire people and that is what makes him a hero.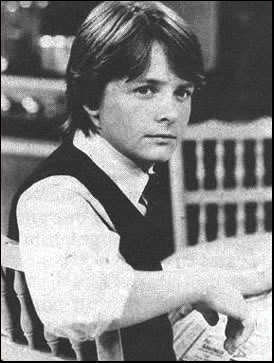 It is clear that to everybody Michael J Fox has always been a very successful and talented man. But now people can say other things about him instead of just his acting career, now, people can talk about his never ending battle with Parkinson's and instead of pitying him, support him in his choices as he extends a hand to those who need him. He made a difference in his life and the life of others because he is talented with what he does, because he doesn't give up despite challenging circumstances, and because he always has a positive outlook on life and on Parkinson's. It is because he has so much strength in his heart and mind he is loved by everyone, and without any of these characteristics Michael J Fox would not be the courageous man he is today. He's done so much to this world to make it a better place and he's helped so many, it's not a surprise that people now respect and love him as a man instead just an actor. There is just no doubt whatsoever that Michael J Fox, a respected man, husband, father, and actor, is in fact a real hero.
Works Consulted
"About Us - About Michael - The Michael J. Fox Foundation for Parkinson's Research." The Michael J. Fox Foundation for Parkinson's Research. Web. 12 May 2011. <http://www.michaeljfox.org/about_aboutMichael.cfm>.
Fox, Michael J. Always Looking Up: the Adventures of an Incurable Optimist. New York: Hyperion, 2009. Print.
Fox, Michael J. Lucky Man: a Memoir. New York: Hyperion, 2002. Print.
Http://static.heywhatsyoursign.com. Web. May-June 2011. <http://static.heywhatsyoursign.com/michael-j-fox-zodiac-sign.jpg>.
Kuhn, Bob. "Positively Parkinson's: Parkinson's Disease - Challenges and Encouragement." Positively Parkinson's. 28th Nov. 2010. Web. May-June 2011. <http://2.bp.blogspot.com/_qYhL6pBcxTQ/TMN42AQuPI/AAAAAAAABsI/gDu2MDQ9Sxo/s1600/Ali+and+Jay+Fox_.jpg>.
"Michael J. Fox - Michael J Fox Photo (8370250) - Fanpop." Fanpop - Fan Clubs for Everything. What Are You a Fan Of? Web. 24 May 2011. <http://www.fanpop.com/spots/michael-j fox/images/8370250/title/michael-j-fox-photo>.
Payment, Simone. Michael J. Fox: Parkinson's Disease Research Advocate. New York: Rosen Pub., 2009. Print.