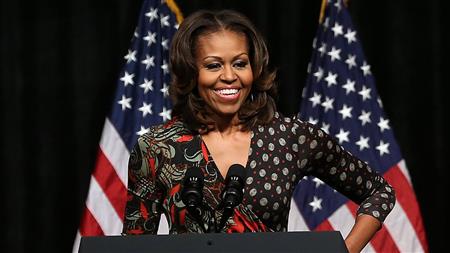 Change is all around. The changes in trends, the changes in moods, and the changes in communities are a few examples. Now, try to imagine a little African American girl who started with nothing but ended up creating what some people called miracles with magic. That little girl was the first African American First Lady who changed the game. Michelle Obama was born and raised by Marian and Fraser Robinson in the not-so-bright side of Chicago. They taught her the morals that stuck such as the importance of education and treating others with kindness. Michelle went on in life with a degree in law school and met Barack Obama. Later on, she ended up becoming the First Lady of the United States of America after Barack was elected President. As her duties of First Lady began, she did her job and more to help several causes. She believes in the potential of the United States citizens and decided to give them a little push down the road of success. Michelle is a positive and powerful impact on society; her hard work and selflessness shines when it comes to fighting the epidemic of obesity and education, making her a hero.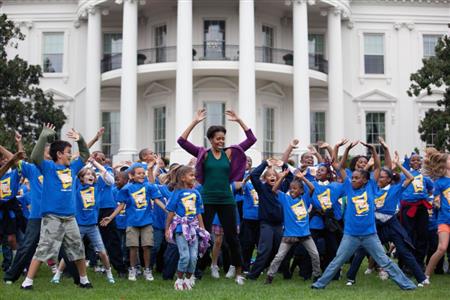 The epidemic of obesity has taken over America at an incredible rate and Michelle is taking action to help. She started to make a change by first making a healthy improvement in the White House. "Not long after moving into the White House, Obama sought to raise awareness of healthy eating by installing the first large-scale kitchen garden on the grounds since the time of Eleanor Roosevelt's victory gardens during World War II. The extensive garden, with several dozen types of vegetables and herbs and even two beehives to produce honey, was grown using organic methods such as fertilization with White House compost and natural pest control."("Michelle Obama."Encyclopedia). Michelle made these healthy choices and is a great example for people who need help changing their diet for the better. She is showing that the first step is to change your surroundings so they help, not hurt. To bring a garden into the White House when that idea was pushed aside since World War II is a very innovative move and a hard task to do. The garden was her symbol to the world saying we can make a change and it all starts at home.

Her next mission was to start introducing another idea to the world. "Let's Move! had an ambitious goal: to solve the epidemic of childhood obesity within a generation. Whether it was providing healthier food in our schools, helping kids be more physically active, or urging companies to market healthier foods to our children, Let's Move! focused on giving parents the support they needed to make healthier choices for their kids." ("White House"). This program helps millions of kids who are obese and it provides them with ways to make better health choices. A simple choice of carrots over potato chips is a small difference which helps immensely in the long run. Continuing on with the mission, her actions are making a pretty big impact, but she decides to go even further."The First Lady continued her healthy foods initiative into 2015, pairing with celebrities to help market fruits and vegetables as cool foods to youngsters. She enlisted the help of actors such as Kristen Bell and Jessica Alba and athletes Stephen Curry and Cam Newton to appear in advertisements to promote healthy foods. Obama also joined Sesame Street's Big Bird on an episode of Billy on the Street to promote her Eat Brighter campaign"("Michelle Obama." Contemporary). By getting the faces of celebrities involved helped and promoted the healthy movement that was being created by Michelle. She worked so hard for the end goal of possibly ending childhood obesity within a generation. Michelle cared for those going through tough times and she wanted to help and motivate them to make the right choice. The First Lady started an unstoppable movement that helped thousands and by her taking action, she has improved the issue of childhood obesity with her hard work, showing heroism.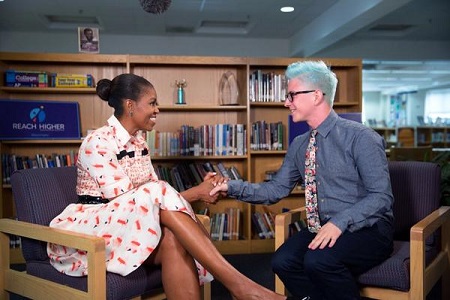 Michelle believes that woman should feel powerful and confident as students and encourages education after high school. People around the globe don't have the opportunity to finish their education and Michelle is taking action again to help. "As part of this effort, Mrs. Obama called on countries across the globe to help educate and empower young women, and she shared the stories and struggles of these young women with young people here at home to inspire them to commit to their own education" ("White House"). Since Michelle grew up with morals that strongly supported education, she wanted to help others be educated so they could be successful in their own lives. Michelle is a role model for those girls who just need a little push in the direction of education. She is doing something bigger than herself for the good of those girls learning. As Reach Higher was becoming a big, successful charity, the youtube sensation, Tyler Oakley, reached out to Michelle and asked for an interview. Her main message during that was "You have to get your education beyond high school if you're gonna compete in this globalizing economy. You've got to be educated, but in this country we have many ways to do it. Everybody finds their path. Just ask questions, don't be afraid to fail. Failure is the key to success." ("Tyler Oakley Interviews Michelle Obama"). Michelle is selfless since when she is campaigning this message about education bringing success, she isn't talking about herself. She is giving her message and support of education globally. Finally during the final seconds of the interview she gave the viewers one last message that stated, "I urge your viewers to go for it! Not be afraid... You do you! There is no magic to being here!" ("Tyler Oakley Interviews Michelle Obama"). She is giving us the message to follow whatever we desire, no matter how scary it is or how tough it may seem. Hard work, education, and thinking of others along the way will help you gain success. Michelle is inspiring and urging the viewers to be themselves. A message that everyone needs to hear every once in awhile since sometimes people lose themselves and forget what potential they really have. Reach Higher and Michelle has helped hundreds of girls feel empowered by encouraging them to finish their education and to achieve whatever they hope to do in the future.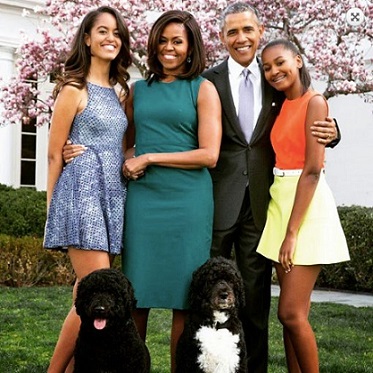 The 44th First Lady of the United States, Michelle Obama is a hardworking, powerful, selfless, and positive inspiration who works toward the greater good of education and childhood obesity. Michelle has changed several lives for the better and she continues to serve as an example for the people. Caring, Selfless, and Hardworking." As First Lady, Mrs. Obama worked on the issues close to her heart: supporting military families, helping children lead healthier lives, and encouraging all our young people to fulfill their boundless promise." ("White House"). Michelle Obama is an inspiration because she is showing us the path of success. She is leading us down a road where possibly childhood obesity won't exist. Where education is served to everyone. And where everyone is treated with the respect they deserve. Change has limitless opportunities, as shown by Michelle. The surprising fact is that change can be made by your neighbor, that guy on the street, your boss, the next president, or even you. Michelle continues to support people going through obesity and having troubles with education. This hero's caring heart is globally recognized and should inspire you to make a positive impact to yourself and the community around you.
Works Cited
"Michelle Obama." Contemporary Black Biography, vol. 61, Gale, 2007. Biography in
Context, link.galegroup.com/apps/doc/K1606003703/BIC1?u=powa9245&xid=a5423b31.
Accessed 2 May 2017.
"Michelle Obama." Encyclopedia of World Biography, vol. 33, Gale, 2013. Biography in
Context, link.galegroup.com/apps/doc/K1631009955/BIC1?u=powa9245&xid=8a65c480.
Accessed 1 May 2017.
Tyler Oakley Interviews Michelle Obama [Video file]. (n.d.). Retrieved from
https://www.youtube.com/watch?v=f0ZCb4tPJqM
"White House" Selected Websites on Michelle Obama's Life and Works. Gale Biography
in Context, Gale,
2009. Biography in Context, link.galegroup.com/apps/doc/K1670022795/BIC1?u=powa9245&xid=2078a88d. Accessed 3 May 2017.
Page created on 5/24/2017 12:00:00 AM
Last edited 5/24/2017 12:00:00 AM
Related Links
The Office of Barack and Michelle Obama
- To get into contact with the Obamas or to learn more about their background.
The First Lady Reaches Higher Initiative
- Shows what work Michelle has done for Reach Higher and shows us their overall goal for the program.
Lets Move!
- This is the program that Michelle supported and worked with. It provides us with tips to start a healthier life style, their achievements, and fun videos to promote the cause.