Mary N. Sanchez
by
Crystal from Los Angeles
"I am here to serve our veterans!!"
Ms. Sanchez is a dedicated registered nurse who has been actively working in nursing for 51 years (she is currently the nurse manager of the inpatient rehabilitation unit) and the last 38 have been with the Veterans Administration Medical Center as an orthopedic and a rehabilitation nurse. During the last 35 years, she has served as a nurse manager and is renowned as a passionate advocate for veterans' care and service. Her passion and dedication during her 51 years of extraordinary service to nursing and 38 years of nursing service to veterans, makes her a Hero!
Ms. Sanchez's rehab unit has been certified by the Commission on Accreditation for Rehabilitation Facilities (CARF), four certifications in a row (2007, 2004, 2001, 1998). Under her leadership, her unit has received the VA award of a Rehabilitation Center of Excellence that remains in effect (2002). Her nursing team won "Best Nursing Team 2005" in the Advance for Nurses magazine. She believes in excellent service to veterans as is evidenced by her unit's recent win of the Under Secretary's Award for Customer Service for 2007, a National VA Award. She won the Nurse Manager of the Year, 1998, from the Association of Rehabilitation Nurses, a highly esteemed national award.
Ms. Sanchez's son is a veteran, who has finished his second tour of duty in Iraq. He is an officer and is a "chip off the old block," having already earned distinguished medals during his service there. Despite Ms. Sanchez's fears and realization of the possibility of his injury or death in Iraq (she has seen many a veteran under her care, who had returned permanently scarred or affected), she still strongly supported his decision to serve his country and fulfill his calling with passion. She assures that every veteran on her unit receives exceptional care, as though he were her brother or her son.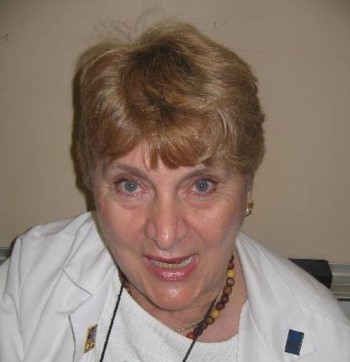 Ms. Sanchez has always had a caring nature and wished to help others. Her brother is a World War II Vet and thus she felt a draw toward working in the Veterans Affairs Medical Center to serve other veterans in return for their service to our country. Ms. Sanchez has served her dedicated nursing career with dignity and passion for 51 years! She described her work in nursing as a calling, not a job.
Ms. Sanchez's inpatient rehabilitation unit is known throughout the VA as a unit of excellence for care to the veteran. The customer service scores that have been collected for many years resoundingly echo the same, as veterans rate their care on her rehab unit. When celebrities or politicians come to the VA to visit or drop by, the public relations department usually includes a stop to her unit – she hosted Senator Diane Feinstein. Her expectation of the excellent service to be provided to the veterans is conveyed to all who enter her unit. Her slogan: "We are here to serve our Vets!"
Page created on 9/12/2008 12:33:09 PM
Last edited 1/6/2017 4:55:13 PM
The beliefs, viewpoints and opinions expressed in this hero submission on the website are those of the author and do not necessarily reflect the beliefs, viewpoints and opinions of The MY HERO Project and its staff.