Michael Jordan
by
Tyler from Riley
"I've failed over and over and over again in my life and that is why I succeed." - Michael Jordan
Michael Jordan has achieved many things in his basketball career that kids my age and older as well as younger, look up to. Not everyone sees a hero, but in my eyes he is a hero, as well as for many other basketball lovers. I look up to him as something I want to become. His skill level is a level very hard to reach but with enough practice it could be done. It can be done, when will someone as great as him rise again? Some say Kobe Bryant already has, although I must disagree. I have looked up to Michael Jordan for all my life. Michael Jordan is my hero because of his perseverance, his game, and what he's become.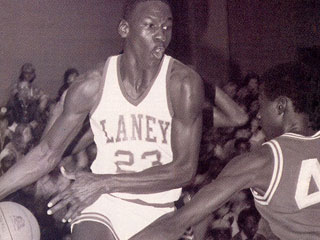 Perseverance was a big key to his success as an athlete. Michael Jordan didn't decide to play basketball until high school! After he got cut from the Varsity team his sophomore year the hard work really started. He was determined at getting better and better to perfect his game to ensure he would make the Varsity team. Jordan has said, "I think that not making the Varsity team drove me to really work at my game, and also taught me that if you set goals, and work hard to achieve them, the hard work can pay off." I really believe in this quote. If you work hard enough, anything is possible. The sky is the limit.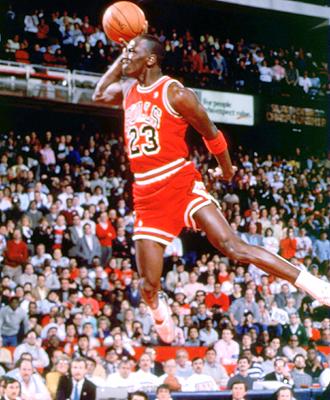 To sum up Michael Jordan's career we could use the word, incredible. It all started when he got rookie of the year in the 1984-85 season and playing on the US Olympic team the summer before this. Then in the 1987-88 season he became the first player since Wilt Chamberlin to score more than 3000 points in a single season. The following year he won his first MVP award winning 5 in his whole career! Then in the 1990-91 season Michael Jordan won his first NBA Championship beating the Los Angeles Lakers, then won 2 more the next 2 seasons, and then after a leave from basketball for 2 years he came back and won 3 more in a row! That makes a total of 6 championships Michael Jordan had by the end of his career along with 2 Olympic gold medals and the MVPs earlier mentioned. No other player in the world has a resume like this.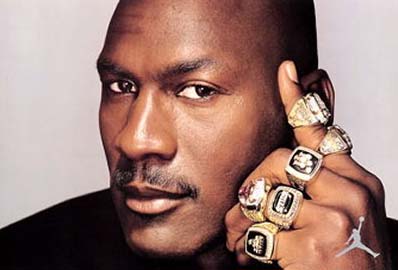 He stopped playing the game but is still very much involved in the game. In 2006 Michael bought a share of the Charlotte Bobcats and became a managing member of basketball operations, this making him a very busy man. Especially when you include his number of business ventures including several restaurants, while also selling many Jordan accessories and shoes, along with being in Hanes commercials. Even away from his game he is a very hard working man.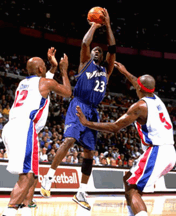 Although retired, Michael Jordan will always be remembered in the basketball world, whether for the air he could get, the tongue sticking out, or the many honors and rewards, it doesn't really matter. What Michael really wants to show and what he wants kids to know is that if you persevere, you can be great. In Michael's mind his basketball career didn't end till 2 years ago in 2009, when he was inducted into the Naismith Memorial Basketball Hall of Fame. He felt this was the mark of his career being completely over. Which I think, is a heck of a way to end.
Page created on 12/27/2011 12:00:00 AM
Last edited 12/27/2011 12:00:00 AM
The beliefs, viewpoints and opinions expressed in this hero submission on the website are those of the author and do not necessarily reflect the beliefs, viewpoints and opinions of The MY HERO Project and its staff.

Extra Info
I Am
I am Michael Jordan
I have had a dream since I was in high school
To hoop with the best
To hoop like the best
To be the best
You have to practice like the best
You have to believe in yourself
You must persevere
Haiku
I love Basketball
I train to be at the top
I want to be great