Mandy Morales
by
Jordan from Billings
Mandy Morales was born and raised in Billings, Montana. Her mother's name is Val Selman and her father's name is Jim Morales. She has three brothers Michael Morales, Kevin Morales, and Wes Morales. Mandy graduated West High in 2004 she started off at Huntley Project playing basketball before transferring to West High where she played basketball there and lead them back-to-back Class AA championships. She transferred to Montana University after already enrolling to Arizona State she decided to stay closer to home. She has a strong determination for the game, and she loves playing it ever since she was a little kid. When I was growing up she taught me how to shoot and throw and everything there is to know about basketball.
Mandy is very good at basketball. She lives in Missoula now, but she was going to play basketball in Greece but her foot was hurting her so they wouldn't let her play. She moved back to Missoula where she's not playing right now. Even if her foot does get better she doesn't know if she wants to go play in Greece. Mandy is 23 years old now and is in good shape for her age. She did injure her knee though and had to get knee surgery for it. It was an ACL tear in her knee that made her miss a season. She had no problem though catching up when she got back.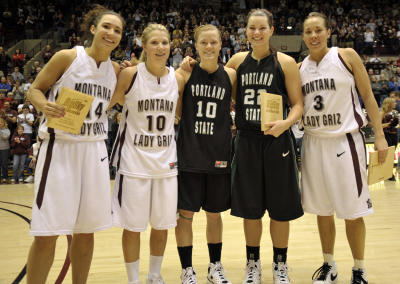 She loves the sport and is very good at it earning an eight time Big-Sky Player of the week award, and many more awards for her achievements. Her dad Jim Morales couched her when she was little, and she played with her brothers all the time. They didn't take it easy on her either even though she was their baby sister. It made her a better ball player by playing with her brothers who also were great basketball players. None of them pursued it as a career. Kevin, the oldest, is married, Wes, who is the second oldest is engaged and Michael, third oldest is married. Mandy wanted to play basketball ever since she was a little kid it was her dream, and now look she's one of the greatest basketball players to graduate from University of Montana. She showed people that you can go after your dreams and if you work hard towards it they can come true all it takes is effort and heart. Even if you have trouble on the way to your dreams, when Mandy had a hard time with her knee being injured and had to sit out a season she still stuck with her dream to play basketball.
Mandy is a hard and determined worker at what she does. She never gives up on her teammates. She's a strong leader and role model for people all around. She taught me to believe in myself and believe in my dreams; like when I wanted to play basketball she taught me how to play. We practiced almost every day for that entire summer. She's a great helper too, and has patience for others. When she was a little girl she didn't want to play with dolls she was more into playing sports with the boys. People looked at her differently when she was growing up because she wasn't like most girls, but if she didn't hang out with the boys when she was younger she might not have grown up to be the basketball player she is today.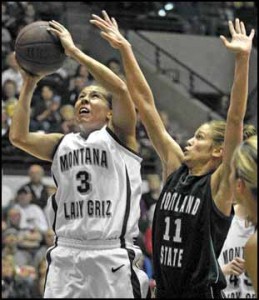 Mandy is a big inspiration in my life. She has been since I was little, and she's there for me if I need her. Even though she lives in Missoula now, we still keep in contact and are close. She's like the big sister I never had supporting me in what I do. Her dad Jim is the reason Mandy is such a good basketball player. When he and I worked on basketball, he worked me hard. My nickname was "short stop". that's what we worked on most. Mandy is not one of those cocky basketball players where she acts like she's all that. She's a good person and nice. She doesn't want any special treatment or to be treated differently from anybody else. She's just a normal person like you and me. That's why my cousin Mandy Morales is my hero.
Page created on 7/6/2013 11:43:09 AM
Last edited 1/6/2017 11:55:24 PM
The beliefs, viewpoints and opinions expressed in this hero submission on the website are those of the author and do not necessarily reflect the beliefs, viewpoints and opinions of The MY HERO Project and its staff.