Martina Navratilova
by
Madeleine from Mission Viejo
"The moment of victory is much too short to live for that and nothing else."
When I first started playing tennis I heard about Martina Navratilova and I just said, "Who?" But when I really started playing tennis I kept hearing her name more often. I then looked her up for fun because I wanted to know more about her because all I heard about her was, "Wow she's a great tennis player!" When I looked her up, the first thing that came to my attention was she started turning pro at age 17. I just thought wow she must be dedicated. I kept reading on and I saw that she is from Czechoslovakia. Also she won girl's nationals at just only age 15 in Czechoslovakia! I love playing tennis and I want to love my job when I am older. So I thought to myself I want to be a tennis player when I am older. I think that I can become a tennis player because I play every day and I never get tired of the sport. Martina Navratilova's dedication to the sport has inspired me to get even better.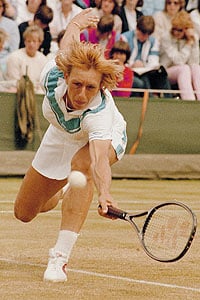 Martina Navratilova is a famous women's professional tennis player. She went to grade school for nine years and high school for 3 1/2 years. College is not necessary for being a tennis player if you are top ten in the world because sports agents will start to look at how well you play. Sometimes instead of going to high school you can be home schooled by a tutor because you will spend most of your time traveling to different tournaments. If you are top one hundred in the country it is a lot harder to survive in the tennis world because your salary would barely cover the expenses of travel, shelter, a sport's agent, and a coach. To become a professional tennis player you usually have to start at a young age. You need to develop the technique, fitness, and the mental toughness to play. Also you usually have to play at least five days a week to develop a new stroke or a new technique. If you are in the top ten in the world you will probably earn millions of dollars a year. Also in this career you can't be a famous tennis player for long because the older you get, the more injuries you will have. Sometimes if you have a horrible injury you won't be able to participate in the sport. Martina is a very brave person for understanding the down sides of being a professional tennis player.
When Martina Navratilova was three her parents got divorced. She survived through that obstacle. Later on her mother got remarried to Miroslav Navratil. Miroslav was her first tennis coach and he taught her how to play tennis when she turned six years old. When Martina was fifteen she won a national tournament. She went to grade school and graduated from high school. After high school she did not go to college because she turned pro. At the age of eighteen she came to America to have rights of freedom and to pursue her tennis career. In her career she has won 18 women's singles grand slam events, 31 women's doubles grand slams, 20 Wimbledon titles, and 10 grand slam events in mixed doubles. When she was 50 years old she played her last match in 2009.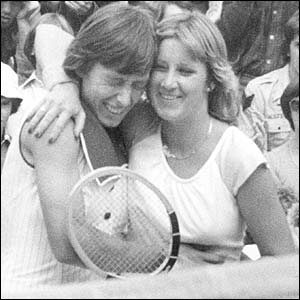 Martina Navratilova is involved in helping animal rights, underprivileged children, and gay rights. Chris Evert even talks about how friendly and close they are to each other. Chris says, "We've been through so much history, so many layers of emotions. We were such opposites, it enabled us to get closer. She has my back; I have hers. I think people forget that we were left alone in the locker room every Sunday after we played final matches, and one of us would be crying and the other would be comforting. Nobody saw that." Also throughout her career she has been improving her game. She was one of the women who have showed the world that women can be just as great as men. She has inspired many women to play at their best because she had a horrible childhood and she pulled through. When she came to America she was eighteen and got a green card to stay here. Also later on she filed for a lawsuit against Amendment 2 in Colorado, which didn't protect gays from discrimination. She also supported the charity, People for the Ethical Treatment of Animals.
My goal is to be somewhat like my personal career hero by playing tennis on the high school team, getting splendid grades, graduating high school, and then playing tennis for a university. If I keep playing on the tennis team, I will be able to improve my game. I will also graduate from high school because that opens doors for me in life. Then I will go to college because if my tennis career doesn't work out I will always have something to fall back on. Martina Navratilova has been my hero for a long time because I can relate with her about mental toughness. She presents herself as a very confident and proud woman towards others and most importantly, herself. I will try to become something similar to her.
Page created on 7/6/2013 1:54:56 PM
Last edited 1/6/2017 11:56:30 PM
The beliefs, viewpoints and opinions expressed in this hero submission on the website are those of the author and do not necessarily reflect the beliefs, viewpoints and opinions of The MY HERO Project and its staff.