Wangari Muta Maathai
by
Joshua from Raleigh
What is a hero? Do all heros have super powers? The answer to that is no, every hero does not wear a cape and tights. A hero can be anybody that you look up to or that you feel is a good role model. A hero to me is a person who stands up for something they believe in. A hero should be brave and be a good leader.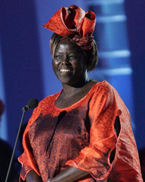 Wangari Maathai was born in April 1940 in Nyeri, Kenya, East Africa. Wangari, her parents and five younger siblings worked on a farm. She was the first woman to earn a doctorate degree. Mrs Maathai obtained a Bachelor of Science in biology from Mount St. Scholastica College in Atchinson. She is a very intelligent African American. The academic life, however, couldn't fully satisfy the activist in her, especially after her participation in her husband's campaign for a seat parliament opened her eyes to poverty and the pitiful condition of the urban poor. In 1976 while serving in the NCWK (national Council of Women of Kenya), she pitched the idea that she wanted to plant trees. Her idea continued to grow in to a broad-based, grassroots organization whose main purpose was planting trees with females to conserve the environment and improve their quality of life. Wangari has helped women plant over thirty million trees on their farms and in schools.
In 1977 Wangari obtained the support of the NCWK in establishing a Green Belt Movement, a system of nurseries to provide local communities with planting and seedlings. The movement operated by 80,000 workers had supplied Kenya with ten million trees. Meanwhile her private life was falling to pieces. Her husband sued her on the grounds, not of overachievement but for adultery. As a result things got very violent. She was put in a jail until she apologized. Her dedication as an environmentalist and her ambition brought her into direct confrontation with the government. In 1989 the government planned to set up a commercial complex. Wangari Maathai called for a public debate on the proposal. She stirred up a storm of popular protest that led to the project being abandoned. Government harassment has continued to follow her. On one occasion during a demonstration against imprisonment without trial of some dissidents, she was beaten senseless with a club. Her war with the government caused her to adopt disguises to avoid any menacing official notice.
Wangari Maathai is a political hero and an environmentalist. She was a natural born leader, a role model for women and people all over Africa. She is a hero to a lot of people who can look up to her many ways. She's brave, smart and positive. Those are three traits every hero should have.
Wangari Maathai has won many awards and honors from environmentalist and feminist organization, such as the Noble Peace Prize in 2004. She is an influence to a lot of people. She is still alive this day she currently lives in Africa. She is hero a lot of people can look up to many ways; she's brave, smart and positive. Those are three traits every hero should have. (I got this from the fourth paragraph). So now we all know what a hero should be and what a hero really is.
Page created on 3/8/2007 12:00:00 AM
Last edited 3/8/2007 12:00:00 AM
The beliefs, viewpoints and opinions expressed in this hero submission on the website are those of the author and do not necessarily reflect the beliefs, viewpoints and opinions of The MY HERO Project and its staff.
Bibliography
Baldwin, Louis. Women of Strength. Mcfarland