by
William from Fredericksburg
What exactly is a hero? That question is often asked when talking about heroes in general. My hero is brave, successful, smart, giving, and not afraid of saying what he believes in. Manute Bol has gone through many struggles in his life that have made him a better person. Many people look up to Manute Bol literally, and for who he is and what he has done.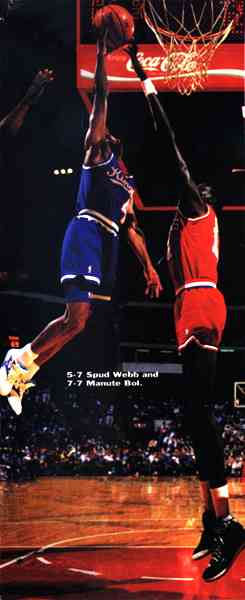 Manute Bol, son of Madut Bol and Okwok Bol is 7'7" and is from Sudan. Manute's father Madut was 6'8" and his mother was 6'10". Not only does Manute have good genes but he comes from the Dinka tribe of Sudan. The Dinka tribe is known for having the tallest people in the world and heights of 6'8", 6'9", and 7' are common. Manute Bol, meaning "blessing from god" never went to school. There were no schools in his village, and he never played basketball until he was 15. With there being no team in his village he had to walk 3 days to get to a town with a team. At his first attempt at dunking, Bol dunked but not without shattering two teeth on the rim. He jumped and dunked the ball through the hoop, and was so far above the rim that on his downfall he hit his mouth on the rim, shattering his two front teeth. After playing on that team, Bol was recruited the USA by a college scout. He ended up going to University of Bridgeport in Connecticut to play. He did not have to learn a lot to get in Bridgeport because he knew the basics of English, and knew what he needed to know to get around the campus. He constantly filled their 1,800 seat gym. While at Bridgeport, Bol set many records: he averaged 15 blocks a game and 22.5 points. After a year at Bridgeport, Bol joined the Rhode Island Gulls, a semi-pro team, and after a few months he was drafted by the Washington Bullets. Bol's collegiate career was an amazing one, much like his career in the NBA would be.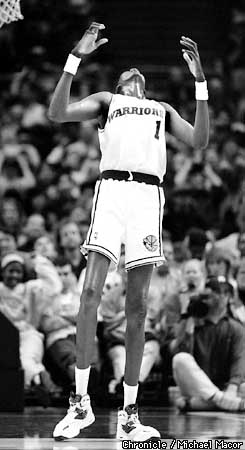 Bol started off the NBA with a bang; he was the tallest player to ever play in the NBA at his time. That record stood for many years until Romanian born player George Muresan entered the league tying Bol for that record. In the NBA, Bol was shuffled around the league to four different teams. He first was on the Washington Bullets, and then moved to the Golden State Warriors where he had his most success. He was then moved to the Philadelphia 76ers, then finally to the Miami Heat. In his rookie season, Bol blocked a record 397 shots, a record that still stands today. When with the 76ers, Bol had many endorsements from Kodak, Nike, and Toyota. Making 1.6 million dollars a year, Bol did what many NBA stars did at the time. He bought many houses, Mercedes, and invested in a night club in New York that went broke. Bol says that most of his earnings went back to Sudan to his tribe/family. In his tribe, polygamy is normal and some families can extend to a 1,000 people or even more. In the NBA he averaged 4.96 blocks, 2.6 points, and 4.2 rebounds a game. Manute was often prone to injury because the way his body was built, being so tall and skinny. In 1994 a knee injury forced Bol to move to a minor team in the CBA, then to a league in Italy. After 1995, Bol retired from basketball and focused on what he thought was much more important than basketball, Sudan and his family.
With his fortune at its peak, Bol was focused on helping his native people out of poverty and out of civil war. Sudan is dominated by Arab Muslims who took over the country. The Dinkas lead the southern rebel force and Bol is a dominate figure for them. He donated an estimated 3.5 million dollars to the rebel forces. He did not support the rebels openly for fear of getting killed, so he donated all his money and it was kept secret. Two years after Bol retired from the NBA, the Arabs offered a peace agreement to the rebels but it was rejected. Bol did not like this and he moved back to the capital city Khartoum, and was an immediate media sensation. Everyone knew Manute from the TV and his basketball career. He was often accompanied by 4 bodyguards and the Sudanese people often had to wait hours to even meet him. In months to follow, the war raged on and got worse. Bol was stuck in Khartoum without a job and losing money fast. He had to sell his house in Egypt and Khartoum, and his house in the USA was repossessed after failing to pay payments. Bol itched to go back to the States, but after the 9/11 attacks no one Muslim or from Muslim countries was allowed back into the states. Bol stayed in Sudan for a year, not being able to go to the doctor or out of his house except for groceries for fear of being killed. He finally made it to Cairo and wasn't allowed back into the USA until 2001. He has no money left over now, suffers from rheumatoid arthritis, and is homeless; living in a shelter for refugees, Bol has tried to make money for his people. He was last seen in a Central Hockey League game, wearing size 16 ½ skates. And on the FOX celebrity boxing against William "the refrigerator" Perry, an ex- NFL star, a battle that he won, many people thought that Bol was just doing it to get him rich again. But Manute did it for other reasons, to help his family and his county. No one knew about his struggles with his country or his people, so the media often bashed him for what he was doing. Bol swallowed his pride in efforts to help the people that are in more need than him.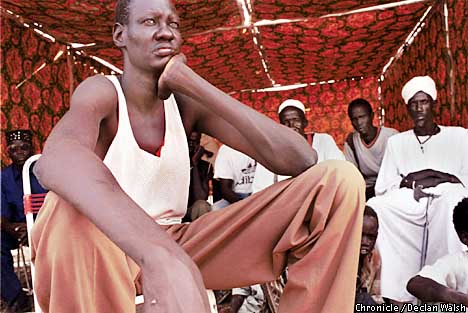 Manute Bol is a hero to me and should be a hero to everyone. He doesn't care what anyone thinks, and is willing to give up everything he owns for the people that he loves. I think that that trait is very hard to do alone, giving up something you want for someone else. Let alone giving up your entire fortune and respect for someone you love. Even though Bol is still plagued by rheumatoid arthritis and his joints will continue to ache throughout his life he continues to try and help in anyway to get his country out of the situation they are in now. Bol has made a fund for his family in Sudan and donates all the money he makes into that fund. He also is a mentor to refugees from Africa that have recently come into the USA. He doesn't get paid for this but he does it because he is a kindhearted person that cares about his family and his country. Manute Bol is and will continue to be a hero of mine and of the world.

Manute Bol died from kidney failure due to Stevens-Johnson Syndrome on June 19, 2010.
Page created on 7/6/2013 12:10:23 PM
Last edited 1/6/2017 11:55:33 PM