Pete Maravich
by
Brandon from Spokane, Washington
"Pistol" Pete Maravich wowed many individuals throughout the 1960's, 1970's, and 1980's. He dazzled them with behind-the-back passes, no-look passes, jump hooks, and moves never seen before. Pete changed the lives of many that saw him play, and made an even bigger change in the lives of those who went to his basketball camps and heard him speak after his playing days were over.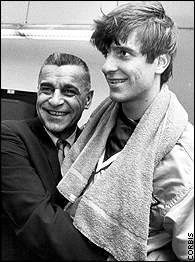 Pete was born on June 22, 1947 in Aliquippa, Pennsylvania to Press and Helen Maravich. Pete was born into a Serbian family and community. Due to Press being a coach, the family moved a few times. They moved from Aliquippa to Clemson, South Carolina to Central, South Carolina to Raleigh, North Carolina. Early on, his father, a former professional player who later coached, began molding Pete into what he called the future of basketball. Pete lived and breathed basketball. He would often be seen with a ball. Many saw him dribbling a ball out the window of a moving car. A story Pete recalls from his childhood as he told in his autobiography Heir to a Dream is about him earning five bucks for spinning a ball on his finger for an hour. Pete recalls it "Several kids gathered around to watch. As the minutes passed, fatigue began setting into my arm and hand. The boy who made the bet began to gloat, seeing that my index finger was bleeding. But, before he could start counting his money, I threw him a curve by switching fingers" (Kriegel, 2007). Pete has given interviews revealing that he spent about 8 to 8 and half hours practicing during the summer months, and about 4 hours during the winter months (. This dedication and work ethic would lead him to great success later in his life. He went to High School at D. W. Daniel High School and Needham B. Broughton High School. Pete was one of the first to play one sport year-round. He dazzled college scouts with his scoring and passing abilities. However, partly due to pressure from home he decided to attend Louisiana State University where his father coached. Pete continued to amaze onlookers as he amassed three All-American honors, a college player of the year, and still holds nine NCAA basketball records. In 2005, ESPN named Pete the greatest college basketball player of all time. Pete was drafted by the Atlanta Hawks and became the first basketball player to sign for a million dollars. His professional career was marred by injury after injury. However, in 1996 he was voted as one of the 50 greatest players of all time and was inducted into the National Basketball Hall of Fame in 1988. The new coliseum that was built at LSU was named after Pete. While playing, Pete entertained spectators of all ages. He introduced a new kind of basketball that many had not seen before.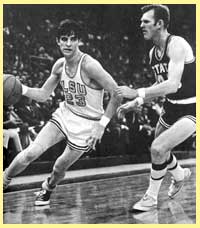 At the conclusion of Pete's career, Pete's impact on people would not diminish. Pete became a Christian after his playing days. He would travel around and give talks. Many marveled at his speaking abilities. Pete also held camps for kids where they could work on their basketball skills, but also learn life skills as well. Many kids would often hear from the Pistol well after they returned home from the camp. Pete used his knowledge and fame that he acquired while playing basketball to change young people's lives. He didn't care if they became professional basketball players, and often hung out with the non-basketball type kids that came to the camp.
On January 5, 1988, Pete died while playing a pick-up basketball game. He died of a deterioration of the tissues in his heart. He was born without one of the two artery systems that supplies the heart with blood. Pete would play at an intense level with this condition for over 30 years. During his playing days Pete thrilled onlookers and entertained the masses. In the last years of his life, Pete showed how big his heart was and impacted the lives of many young children. He continues to impact individuals after his death. Growing up, Pete was my hero. His work ethic, his determination, and his faith are virtues that have greatly influenced my life. They not only impacted how I played the game, but the way I live my life. From the first time I saw a video of Pete playing when I was six, I was mesmerized. The more I learned the more the man became my hero. Pete had a gift and a talent. He used his talent to fuel his gift of helping and those that he helped will never forget the person he was.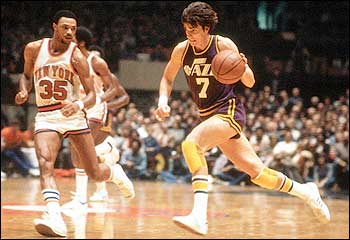 Page created on 10/15/2007 12:00:00 AM
Last edited 10/15/2007 12:00:00 AM
The beliefs, viewpoints and opinions expressed in this hero submission on the website are those of the author and do not necessarily reflect the beliefs, viewpoints and opinions of The MY HERO Project and its staff.