When I was looking for community heroes that aren't known to the mainstream media I wasn't sure where I could look for a hero that would catch my attention. I decided to email one of my Spanish professors at UCI by the name of Dr. Armin Schwegler, to ask if he knew where I could find stories of unknown Hispanic heroes. I want to give a special thanks to him for connecting me with Professor Mario Martin. Dr. Schwegler told me a little bit about his story and I was amazed at the fact that Professor Mario Martin had been blind since he was a young man and that he had overcome adversities to now be one of the most popular Spanish professors at San Diego State University.
So I decided to contact Professor Martin and hoped that he would respond to my proposal of interviewing him for this MY HERO story. When I first emailed him, I got a response from his wife Edda, who told me it seemed like a nice gesture and that she would pass on the news to him. Sure enough, in a few days I got an email from Professor Martin agreeing to the interview. From there, I emailed him the questions and he enlightened me with his responses.

Interview by Daniel Chavez:
Who are you? I'm a 56 year old Mexican who has been distanced physically for 23 years of my life from Mexico. Since I was chosen by glaucoma I'm more and more delightfully apart from the light and the world so called "objective". I thank and enjoy my paternity, next to my wife Edda Marí­a, of Sophia and Gabriel. Teaching and poetry are daily exercises of faith.
What do you do? Since 1980 I've been teaching Hispanic literature and culture in Mexican universities.. From 1995 to present I've been teaching those exciting subjects in Texas A&M University-Commerce and San Diego State University. As an extra curricular activity I've been offering since 1980 literary workshops for the community. I specialize in Latin American Novel and Golden Age/Colonial Poetry. My research agenda includes the 19th century novel and short story, contemporary Mexican narrative written by women, literature of Baja California, and late Mexican diaspora, fields in which I have published articles in refereed journals and proceedings, as well as book articles. I have received 12 awards in teaching from Mexican institutions as well as from the United States. I have published four poetry books: Ámbitos (Parvulario, Umbrales) (Guadalajara: Secretaría de Cultura Jal., 1995), En el canto de la hoja (Argentina: Universidad Católica de Salta, 1998), The Giving Gaze/La mirada pródiga (San Diego, Guadalajara: LARC Press, Secretaría de Cultura Jal., 2003), and Invocatorias del vuelo (Argentina: Universidad Católica de Salta, 2004).
When did you decide to go on with your life? When I was 15 years old I had to be submitted for eye surgeries twice per year, each with long periods of recovery. I felt like they took away my vital opportunities as an adolescent. I suffered terrible harassment and hazing due to my condition at school. One morning I decided not to go to school and my mother Maria Flores who had profound wisdom took me to a furniture store. She asked me to choose whatever recliner I wanted. The purpose of this was for me to be away from facing my classmates and any kind of confrontation by laying forever on that recliner. I have developed fear from that piece of furniture because I couldn't picture myself spending the rest of my life there. There's no specific "when" that determines when you will go on with your life, that "when" is repetitive. I usually don't get depressed but when I was a young lecturer in a private university of Guadalajara, I asked my mother to explain me why there were criminals, corrupt politicians, those that committed genocide, phony professionals, and heavy drinkers that had a 20/20 vision. She hesitated for a moment and told me she was going to the store to buy me a Coke. When she came back she had both: the coke and the answer. "When I was on my way to the store I saw ants, dogs, trees and clouds and I thought that there is order in this world because the ants do not pretend to become clouds and dogs don't intend to become trees. "My mission as a blind person is to be the best blind man there is, to become usefully articulated to work and the hope of others. By making visible and available my blindness I contribute to make visible the other 4 million Mexicans who are blind and are struggling with unemployment and obliviousness from the government and society. Sickness is a human condition, is a physiological and anatomical fact that we start deteriorating at the age of 18. Therefore, most of our life is a long period of detachment from vitality.
Where did you come from? Childhood? Childhood heroes? I come from a small town called Capilla de Guadalupe situated in the west central part of Mexico, 60 miles away from Guadalajara. My family moved to Guadalajara in order to provide me with special education. The fist book that I was able to read in Braille was Ulises Criollo by José Vasconcelos. This autobiography moved me because I learned form his fulfilling childhood full of classical readings, systematic will and physical exercise, intellectual discipline and genuine spiritual interests. I believe that without an intense childhood the adult in Vasconcelos would had the energy to set out and achieve the Cultural Revolution that he obtained when he was minister of public education. It's really hard to find in México public figures that reach that historic condition, even he had dark periods in his vital trajectory.
Obstacles you overcame to accomplish your dreams? México is a country that has a limited amount of public resources directed towards helping the blind. When I was young there were only 26 schools that assisted less than 1,000 students out of 2.5 million blind persons. However, there is a great sense of solidarity and help in social and religious organizations. I finished my studies in high school, university and masters thanks to my volunteer readers: my seven sisters, Blanca N. De Astorga, Teresa y Marí­a Luisa Casillas among others, who donated long hours to reading my school textbooks and personal readings. More than just my voluntary readers they were my tutors. One of the reasons why I came to the United States was to pursue a doctorates degree and have access to assistive technology that now I use and enjoy.
Career path? I hold a B.A. in Hispanic Literature and Linguistics, an M.A. degree in Educational Administration from Autonomous University of Guadalajara, an M.A. and PhD. degree at UC Irvine. I was the third PhD graduate who was recipient of distinction in the Spanish and Portuguese department of UC Irvine. Since I was hired by SDSU I have been promoted from Assistant Professor to Associate Professor and recently to Full Professor.
Family? When it comes to family I can't add more that it hasn't been said. As well as the placenta is the laboratory where life is formed silently; consciousness and the hearts (either compromised or not), are being formed in the anonymity of everyday that will serve in the vital impulse of social and human experience. I had the fortune of having a tough, rigorously rational father and a mother who had a great intuition and a generous wisdom at heart. As a father, I have tried to add the inheritance of my father, the intuitive intelligence of my mother that is reinforced by the presence and personality of my wife with her total devotion to our children education. Our children are the core of our short and long term activities, projects and aspirations.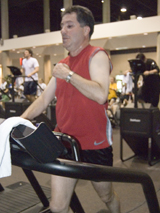 Who inspires you? Do you have a hero? Any literary character heroes? A lot of my teachers were an inspiration in my elementary and university education. I don't recognize in a person all the values that I admire because my values have been changing with my vital perspectives. I am a believer and I profoundly respect mystics such as Jesus Christ, Saint Paul, Saint Augustine, Mahatma Gandhi, Mother Theresa, Saint John of the Cross and Rainer Maria Rilke. I specially admire books, poems and lines of many poets and thinkers. During the course of the years I have found that discovering features and inspecting acts of goodness and kindness in each person is an extraordinary adventure.
A hero's journey? What do you think about heroes? A hero is any person that assumes in that moment the responsibility to choose between his good and best even if he/she fails. Every attempt is an accomplishment, success is an illusion, and it's a circumstantial evaluation. Exit means "to get away" it doesn't mean that you arrived first to the finishing line in the eyes of the public that celebrates your achievement. A tree is not only valuable because it bears fruit, perhaps because it gives shade or simply because it's a point of reference or because its faithful to where he's supposed to be. The act of growth of a tree it's founded in innumerable acts of his roots and sap that we don't see. To decide to live is an act of courage, to live with responsibility is a heroic experience making it more valuable if it doesn't have a prize.
Future plans? I will continue writing books of poetry, short stories and a novel. Currently I'm about to finish a book about my progressive blindness and those I meet from this side of light. I plan to continue with my career, improving my teaching and academic performance. I will keep enjoying the faces of those that I love up as long as my glaucoma allows me. I will also keep going out for a run and will also continue to maintain good health to serve with more efficiency and to live plentiful. One day, I would like to do something for the disabled citizens of my country. Before the year 2000 the disabled community was not taken into account in the census, resulting in the lack of investment in rehabilitation and incorporation to a productive and meaningful life. We need to create consciousness in society, the private sector and the governmental agencies that 1 out of 10 Mexicans is legally disabled. I'm terrified to know that our country has the first place in childhood diabetes, which can produce macular degeneration and glaucoma ending in blindness.
Mission in life? My mission in life is to move others with faith; the world is greatly ambushed with skepticism and nihilism that leads to ignore those that are different, which leads us to ignorance, disdain and violence. I also considerer that over reason there are superior methods of knowledge: emotive intuition, volitive intuition, knowledgeable intuition, imagination, the direction and strength of all: Faith.
Page created on 8/12/2014 11:57:24 PM
Last edited 1/6/2017 9:07:35 PM
Extra Info
COMMENTS FROM STUDENTS
- (taken from RateMyProfessor.com)
"Professor Flores is one of the most inspiring instructors I've had at SDSU. He is extremely knowledgeable and is very enthusiastic about channeling what he knows to his students."
"He's a friendly, funny, and intelligent professor."
"He is with no doubt one the best professors at sdsu!... He knows his material like the palm of his hand....JUST THE BEST SPANISH PROFESSOR!"
"He made me fall in love with Mexican literature. His knowledge is infinite, and he makes the subject fascinating."
"He is really smart knows alot about mexicos art and about politics go to his office and he will help you alot with extra credit one of the best spanish professors at SDSU"
"He's one of the best teachers I've ever had.! He is a challenging teacher, doesn't give a lot of homework, he knows A-L-O-T"
"Span 342 was the hardest class I ever took at SDSU, but it was also the most rewarding and memorable. You will never really understand Mexico until you take this class."