She may look like a model and love watching popular TV shows like CSI, but Martina Moravcova is a hero to her country. This 28-year-old Slovak swimmer is the country's first world champion to ever win multiple medals at the Olympics.
Moravcova, a freestyle- and butterfly-stroke swimmer, became a national sensation as she fought to bring herself and her country worldwide recognition.
Nicknamed the "Slovak Fish" at the 2000 Olympics in Sydney, Australia, where she won two silvers, Moravcova was not expected to live when she was born on Jan. 16, 1976. Arriving two months early and weighing in at just over four pounds, Moravcova spent the first weeks of her life fighting to survive. But her mother, who held vigil at her tiny daughter's side in the intensive-care nursery, consoled herself by saying how everyone would be watching her baby swim at the Olympics. And 16 years later, she was right.
But it wasn't an easy road for the young girl. Even after battling pneumonia and other issues, this Piestany native was restricted from doing any strenuous activity until the age of three. To her swimmer-champion parents, this proved difficult. When she was finally allowed to participate, Moravcova almost drowned in the murky waters of the town's public swimming pool. But after a brief fear of the water, she got right back in and enrolled in swimming lessons at age six, winning her first medal by the age of 10.
Moravcova says on her website:
Of course, as a little kid, I did not really recognize the value of the medals. I did not care whether it was a silver or a gold medal or whether it was a medal from a state meet or the national championships. I just wanted to get better and better so I could keep getting more and more medals because they made me feel so happy and excited about swimming.

The feeling of having a medal around my neck was just very satisfying to me and I seem to never forget the great feeling of pride, satisfaction, and recognition that used to fill me from the inside out. I still have the same great feelings whenever I step up on the award stand and receive a medal. When I won my first medal, I took all the medals that my parents had given me and I gave all of them back with a triumphing gesture - I've got my own medal now.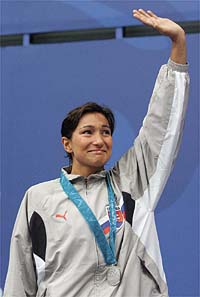 And that she did. Moravcova went on to win all her races in the state championships, with each win spurring her to do more, to get better. At the Czecho-Slovakian Nationals, Moravcova won her first age-group national title at the age of 12 in the 50m freestyle with the time of 0:28.38. The same year, she won a silver and a bronze medal at the "Friendship Meet" in East Germany.
In November 1989, when Moravcova was 13 years old, the communist system collapsed. Before then, people were permitted to travel only within the Eastern-block countries, with guarded fences protecting the borders of neighboring countries such as Germany and Austria.
"I remember my parents were given the visas to travel around Western Europe in 1988, but they had to leave me and my younger brother at home as a guarantee that they would come back," Moravcova says on her website. "I realized that the only way to get out of the country and see 'the world behind the fence' was to become a national-team swimmer and that was a great motivation to me."
When the fences finally fell, the country's economy changed rapidly and citizens began the long process of adapting to a market economy.
"But people were willing to undertake the hardship in the promise of a better future," she says.
In the early 1990s, Moravcova became a member of the Junior National Team, and in 1991, won a silver medal and a new Czechoslovakia Senior Record in the 100m freestyle, and a bronze medal in the 400m freestyle relay. She was also voted Best Junior Swimmer of the Year by the Czechoslovakian Swimming Federation.
"And I started to dream the Olympic dream."
That dream became reality in 1992. At the Barcelona games, Moravcova, then 16, became the youngest member of the Czechoslovak Olympic team. But the butterflies settled in for the long haul.
"I had walked onto the pool deck not exactly self-doubting, but rather intimidated, because every girl there seemed stronger, bigger, tougher, more experienced and maybe even more ready than I was. They all looked like they belonged there. I did not feel like I did. I felt out of my league."
In the end, she showed them what league she was really in by doing her best and coming in 19th.
"I had no expectations other than to do my best and that morning I did everything and gave everything I had, and for that reason I could not be displeased with my performance," she says.
During the 2000 Summer Olympics in Sydney, Moravcova won two silvers, becoming the country's first ever multi-medal winner at the Olympics.
"I've never experienced such euphoria," she said on the "Spectacular Slovakia" website. "And I've never cried so much as when I saw the results on the board. I hope I didn't make only my family happy, but also everybody in Slovakia."
Moravcova, who is married and a graduate of Southern Methodist University in Dallas, Texas, trains much of the year in that city.
Page created on 9/10/2008 11:27:02 AM
Last edited 1/6/2017 11:56:19 PM
Extra Info
According to USAswimers.com, Moravcova's accomplishments include:
- three-time World Champion gold medalist;
- four-time European Short Course champion;
- two-time World Champion silver medalist;
- five-time World University Games champion;
- two-time Goodwill Games champion and the only female collegiate swimmer to have ever won three individual titles in three events three years in a row;
- three-time European record holder;
- former World record holder;
- voted Slovakian Athlete of the Year three times;
- holds most of her country's swimming records.