Mary Lou Naso & Harry
by
Christian Walsh
Mary Lou Naso and her friend, Harry, visit the sick and dying in the hospital. Her friend performs tricks, but he's not a magician like the more famous Harry, Harry Houdini. His favorite tricks are catching his tennis ball and choosing which hand a snack is hidden in (though, he's not always right!). Harry is well-behaved around all the children...he doesn't mind kissing his new friends and loves it when they rub his hair. You may have guessed by now that Harry is a special friend - he is a dog.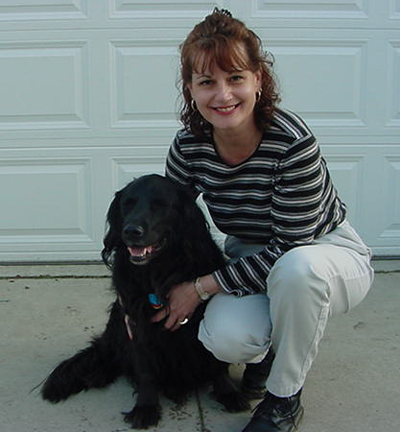 Every 2 weeks, Mary Lou and Harry visit the Cleveland Clinic Children's Center for Rehabilitation and Rainbow Babies and Children's Hospital. Mary Lou explains, "Harry's visits usually consist of lots of treats and lots of petting. Some of the more able-bodied children will play ball with him - he loves to catch the tennis ball. He also likes to perform his tricks: he knows his left paw from his right paw, retrieving the tennis ball, he can guess in which hand you are hiding a treat-he will place his paw on the hand he thinks the treat is in (and doesn't always guess right!) He also gives kisses to patients on command and will sit and stay on command. He has free reign at the hospital and is allowed in all of the units, including intensive care."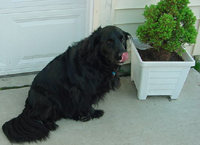 Harry is a licensed 'therapy dog.' Mary Lou and Harry attended 8 months of special obedience training classes preparing Harry for visiting patients in the hospital. After the classes, he was tested by Therapy Dog International (TDI) to make sure that he was ready for the unusual situations faced by a dog and owner in the hospital. He was given obedience commands while interacting with people in wheelchairs and on crutches. They even dropped a bedpan behind him to try to scare him, but Harry passed with flying colors. Harry was one of the top dogs in the class.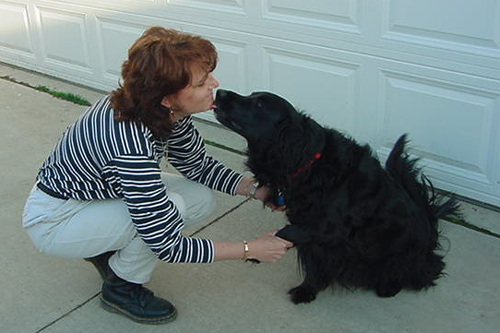 Mary Lou and Harry bring happiness into places where it's sometimes hard to find smiles."One mother came out of a hospital room and asked if her son could meet Harry. We went in and her son was in the bed. He was in a coma and had a horseshoe scar on his head from his recent surgery to remove a brain tumor. His mom placed his hand on Harry. She explained to the unconscious boy that Harry was a black dog, like a Labrador, and helped the boy rub Harry's fur. She smiled and thanked us before we left. She knew her son would remember Harry."
Mary Lou and Harry make lots of new friends every visit. Nurses, children, parents, and doctors spend time with Harry when he is at the hospital...Harry has more than enough kisses to go around. Mary Lou and Harry are heroes for the happiness they spread throughout the hospital among family and friends.
Page created on 7/14/2008 12:00:00 AM
Last edited 1/5/2017 7:06:30 PM
The beliefs, viewpoints and opinions expressed in this hero submission on the website are those of the author and do not necessarily reflect the beliefs, viewpoints and opinions of The MY HERO Project and its staff.
Extra Info
---
Harry is the proud recipient of the TDIA award from Therapy Dog International for having performed over 50 visits! He is well on his way to the next award, which he receives after 150 visits. Keep up the good work, Harry!
---