John McCrae
by
David from Calgary
Mr. John McCrae was born and raised in Guelph, Ontario. This warm and sensitive man had a father that had a job as an army Lieutenant. He had a brother and a sister; Tom being the older brother; Geills the younger sister.
McCrae loved poetry; he wrote it a lot in school. He graduated at the age of 16 and won a scholarship to the University of Toronto. In 1894 McCrae graduated with a Bachelor of Arts degree. Then he got into medical school. When John McCrae was a boy, he wanted to be in the military. At 14, he joined the Highfield Cadet Corps. At the age of 17, McCrae got in the military.
John was a soldier, doctor, author, and artist. He lived a peaceful, comfortable life in Canada. But when McCrae heard about the war, he jumped at the chance to go to the battlefront and fight for Canada. As a doctor, McCrae saved hundreds of lives. This sensitive man was troubled by the war. He hated watching people die. So McCrae tried to save as many people as he could. Being able to save lives made McCrae feel better.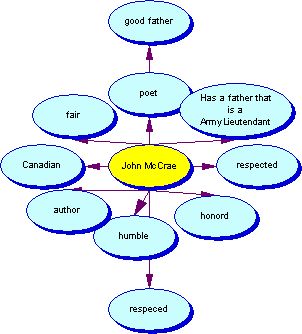 While he was serving as a Brigade Surgeon in WWI, McCrae wrote the poem "In Flanders Fields." He wrote this after one of his friends died. Flanders Fields is now a graveyard. "In Flanders Fields" is now one of the most remarkable war poems ever written. His poem, "In Flanders Fields," taught us how hopeless and terrible war really is. It also proved that poetry is an effective way to communicate. His father, an army Lieutenant-Colonel in the Canadian army, heavily influenced him. As a result, MCrae was interested in the army at an early age. He had a religious upbringing and was a man with high principles. He cared about others. This great man sadly died of pneumonia in 1918. Pneumonia wasn't the only way to die at that time; some people got eaten by rats, caught leg diseases, or even drowned in muck!
Do you ever wonder if McCrae got any special awards? I'll list some here: Scholarship to the University of Toronto; graduated at the top of his class and received a gold medal from University of Toronto Medical school. Also, he received a fellowship in pathology to McGill University in Montreal; was appointed special professor at the University of Vermont; published many poems and short stories while in University, published scientific articles and medical text books later; and he was second in command in the Canadian General Hospital in France when he died.
John McCrae is my hero because he wrote the great Remembrance Day poem, "In Flanders Fields." The poem honoured men like my great-grandfather (Francis Wallace), who fought in World War I in Ypres. McCrae helped those who fought and lived; he wrote "In Flanders Fields" to remember those, like my great-grandfather, who fought and died.
In Flanders Fields the poppies blow
Between the crosses, row on row
That mark our place; and in the sky
The larks, still bravely singing, fly
Scarce heard amid the guns below.


We are the Dead. Short days ago
We lived, felt dawn, saw the sunset glow,
Loved and were loved, and now we lie
In Flanders fields.


Take up our quarrel with the foe:
To you from failing hands we throw
The torch; be yours to hold it high
If ye break faith with us who die
We shall not sleep, though poppies grow
In Flanders Fields
Page created on 3/6/2006 12:00:00 AM
Last edited 3/6/2006 12:00:00 AM
The beliefs, viewpoints and opinions expressed in this hero submission on the website are those of the author and do not necessarily reflect the beliefs, viewpoints and opinions of The MY HERO Project and its staff.