Shirley McGreal
by
Adrian R from Sycamore Jr. High
I wrote about Shirley McGreal. She founded the International Primate Protection League in Thailand 30 years ago. The IPPL was designed to protect primates including gibbons, monkeys and gorillas. The leagues 10-acre land has homes for 33 animals. McGreal had planned to become a collage professor but then decided to change her career and protect the gibbons. In the early 1970's, she saw gibbons, monkeys and other primates being shipped in crates at the Bangkok Airport and for sale at a market in the city. She then decided to take charge and start the league.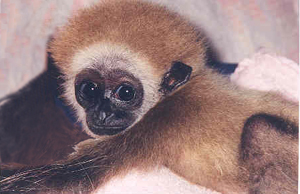 Dr. Shirley McGreal, Founder and Director of the International Primate Protection League (IPPL),is a hero. Having been directly involved in the rescue of adult and baby gibbons and other primates since the early 1970s, Dr. McGreal has made herself the bane of poachers and endangered primate traffickers worldwide. The International Primate Protection League was founded in 1973, and, since that time, has been working continuously for the well-being of primates. Many IPPL officers have lived for long periods with primates in their natural habitats.
Dr. McGreal wanted to help these animals. She started by asking all of the authors whose books she had read on primates, and received plenty of information from them. A few years later, she founded the International Primate Protection League (IPPL) in 1973 with one member – herself (the League now has 15,000 members around the world).
McGreal is a hero near and far because she has dedicated herself to saving gibbons from being shipped and sold. She exhibits all the qualities that make this type of hero. She's very dedicated to what she does and what she set out to do in the first place. She did this to protect the animals and their rights and there was no selfishness involved.
Shirley McGreal is definatly a hero. She did many things to change the world for gibbons and other primates. Her dedication has made an impact on the world to day and also on the animals.
Page created on 10/10/2004 12:00:00 AM
Last edited 10/10/2004 12:00:00 AM
The beliefs, viewpoints and opinions expressed in this hero submission on the website are those of the author and do not necessarily reflect the beliefs, viewpoints and opinions of The MY HERO Project and its staff.