Rigoberta Menchu
by
Brandon from Raleigh
Rigoberta Menchú was born January 9, 1959 to a poor peasant family of Guatemalan Indians. In Menchú's early years she served as a worker in two main places, either the Northern Highlands where her family lived or on the Pacific Coast where both children and adults went to pick coffee on the big plantations.
As Menchú grew older, she began to participate in social reforms and activities through the Catholic Church. She became a major part of the women's civil rights movement while still in her early years as a teenager. Rigoberta's family was known for being a very peaceful family, but after a local guerrilla organization was brought up, Menchú's family was accused of taking part in what was said to be several acts of that organization. That same year Rigoberta's father, named Vicente, was imprisoned and tortured for what was said to be illegal activities with the guerrilla organization.
As soon as Rigoberta's father was released a year and several months later, she and her father joined the Committee of the Peasant Union or the (CUC). That same year, but a few long months later in 1979, her brother was arrested by a mainland army and was brutally tortured to death. The following year, another death in her family occurred. Rigoberta's father was arrested again, but this time the punishment was death. Her father was killed when armed security forces in the state capital rushed and ambushed the Spanish Embassy where he had decided to stay because some other peasants were staying there, going into hiding. Shortly afterwards the last person she had, and the one she had grown to love the most, her mother, was arrested and tortured to death by the same group who had murdered Menchú's brother.
In 1981, Rigoberta Menchú decided that it would be a smart idea to go into hiding in Guatemala where she felt no one would begin to think she was, and then escape to her new life in Mexico as quickly as possible. That moment then became the beginning of a new adventure in her life. In 1982, she found success in the founding of a new group that she would call, The United Representation of the Guatemalan Opposition or the (RUOG). Five years after beginning the ROUG, Rigoberta Menchú became a much needed member of the National Coordinating Committee of the CUC, and then in the next year she spoke as the narrator in an outstanding film entitled, When the Mountains Tremble, which was about the struggles, hard times, and sufferings of the Mayan people.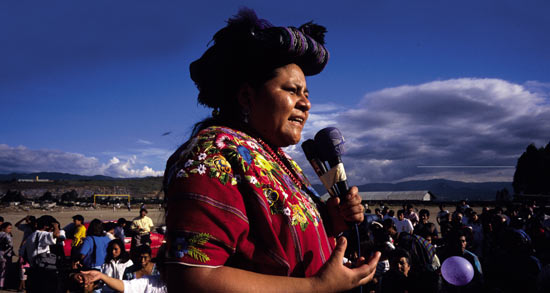 Over these many years, Rigoberta Menchú has become a leading advocate and peacemaker for Indian rights. She has been a major part of helping her country's struggle and opening the path for people who want to be the leader that she is. Not only in Guatemala has she been an influence, but in the Western Hemisphere generally, and her work has earned her several international awards.
Page created on 4/3/2006 12:00:00 AM
Last edited 4/3/2006 12:00:00 AM
The beliefs, viewpoints and opinions expressed in this hero submission on the website are those of the author and do not necessarily reflect the beliefs, viewpoints and opinions of The MY HERO Project and its staff.