When you choose a hero how would you narrow down the search? Would you look for someone who set a world record, or would you look for someone who changed a big part in history and made a difference? Or would you just look for a person who changed your own life? If you are athletic and like sports you would probably choose someone who set some sort of Olympic world record, right? And if you were a person who really liked wars and history things like that you would probably choose somebody who changed history and or made a difference in history, right? So an ideal hero would be someone who accomplished something that you are interested in and there really aren't guidelines for choosing a hero. I set my guide lines for someone that set a world record and I think that it is so hard to do that. I respect that and I wish I could set some world record in my life time. The person that I have chosen is the fastest runner of his time and that is Michael Johnson.
Michael Johnson was born in September 13, 1967 in Dallas, Texas. Michael Johnson went to the high school called Skyline High School, in Dallas Texas in 1986. In his high school days he set many records in track and field events. He ran in the same events as he did in the Olympics as he did in high school. He even set school records and in the state he placed second. In his high school, he set records that still stand today and haven't been beaten since he left and went off to Baylor College in 1990.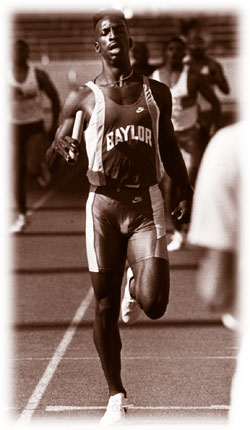 Michael Johnson had a coach named Clyde Hart and he trained Michael throughout his high school years. Michael placed second in a state meet in Texas and through his high school years he developed an Idea of being an Olympiad. In 1988, only two years later, he went to qualify for the Olympics. He placed seventh in the four hundred and in the indoor two hundred, but he got DQ'd (disqualified). In the two hundred outdoor he didn't finish because he broke his fibula during the race. But that one injury didn't stop him from getting to his goal in becoming the fastest runner in the world because he never gave up and was so persistent.
Michael Johnson had many career highlights throughout his many years of running. In 1996, he won the 400 and the 200 meter dash and he was the first one to ever win both the 400 and the 200 meter dash in one Olympics. In 2000, he won both the 400m, and 4x400m. He became the only man to win 400m relays in consecutive Olympics. He was the 1992, 1995 200m champion, and he was the anchor for three world champion 4x400m relays. In the 1992 Olympics, he won the 4x400m, and he is the nine time outdoor world champion. He was the world record holder in 400m 200m, 4x400 outdoors and 400 in doors. In 1996, he was the AAU/ Sullivan award winner and, he is also a three time Jesse Owens Award winner. Even today (in the year 2003) he is still the fastest sprinter in the world but since he retired at the summer Olympics of 2000 in Sydney Australia after winning another gold medal, he can't defend it for any longer.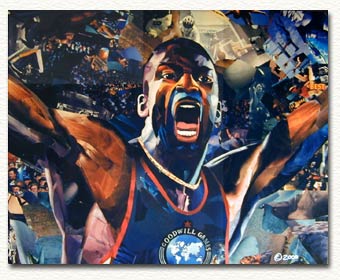 Michael Johnson is my hero because he set so many world records and he never gave up or lost his goal. Michael Johnson is a role model for many kids to be like him and never give up, even if there are obstacles in the way. He is also my hero because he started so young and found out what he wanted to do so early in his life, and I really respect that in a person and I think that is a trait that every hero should have. I wish that I could decide what I want to do early in my life so that I could get a head start on life and figure out what I should do to make me a better person, and make me ready for what is to come. So, since Michael Johnson set so many world records, and he is a role model for many people like me, and got started so early in his life, he is the best hero that I could ever think of. I wish that I could do things like he did and set world records and be role models for kids and people all around the US and maybe even the world.
Page created on 4/7/2003 12:00:00 AM
Last edited 4/7/2003 12:00:00 AM
Related Links
Facts
- on what he accomplished over his whole career.
Sports Illustrated
- detailed the end of his career as an Olympic runner.
Here are some
- personal characteristics and highligths of his career.