by
Maggie from Fredericksburg
My hero is a woman who has known me since the day I was born. She takes care of me when I am sick and helps me out when I'm having a bad day. My hero is the most amazing woman I have ever met, and I doubt she will ever be beaten in that category. She knows what she wants in life, and she is not afraid to pursue her goals. My hero is Michelle, better known as my mom.
My mom was born into a working class family. She has one older sister and one younger brother. Her life growing up was not exactly wonderful. She went to boarding school in Canada for high school and was challenged to learn French almost instantly. When she was a teenager, her parents got a divorce. She was then faced with two parents who were pointing fingers at one another. When her mother got married to Davis, she received four more siblings. She was already in college, so she did not live with them, but she did have a whole new family to deal with.
My mom then met my dad, Richard. He was currently a pilot and came off as a jerk when she first met him. But, something must've sparked in the air because in January, wedding bells were ringing. Four years later, they had their first child, Joshua Patrick (J.P.). My parents struggled to take care of the baby and work at the same time. My dad was gone for work a lot, and my mom was a pediatric nurse practitioner at Pratt Medical Center. Two years after J.P., another baby was born, Zachary. My mom had a tougher time with Zach because he was a very opinionated and strong-willed child who enjoyed throwing temper tantrums in public. But she held out, and then had yet another child, Jeffrey. She was starting to wonder if she would ever get a girl. Almost three years later, she got what I think was the greatest gift of her life. I was born during Zach's fifth birthday party. For the next 11 years, my mom took care of four children by herself for the most part because my dad was always working.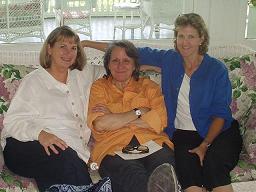 Then in April, my mom became an even stronger woman. My dad committed suicide that night. She stayed calm about it and was strong through the whole thing. Then a few weeks later on May 25, my dad's father died. Even though it was not her father, it was still difficult to handle another loss. Two days later, my mom's brother died during open heart surgery. She struggled in coping with these losses and still being able to take care of her children. But she stuck through it and helped my family cope.
My oldest brother, J.P., took the loss the hardest. He made some poor choices and was on a dangerous path. J.P. caused my mom a lot of disappointment and worry, but she still stood by him. She sent him to a program in Oregon where he worked on getting his life back together. He is no longer in Oregon, but is doing much better and is finally starting to go somewhere with his life. My mom held herself together throughout this trial and modeled what I think was "hero behavior." She was calm about it and was convinced J.P. would get better.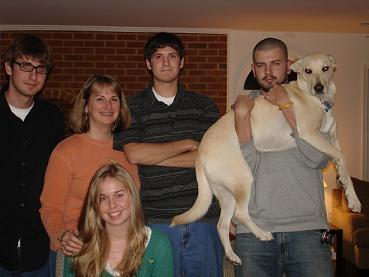 Throughout her life, especially in the last three years, my mom has grown stronger and become an even better mother from her experiences. She dealt with her parents' divorce and with her new family. I think that she learned the effects it can have on children and tried her best to make my brothers' and my life the best possible. She stands for everything I look for in a hero. She was able to overcome not one, but three losses in a period of seven weeks and still have a positive outlook on life. Anyone who is able to do that and raise four children by herself is a hero in my eyes
She helps people cope with their problems and is the one person that I trust the most. My mom has never once let me down or made me feel that I cannot trust her. She has a very close relationship with all of her family and always puts them first in her life. These last few years have been very tough on my brothers' and on my life, but they would have been much tougher if my mom was not the amazing person that she is. That is why my mom, Michelle, is my hero.
Page created on 5/15/2006 10:29:06 AM
Last edited 1/5/2017 11:12:04 PM