Major Moogy Sumner
by
Amanda Molinaro from Irvine
The Ngarrindjeri are an aboriginal nation that inhabits the Lower Murray, Coorong and Lakes area of South Australia. The Ngarrindjeri used to farm and raise livestock, but relied heavily on the rivers for food and for trade. Men raised sheep as a source of food and to trade the wool, while women gathered swan eggs and wove mats and baskets from rushes. They used river red gum trees to make bark canoes, which they used to fish and travel the river.
Around the 1830s, their way of life was disrupted by European missionaries. They refused to allow the Ngarrindjeri to practice their ceremonies, or to pass on their tribal laws. They couldn't practice their language, pass on their stories, or do any of the things that are vital to passing on a culture. They lost their land, many of their rights, and they slowly lost their culture. The Ngarrindjeri still live in the Lower Murray and Coorong, and though they have lost some of their culture they are working to preserve their way of life.
Major Moogy Sumner is an aboriginal Ngarrindjeri elder who understands the importance of preserving and passing on his culture. He believes that teaching people to look at their culture and their past helps them feel the spirit within. He works to preserve his culture by passing on the teachings and stories of his people.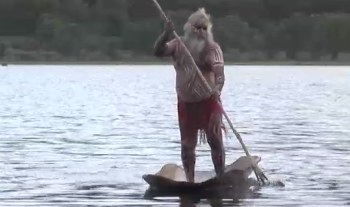 Change Media worked with Major Moogy Sumner to produce Moogy's Yuki (Moogy's Bark Canoe), a documentary that captures the making of the first traditional Ngarrindjeri tree bark canoe in Boandik country in over 100 years. Indigenous students and community members from across south eastern South Australian gathered to watch Major Moogy Sumner as he built his canoe. The first part of the documentary focused on traditional cultural knowledge of how to care for river red gums, including how to remove the bark from the tree. Although he used a cherry picker to reach the tree, the method in which he removed the bark was historically accurate. After the bark was removed from the tree, he demonstrated how to prepare the canoe, spear-making techniques, and then he launched the canoe.
Three generations of Ngarrindjeri watched this historic moment and reclaimed a part of their culture. The entire canoe-making process and launch was captured on film, allowing the members of the Ngarrindjeri to preserve their traditions. The canoe and the DVD is currently on display in Millicent and Mt. Gambier, and the documentary is also available online.
Page created on 2/20/2011 12:00:00 AM
Last edited 1/5/2017 7:04:25 PM
The beliefs, viewpoints and opinions expressed in this hero submission on the website are those of the author and do not necessarily reflect the beliefs, viewpoints and opinions of The MY HERO Project and its staff.
Related Links