by
Kheira from Oran, Algeria
"There is one thing that even age can't take away, and that is the gift of teaching, the miracles that we see every day in the eyes of those who open your minds to the world of knowledge."
For 29 years, Mr. Louznadji has been working in the field of secondary education. While taking different roles and responsibilities within the community of teachers of English, he has had an everlasting impact on many Algerian students and educators, thanks to his conscientious performance and mutually respectful collaboration.
Some teachers still remember "Mustapha" the brilliant student they had the chance to teach, while others can't forget "Mr. Louznadji" the active and creative teacher who taught them more than a foreign language. Even his colleagues of the other subjects witness his open-mindedness. As Mr. Baghdadli, Inspector of National Education in History and Geography, once said, "Though a teacher of English, he always shared some of our teaching materials when we used to teach in the same school; whenever I looked for a map for my classes, I was often told it was borrowed by my colleague of English!"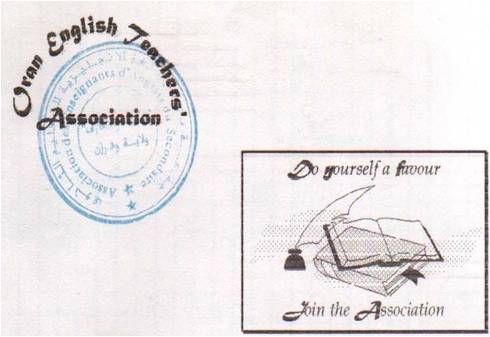 Mr. Louznadji's collaboration skills and love of teamwork led him to create the Association of Teachers of English in 1990. As president of the association, he involved most of his colleagues and supervisors and even the local authorities in the improvement of ELT in Algeria. The association members often met on Mondays to discuss issues related to their professional development. They organized observation classes in different schools, gave make up lessons during winter and spring holidays, prepared exam samples to send to hundreds of students by mail, then sent the copies back corrected to the students. And at the end of each school year, a contest of English was held for the best students in the Wilaya of Oran who were rewarded in a ceremony where all the educators, including the laureates and their parents, were invited.
Though he loved his students and classroom work, the president of the association was not satisfied with the Monday meetings with his colleagues. He felt the need to get closer to a larger population of teachers of English through regular meetings, so he became Inspector of National Education in 1997. Since then, he organized intensive trainings and even worked in collaboration with middle school Inspectors.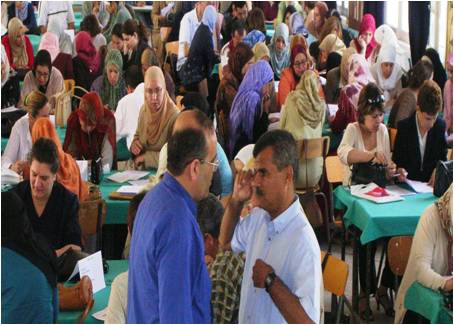 The teacher, president of teachers' association and Inspector, was also an author for teachers, as he successfully published three interesting self-study books that helped the teachers a lot in preparing their lessons. Such a rich experience enabled Mr. Louznadji to get through the wave of change and wisely cope with the educational reform. Since 2005, he has involved more than 40 teachers in different pedagogical projects for the professional development of all the teachers of English, particularly in Oran, in addition to other areas such as Tindouf, Adrar, Bechar, Mostaganem, Relizane and Tissemssilt. He believed in teachers' capacities as he stated in one of his first seminars. His aim was to enhance powerful teacher education for the 21st century, but through his experience as a supervisor and observer, he felt the need to prepare teachers before they got acquainted with the school community, so he joined the university as an associate TEFL teacher.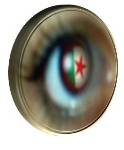 Still active, flexible, creative and innovative, Mr. Louznadji has contributed to the reform of higher education. He used ICTs and even educational movies in most of his TEFL lectures, as he enhanced teamwork and engaged the student-teachers in different projects by putting them in real life situations such as sharing work with their mentors in their classes and involving their teachers of the different modules at the university. He even opened an online portal to provide them with his TEFL courses and encouraged them to contribute their own works, and share and reveal their hidden skills and talents; as a matter of fact, some of the students were so inspired that they improved their writing skills through their reflections and poems, particularly the poem entitled, "The Wednesday Teacher."
The Algerian educator's ambitions went beyond the borders of space and time to join the virtual world, so he launched ELTAlgeria on Tuesday, January 23rd, 2008. The first Algerian website in English for teachers, it is a portal to bridge the gaps at all levels. As the webmaster said in his first article about the website: "ELTAlgeria has been created for educators as a space to share teaching experiences and practices, as an online journal to build relationships, engage in reflective practice, have interactive opportunities that develop and broaden their existing knowledge." To maintain the website as a lifelong project, all teachers are invited to feel involved and help keep the ball rolling.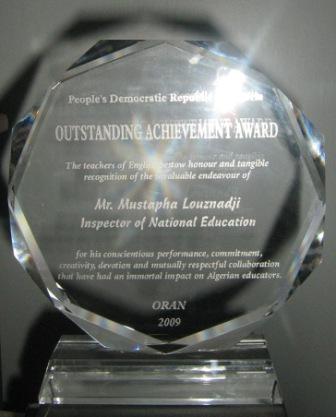 As potential educators, teachers of English have always been proud of being the students, the trainees and colleagues of Mr. Mustapha Louznadji. They have also bestowed him honor and tangible recognition for his invaluable endeavors by granting him the First Outstanding Achievement Award wishing more creative works and new prospects for the sake of EDUCATION, the FUTURE GENERATION and our BELOVED NATION.
Though moved by the precious award, Mr. Louznadji still cares about Outstanding Achievements as he said:
"At times words can be poor to express one's feelings. You know, for me
My AWARD is when I see teachers and students happy at the end of a seminar, observation class, a meeting or a lecture.
My AWARD is when I see the change I could realize with some teachers, mainly those who resisted at the beginning.
My AWARD is when I see the positive attitude in many of them.
My AWARD is when I see the progress of many teachers who were not able to express opinions or exchange ideas at the beginning of their career.
My AWARD is when I see teachers contributing seminars, articles and mainly sharing with me the building of ELTAlgeria website."
Page created on 7/27/2009 12:00:00 AM
Last edited 1/6/2017 9:10:31 PM
Extra Info
I am proud of our Inspector who is still our teacher and colleague. The first time I heard about Mr. Louznadji I was still a pupil impressed by a teacher of English who was very happy talking about the newly published book for 3rd year students telling us that she had taught the author, Mr. Louznadji.
The second time I met him in person. I was at EL Hayet school as a laureate who had participated in the English contest organized by the Oran English Teachers' Association in 1994. I got a nice prize: "A book of English vocabulary, a pen, and perfumed magic lamp."
The day was so special for me that I had a sleepless night wondering if it were a means to help me pass my BAC exam, a message to encourage me to make up my mind and study English at the university, or rather an invitation to become a teacher and keep "the torch high."
Though working hard to get excellent grades in the scientific disciplines, I was eager to pass my BAC exam and study for my BA to join the community of teachers of English. During my higher education, I often met Mr. Louznadji in the meetings he used to organize within the association till he became Inspector of National Education.
After my graduation, I had some experience in total autonomy, and the day I joined the community of teachers of English I met Mr. Louznadji who gave me instructions and valuable pieces of advice. As I followed them, I succeeded in overcoming most of the obstacles I had faced at the beginning of my career. I even improved my teaching skills, and then I was rewarded an invaluable prize: "his trust, a team, and a wonderful website."
I feel I have kept the torch high for 15 years now in collaboration with many teachers who had the privilege of belonging to the community of teachers of English. There is no doubt, our example is Mr. Louznadji who has kept it high since he was a teacher. What is great is that though he has gone through 29 years of teaching, he has kept the torch of education in Algeria high. As it was once said, "There is one thing that even age can't take away, and that is the gift of teaching, the miracles that we see every day in the eyes of those who open your minds to the world of knowledge."
I am very happy that my Inspector, teacher and colleague Mr. Louznadji has been granted this award. So happy that I feel we have all been granted such a precious item.
Let me tell you, Mr. Louznadji, you are the Heartbeat of Education in Algeria
K.N. Mezough