"You can't build a peaceful world on empty stomachs and human misery." ~ Norman Borlaug
(March 25, 1914 - September 12, 2009)
Norman Ernest Borlaug was born on March 25, 1914. He grew up on his family's farm in Saude, Iowa. Although he initially failed the entrance exam for the University of Minnesota, after two quarters of college, he transferred to the forestry program of the U of M. There, he was part of the school wrestling team, and kept his coach's advice to always give 105 percent. Not having much money, Borlaug had to work while he was in university; one of these jobs was as a leader in the Civilian Conservation Corps, a government organization giving work opportunities for young men from unemployed families. This was during the Great Depression, and many of his workers were malnourished. Concerned about these conditions, he studied plant pathology (plant disease) instead of his first choice, forestry, receiving his bachelor of science degree in 1935 and his doctorate in 1942.
Upon leaving university, Borlaug joined The Rockefeller Foundation, a philanthropic humanitarian organization. His task: with a small team, to help develop agriculture in Latin America, by creating a productive wheat strain with disease resistance, which was also adaptable. By crossing different wheat strains over the course of several years, he was able to develop resistant, strong, productive strains, with short, thick stems to prevent them from collapsing under the wheat's weight. These seeds were distributed throughout Mexico and, by 1963, Borlaug's wheat made up 95% of Mexico's wheat production. Mexico's wheat harvest also was six times larger than it had been in 1944. In 20 years, Borlaug had turned Mexico from a grain importer to an exporter.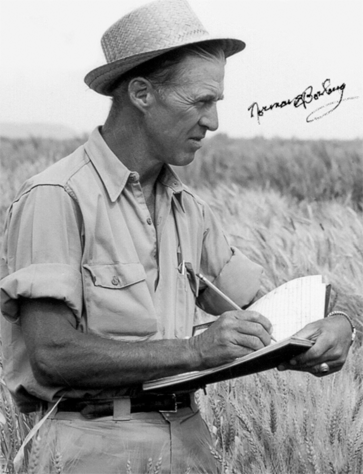 Borlaug didn't stop there however. In 1963 The Rockefeller Foundation sent him to India and Pakistan, which were facing malnutrition problems at the time. At first, his help was resisted; but in 1965, when famine struck, he was welcomed. Using similar strains of wheat to the ones in Mexico, Pakistan became self-sufficient in wheat production in 1968. India, whose production doubled, was nearly self-sufficient by 1970. Today, India and Pakistan's wheat growth rate is increasing faster than their population growth rate.
Borlaug started similar programs in Africa in the 1980s. In 1984, he set up the SAA (Sasakawa Africa Association) with Japanese philanthropist Ryoichi Sasakawa, to continue his work in Africa training farmers. As a result, food production there has increased dramatically.
Environmentalists began to oppose his methods, with the argument that spreading the same few strains of wheat worldwide was not good for biodiversity. Borlaug countered the argument by stating that, if said environmentalists were starving in third-world countries, they, too, would want food and would despise those in the western world trying to oppose that. He continued his work across the globe until his illness and death on September 12, 2009, at the age of 95.
In 1970, Borlaug was awarded the Nobel Peace Prize for his successes in increasing the world's food supply. At first, he believed it to be a hoax; but he had indeed won it for saving the lives of millions, even hundreds of millions across the globe. Among the other awards that he has received are the Presidential Medal of Freedom in 1977, the highest civilian award given by the President of the US, and the Congressional Gold Medal, an award of similar prestige given by Congress, in 2007.
I believe that Norman Borlaug is a hero because he was, after all, a man who saved as many as a billion lives. Personally, although he has not impacted me directly, I believe that he is most certainly one of the heroes of history. Many of the heroes of the world are those who pull people from burning buildings and such. Writing this article has helped me to realize that saving lives doesn't only mean those kinds of things. Making a big difference in the world can happen in many ways.
Page created on 10/15/2011 3:39:40 PM
Last edited 2/27/2019 6:03:57 PM
Related Links
Norman Borlaug: The Legend
- Articles, interviews, photos and information on Norman Borlaug, the Father of the Green Revolution.
The Norman Borlaug Heritage Foundation
- A non-profit corporation dedicated to promoting education programs and projects which reflect the lifetime achievements and philosophy of Dr. Norman Borlaug.
Academy of Achievement
- A biography of Norman E. Borlaug, Ph.D.
The Rockefeller Foundation
- The foundation seeks to improve the well-being of humanity through smart globalization. They support work that helps people tap into globalization's benefits and strengthen resilience to risks.
Bibliography
Various. "Norman Borlaug - Wikipedia, the free encyclopedia." [Online] Available http://en.wikipedia.org/wiki/Norman_Borlaug.
Haberman, Frederick W.. Nobel Lectures, Peace 1951-1970. Amsterdam: Elsevier Publishing Company, 1972.