by
Ida Shamsaasef from San Diego
An inspiring quote from Natalie Du Toit says; "You have to work hard for what you want to achieve and you have to set goals and dreams and really go for them."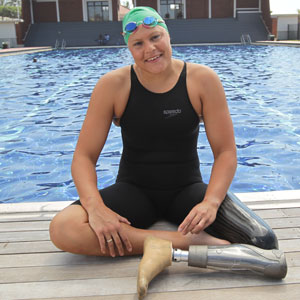 "It doesn't matter if you look different. You're still the same as everybody else because you have the same dream" ("Natalie Du Toit"). Natalie Du Toit is an ordinary person with extraordinary potential. She began swimming in international competitions at the age of fourteen. When she woke up one morning she would have never guessed that her life would crumble and that she would never be able to swim again. Natalie is extraordinary because she persevered through an accident that would have all but ended her career. Now, she is defined as "a Paralympics and Commonwealth Games gold-medalist swimmer" ("Swimmer, Natalie Du Toit"). And when she went to London to compete in the 2012 Paralympic Games, she won three gold medals. Today Natalie is "... a motivational public speaker, inspiring the youth to reach for their dreams."("Swimmer, Natalie Du Toit"). A hero can be a brave person who is ready to go through any pain to reach their goal. A hero should be a determined person who never quits no matter how hard things are. As a brave and determined person, Natalie Du Toit, a inspirational swimmer who lost her leg in an accident, impressively used all her energy to start swimming again and works harder to get faster...impressively began to swim again and maintained motivation to continue.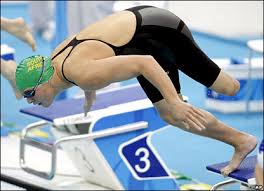 Natalie Du Toit is a brave woman who never let her obstacles prevent her from achieving her goals. The moment Natalie got into the accident, she knew that even if she lost her leg, she had to keep swimming to become faster and stronger. Natalie's "...left leg was amputated at the knee. Five months later, she jumped back in the pool. Her first workout exhausted her after 25 meters, but at least she was swimming again" (Longman). With bravery, Natalie Du Toit didn't wait. Although her first workout wore her out, she still went through with it and swam. After something like that, getting back into the water so fast revealed how brave and confident she was to keep on swimming. She practiced more than she had in the past, swimming day and night, hoping she could get better. Confident she would make it, she held a; "...fighting spirit and never-say-die attitude, and went on to qualify for the finals of the 800m freestyle event at the 2002 Commonwealth Games. This marked the first time in modern history that an amputee raced in the finals of an international able-bodied swimming competition" ("Swimmer, Natalie Du Toit"). Natalie's brave spirit resulted in her qualification for finals. Her "fighting spirit" made her the first person to participate in the race, despite having a prosthetic leg. This in itself takes a lot of bravery. Lots of people who break their leg or arm don't swim for the rest of the season, but Natalie, who lost her whole leg, still swam. A swimmer like her works harder than most swimmers, since she only has one leg to swim with. Hawthorne, an author who exposed Natalie's story to the masses, concurred that "in athletics, joints and muscles are a highly developed marvel of nature and the slightest injury or dislocation can render them useless" (Hawthorne). An athlete like Natalie needs her legs and arms more than anyone. When an athlete loses the ability to do what they love it is devastating. Athletes do have something they're passionate about, so therefore, when they get hurt, it affects their whole life, especially when it is not a team sport. When someone swims, they are competing against themselves, and they try to beat their times and also their opponent's times. Natalie was not willing to let devastation hold her back. Like a true hero with bravery, after having lost her leg, Natalie Du Toit got back in the water and swam.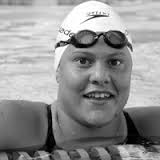 Determination brought Natalie Du Toit to swim and make it to the championships. When she started to swim again Natalie went through hard times trying to get back into the water and become better than before. When she was interviewed by The New York Times Magazine, Natalie explained that: "'There are a lot of dark moments,'...'Everybody goes through flashbacks. Obviously, there are some days when I cry. But I try to remember that better days are ahead. You just go on. If you want to get there, you go on,'"(Longman). Natalie was depressed at some points considering that she was without a limb and couldn't do the one thing she loves to do. But with determination, Natalie kept going on and never gave up because she wanted to swim. Swimming for Natalie was a dream that she did not want to end just because she did not have a leg anymore. She told her followers that: ".....it's not about being disabled or about being able bodied. It's all the same to me. I get up, and I race. You know, I'm not in a campaign or anything like that, and it's just my personal dream and my personal goal, and to me, it's a dream come true" ("Amputee Swimmer Dives"). Natalie never wanted to become famous or popular. With or without her leg, the only thing she wanted to do was swim. She did not care that her leg was gone, and only cared about fulfilling her dream. In the end she reached her personal goals and, like she said, it was a dream come true. After being in that accident, Natalie wondered what would happen if she lost her leg or if she would be able to swim. But once she: "..realized right there and then I'd lost my leg, but everyone kept telling me to stay strong. It was strange--the only thing that kept going though my mind was that I had senior nationals coming up and that I was going to swim in them and that whatever happened I'd have to get better and fast" (Hawthorne). From the moment she was in the ambulance and still had not given up her leg she was determined to swim and get faster and better. Everyone kept telling her to be brave but the only thing she was thinking about was what she would do if she only had one leg left. She determined right then and there that she would never give up. Natalie's determination shows her as an exemplary hero.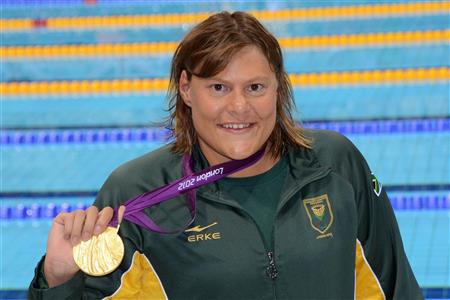 Natalie Du Toit, even without both legs, displayed bravery when she got back in the water and determination when she went to compete. With these actions she was able to encourage others to swim and reach their goals. Surprising many people, Natalie: "...lost her leg in a road accident, but went on to swim against able-bodied athletes in the Olympics..."(Natalie Du Toit). She is truly an inspiration because of what happened in her life. She had a normal life before getting in the accident; at the age of 14 years old she competed for swim. I am also 14, but yet, I'm not even on varsity, much less competing around the world. Natalie experienced so much adversity, but picked herself up and refused to give up. She inspires me to never give up on anything and also that if I want to do something then nothing can stop me from pursuing it. An excerpt from a poem that hangs on her wall and provides her with inspiration, also provides inspiration for many others as well; "The tragedy of life does not lie in not reaching your goals; The tragedy of life lies in not having goals to reach for" (Longman). This excerpt not only inspired Natalie herself and others in similar situations, but also inspires me too. The quote persuades people to not give up on their goals and to always try until they reach their goals. Natalie Du Toit never stopped trying until she reached her goal. She is an inspiration to me and many others to stay strong and never give up. If she was able to get in the water and win all those medals with only one leg, then someone like me who has both my legs can also get faster and better. I learned from Natalie Du Toit that with practice, I can also be a better swimmer if I am determined. I see Natalie as a hero because of what she achieved with so little, and because she encourages me to never give up and set a goal for myself so I can reach it. Because of bravery, determination, and the ability to never give up, Natalie Du Toit manifests the true definition of a hero.
Work Consulted Page
"Amputee Swimmer Dives Into Olympic Marathon." Day To Day 20 Aug. 2008. Student
Resources in Context.Web. 30 Apr. 2016.
Hawthorne, Tracey. Natalie Du Toit: Tumble Turn. Cape Town: Oshun, 2006. Print.
Longman, Jere. "Embracing the Equality of Opportunity." New York Times 18 Aug. 2008:
D1(L).Biography in Context. Gale- DEL NORTE HIGH SCHOOL Web. 28 Apr. 2016
"Natalie Du Toit Quote." BrainyQuote. Xplore, 2001. Web. 11 May 2016
<http://www.brainyquote.com/quotes/quotes/n/nataliedut428191.html>.
"Natalie Du Toit: 'If I Can Achieve a Dream, Then Anyone Can'" The Independent. Independent
Digital News and Media, 20 May 2009. Web. 04 May 2016.
http://www.independent.co.uk/sport/olympics/natalie-du-toit-if-i-can-achieve-a-dream-then-anyone-can
"South African swimmer wins her fourth gold medal." New York Times 13 Sept. 2008: D6(L).
Student Resources in Context. Gale- DEL NORTE HIGH SCHOOL Web. 2 May 2016.
"Swimmer, Natalie Du Toit Is a True South African Heroine." - South African Tourism. N.p.,
2016.Web. 29 Apr. 2016. http://www.southafrica.net/za/en/articles/entry/article-southafrica.net-natalie-du-toit.
Page created on 5/22/2016 12:00:00 AM
Last edited 5/22/2016 12:00:00 AM
Bibliography
Hawthorne, Tracey . Natalie Du Toit: Tumble Turn. Oshun, 2006. 208 pages