Nellie McClung
by
Katherine from Drayton Valley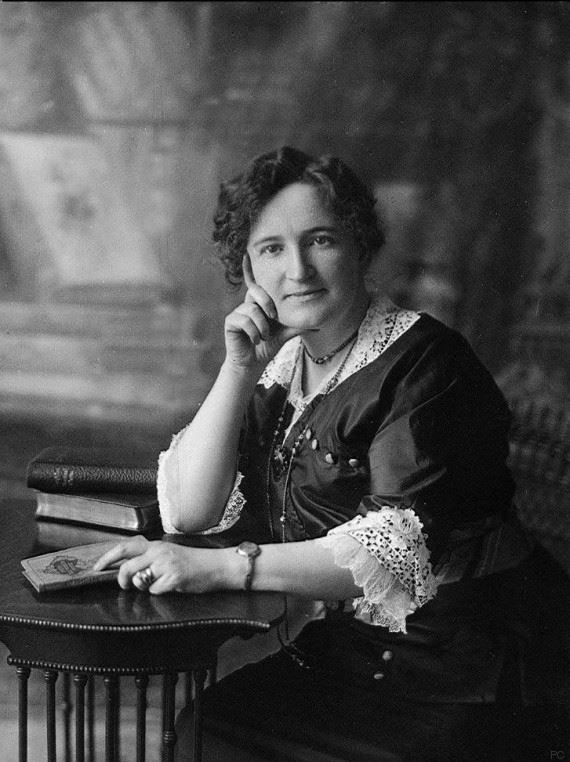 Nellie McClunghttps://commons.wikimedia.org/wiki/File:Nellie_McClung.jpgHave you ever made a huge impact on society? Nellie Letitia McClung changed the lives of the women of Canada. On October 20, 1873 McClung was born in Chatsworth, Ontario and died September 1, 1951 in Victoria, British Columbia. She had a very successful life. Nellie joined many women's support groups, fought for women's rights, and became one of the "Famous Five". She is a hero because she spent almost her whole life improving the lives of others.
Nellie McClung moved to Manitoba from Ontario when she was seven. McClung went to college at Teacher's College, Winnipeg. She received a teacher's degree. Growing up Nellie had to learn the jobs of women before they had rights. She had to learn to cook, clean, and raise children and her first major accomplishment was becoming a teacher at 16 by passing all of her examinations. She was very interactive with her students to the point of playing football with them. During WW1 she wrote the book "Sowing Seeds in Danny." Women didn't have many rights when McClung was growing up. Nellie wanted to change that, so that's what she did. Nellie became interested in women's rights because when she was younger she couldn't do what the boys could do.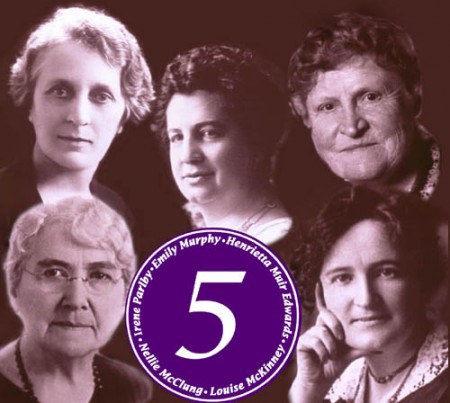 The Famous Five (Front L-R Louise Crummy McKinney, Nellie Letitia (Mooney) McClung;
Back L-R Irene Marryat Parlby, Emily Ferguson Murphy, Henrietta Muir Edwards)
When Nellie was younger a man said "We, whose hearts have been touched by grace, we must not eat our bread alone." and that changed her view on life. Nellie McClung wanted to fight for the women who didn't know how to voice their concerns, had too many responsibilities, and who were overworked. She believed that "no nation could ever rise higher than its women, and that women, freed, organized, and made efficient could abolish the harms of alcohol, child labour, slum conditions, hunger, and "lead the nation to a better life." Nellie soon found herself as the leader of the women's suffrage movement. The delegation of women presented their case to the premier, Sir Rodmond Roblin. As they expected, he declined. The women created a re-enactment of the assembly at the Walker Theatre. The profits went to the women's campaign.
Nellie was recognized in her field for accomplishing her goals and changing the lives of Canadians. Nellie McClung was one of the five women who got women recognized as persons. She was the first woman to serve on the Board of Governors of the Canadian Broadcasting Corporation.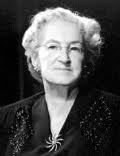 Nellie McClung in her later years
(https://www.canada-heros.com/mcclung_nellie.html (unkown))
Nellie McClung made a difference by giving women a voice, a choice, and a better life. Without her the women of Canada wouldn't have had as many opportunities to improve our country or improve the world. Nellie should be remembered because she followed her dreams, achieved her goals, and changed the lives of Canadians. She has taught me and many others to follow your dreams, accomplish your goals, and never give up. Nellie McClung was an amazing person and achieved her dreams.
Page created on 1/24/2013 12:00:00 AM
Last edited 3/4/2019 6:07:35 PM
The beliefs, viewpoints and opinions expressed in this hero submission on the website are those of the author and do not necessarily reflect the beliefs, viewpoints and opinions of The MY HERO Project and its staff.

Related Links
The Nellie McClung Foundation
- I am a believer in women, in their ability to do things and in their influence and power. Women set the standards for the world, and it is for us, women in Canada, to set the standards high.
The Famous Five Foundation
- The legacy of the Famous Five inspires other women to this day to engage in the world.
Bibliography
unknown. "Canadian Heros." [Online] Available www.canada-heros.com/mcclung_nelliehtm.
unknown. "manitoba pagent ." [Online] Available http://www.mhs.mb.ca/docs/pageant/20/mcclung.shtmal.