In Bangalore, India, Nalini Shekar has organized lowly waste pickers wandering the streets into a cohesive group of waste-management professionals.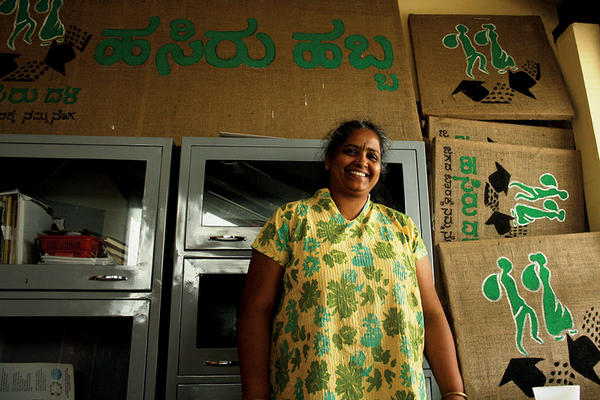 BANGALORE, INDIA - Four years ago Ambika Ayappa, a 25-year-old waste picker, would wander around the streets of India's software capital, Bangalore, rummaging through roadside garbage to find recyclables. At the end of each day she'd empty her sack of scraps, selling it to a dealer for less than $2 on a good day.

Now her work routine is a bit different. She wraps her best sari and puts on a cotton coat and her waste picker's ID tag before setting off to her workplace – one of the municipality's authorized waste collection centers, which she manages with her husband.

After a decade of waste picking she has joined Bangalore's cooperative of waste pickers, Hasiru Dala, which means "Green Force" in the local language of Kannada.

The cooperative was cofounded by Nalini Shekar, a social worker who moved to the city in 2010 with plans to retire. Or so she thought.

But within a few months she was restless. The newspapers were replete with stories about the city's proliferating garbage problem. Civic groups were discussing solutions.

"But no one was talking about waste pickers," she says. "The city has 20,000 waste pickers. They are a highly skilled workforce who needed to be included, not further marginalized."

She knew that retirement would have to wait: Hasiru Dala was born to integrate waste pickers into the city's solid waste management system.

The work began with visits to slums, inviting waste pickers to be part of the group. Two hundred waste pickers, men and women, quickly joined. Soon, the numbers began to swell. The group raised 30,000 rupees ($485), with each member contributing 50 rupees (less than $1). Uniforms, weighing scales, and other essentials were bought, and the workers were trained.

Being incorporated into mainstream waste management meant the waste pickers would no longer wander the roads and landfills. They offered their services to bulk generators of waste – apartment complexes, hotels, and office buildings.

"We began with four apartments in the western part of the city," Ms. Shekar recalls. The waste pickers had never entered residential apartments before, and the apartment dwellers had never allowed waste pickers to collect waste directly. "This was new for both," she observes. "The waste pickers were initially shy and hesitant, but now are confident about their work."

Today, the group provides what it calls Total Waste Management Services to 41 apartment buildings, which total 10,000 homes. The city has also signed an agreement with waste pickers to manage 33 of the city's dry waste collection centers that collect and sort waste. "This is revolutionary," Shekar says, beaming.

The workers collect waste from clients and transport it to be either composted or recycled. While this might not seem extraordinary, in India most waste is mixed and just dumped into landfills. Bangalore is learning to change.

The first big victory for the group came in 2011 when the city became the first in India to register waste pickers and give them identity cards. Instead of being faceless and anonymous, they now had legitimacy.

"The ID card was identical to the mayor's," Shekar says. Her campaign, which included visits to officials and courts, had finally paid off. Today, more than 7,000 waste pickers have registered for ID cards.

Waste pickers are the most marginalized of the urban poor. They live in the outskirts in slums and are untouchables or Dalits, who form the lowest rung of the caste system in Indian society. "Dirty occupations," those that involve dealing with waste, excrement, animal carcasses, etc., have always been reserved for the lowest castes.

An important part of Shekar's work is to effect changes in policies toward waste pickers. Even before organizing them, she undertook a study to determine the community's contribution to Bangalore. It estimated that the city saves 840 million rupees ($13.6 million) per year using 15,000 waste pickers.

On average a waste picker collects about 60 to 90 kilograms (130 to 200 pounds) of waste in an 8-to-10-hour day.

For Shekar, changing attitudes toward waste pickers has been the biggest challenge. "Waste picking is simply not seen as work," she says. "Even the Ministry of Social Justice had [put] beggars and waste pickers in one category. We fought and got this changed."

Now things are looking up. The union and ID cards have meant new access to health care, loans, and other amenities. She is also excited about Hasiru Dala's oldest member, who recently was granted a pension of 2,000 rupees (about $32) per month. "The ID card and a recommendation letter from Hasiru Dala worked!" she reports happily.

Prashant Mehra, associate vice president of social inclusion at Mindtree Ltd., an India-based information technology company, has helped build an online platform for the waste pickers. Shekar's greatest strength, he says, is her ability to inspire hope.

"Under her leadership, the group is able to strike a balance between activism and entrepreneurship," Mr. Mehra says. "Waste pickers have turned into recycling managers, and now have a dignified livelihood."

Before settling in Bangalore, Shekar spent a decade in California and a few years in the Indian cities of Pune and Mumbai. In 1997, in Pune, she cofounded a union of waste pickers that has more than 9,000 members today. This experience prepared her for the work in Bangalore.

In the United States, she worked on the issue of violence against women and children, facilitating passage of legislation to support victims of human trafficking in California. She also ran a shelter for immigrant women affected by domestic violence.

Being part of a team that provided pro bono lawyers for more than 1,000 battered immigrant women was another satisfying experience, she says.

"I don't want to see people lose their rights. This is what drives me," she says.

Living in the US, a multiracial and diverse country, helped her appreciate different perspectives, Shekar says. "I learned that you need to work with communities, but you also need to work with officials."

Shekar's bond with the workers is the secret to her effectiveness. Mohammad Mansoor, a scrap dealer for 25 years, says it is uncommon for anyone to care about waste pickers.

"She has a great deal of love for us," he says. "People think we are dirty. No one comes near us unless they gain something." He adds, "But she listens."

One thing that keeps her on her toes are the aspirations of the waste pickers. "I don't care what anyone else thinks, but the expectations from waste pickers [are] rising. I don't want to disappoint them," she says.

Her next plan is to raise funds for 10 vehicles to transport waste. Currently, the members must rent unreliable vehicles, making competition with private contractors difficult.

As with any new endeavor, there is also a need for funds and manpower.

"Sometimes, it can be overwhelming," Shekar concedes, but she adds that inspiration is close at hand.

"Waste pickers are survivors who have survived on the streets. Even with nothing, they make a living. This is what I have learned," she says. "This keeps me going."

- To learn more, visit http://hasirudala.in.
Page created on 12/17/2014 12:00:00 AM
Last edited 1/5/2017 7:10:06 PM
Related Links
Hasirudala
- Member-based organization of waste pickers seeking to improve our conditions of work and ensuring our continued access to recyclables in the city of Bangalore
UniversalGiving.org
- Support a Cause - Change the World
MY HERO Newswire
- Refuse pickers give new life to Rio Carnival trash
CSM on MY HERO
- When Tom McNichol saw swirling trash he launched his Clean Up Boat
MY HERO Newswire
-
Trash Talk
by Luc La Montagne
Extra Info
How to take action
Universal Giving helps people give to and volunteer for top-performing charitable organizations around the world. All the projects are vetted by Universal Giving; 100 percent of each donation goes directly to the listed cause. Below are groups selected by Universal Giving that help in India and other developing countries:
• Greenheart Travel offers cultural immersion programs. Take action: Volunteer for a community program in India.
• Miracles in Action provides Guatemalans in extreme poverty with opportunities to help themselves. Take action: Sponsor a teacher training workshop.
• Polder Inc./One Mobile Projector per Trainer seeks to educate the world's poorest billion people. Take action: Equip a teacher with a low-cost media player.