National Day of Service calls on Americans to help others
by Gregory M. Lamb
Staff Writer of The Christian Science Monitor

On Saturday Jan. 19 in Washington, D.C., as well as around the United States, a National Day of Service will find Americans volunteering in myriad ways to serve others.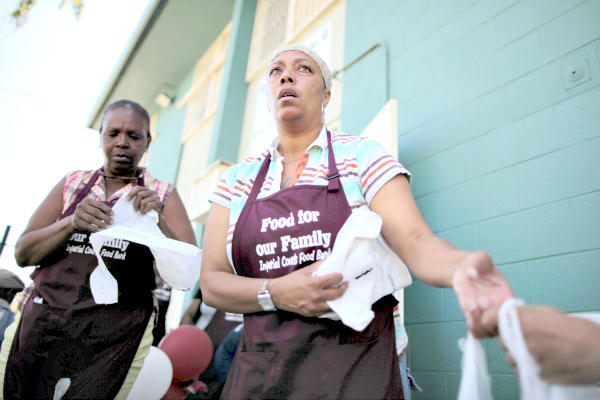 This weekend Washington D.C. will mark the inauguration of President Obama into a second term of office. It also will honor civil rights leader Martin Luther King Jr. with a national holiday.

But this Saturday (Jan. 19) in Washington, as well as around the country, is also a National Day of Service, calling on Americans to volunteer to serve others. In just one event some 10,000 people are expected to gather at the D.C. Armory for the biggest single service project of the weekend – putting together 100,000 thank-you "care kits" for US military personnel, disabled veterans, and civilian first responders.

A major force in organizing the effort is the Points of Light Foundation, created in 1990 after then-President George H.W. Bush invoked the vision of volunteers as a "thousand points of light" in his inaugural address the previous year. Points of Light describes itself as "an independent, nonpartisan, nonprofit organization that encourages and empowers the spirit of service."

From President Kennedy onward presidents "all have this shared belief in a call to the American people" to engage in civic-minded activity, says Michelle Nunn, the CEO of Points of Light. The fact that presidents of both political parties, right up to Mr. Obama, have been strong supporters of volunteerism "shows the common ground around service," she says.

Volunteering can be a great antidote to the discouragement of sharply partisan politics. "People are disheartened about the polarization they see reflected in the political landscape [today]," Ms. Nunn says. "So one of the themes of the Martin Luther King Jr. weekend is 'unite in America's service.'

"And I do believe that if you look at the history of this country, and you think about one of the defining characteristics of this country, it has been - that we have a great civic spirit and a great sense of citizenship and service."

Volunteering is a reminder, Nunn says, "that there's a lot more that we can act upon and create change around than what seems to be the paralysis in Washington."

The economic hard times of recent years have upped the need for volunteers – and Americans have been responding, she says.

"Everyone knows someone who's been struggling," Nunn says, "so I think it makes people more empathetic."

While financial philanthropy is "critical and important," she says, it's been shown that "people who volunteer their time are more likely to give more [financial donations], and more often, than people who don't."

Volunteers also gain a sense of satisfaction that can't be underestimated. And volunteering means making new connections and new friendships – it's "being about something that's larger than yourself," she says. "And most important is the feeling of having made a difference. All the great faith traditions point you to [the idea] that people find meaning in life by being of service to others."

Today people from nine to 90 are finding new and creative ways to give back to their communities and the world, she says. A dentist might offer free care to the poor, a graphic designer might help a nonprofit group tell its story better, or a plumbing executive might start a tutoring program for youths. The ways to serve are endless.

Social media has allowed volunteers to organize more quickly. She's seen 14-year-olds start volunteer projects that in a matter of weeks or months go national or even international.

"I think that's one of the really exciting things, and that's all been made possible through technology," Nunn says. "I just think people are more powerful now than they ever have been to be change agents and that we're seeing that happen all the time-. It's an exciting time for volunteer service."

Everyone has something that they can give, she says. "There are always ways for people to create change and make a difference."

Tomorrow's Washington D.C. event, creating care packages for American military personnel and American veterans, is an example of an activity that anyone can participate in and support.

"I think the country is totally united in the belief that we really must and need to support our military men and women who are returning to civilian life [or] - returning to combat," Nunn says. "It was an easy thing to think about rallying around these real heroes."
Page created on 1/21/2013 12:00:00 AM
Last edited 1/21/2013 12:00:00 AM
The beliefs, viewpoints and opinions expressed in this hero submission on the website are those of the author and do not necessarily reflect the beliefs, viewpoints and opinions of The MY HERO Project and its staff.